alaskafish
Coal Miner
Join Date:

11/26/2010

Posts:

125

Minecraft:

alaskafish

Member Details

A Snapshot shall be available quite Soon! I have been over going so many problems since I'm not just adding a new block, but changing how the game process in order to get you the great features. Remember the snapshot will only have things that I officially think are Stable and doesn't create a lot of lag. Some new Ideas have been added. However, I forgot my charger in a hotel, they are sending it to me, and in order to have a download link to the snapshot, I need my computer charger. Please bare with me, and add Ideas, you shall be credited for the ones I choose. [9/9/2012]
This is still a WIP or a 'Work in Progress". So don't flame, or complain the full version is not out! Currently the mod is about the sky. Sooner or later I will add more realism! Don't suggest if it adds new blocks/items or mobs. Only small aspects that don't change the game completely. [6/7/2012]
This mod, changes to make minecraft feel like 'Vannilla" or like nothing changed. This is mainly meant to make the game more realistic without adding new items or blocks. For example, it lets clouds have a better feature, special things to happen in biomes. Not to fret, nothing drastic is added, only small things that may allow you to have a little better experience with a more realistic game. The mod is customizable, so you can have certain things install or not. And all of this is client side. So you can use this on any server you go on!

I am not held responsible to any corrupt worlds, problems, or any liability problems. If a problem occurs to you, make sure to contact me and I'll see if I can fix it for you. This is made by alaskafish and I do not let you redistribute this mod without my permission. Do not change coding and call it your own. I do not own minecraft, Minecraft is owned by
Mojang AB
. This mod is used for private use only. Thank you for choosing Vannilla Realism.

This is a Picture of The two layer clouds! This is for the Different types of clouds.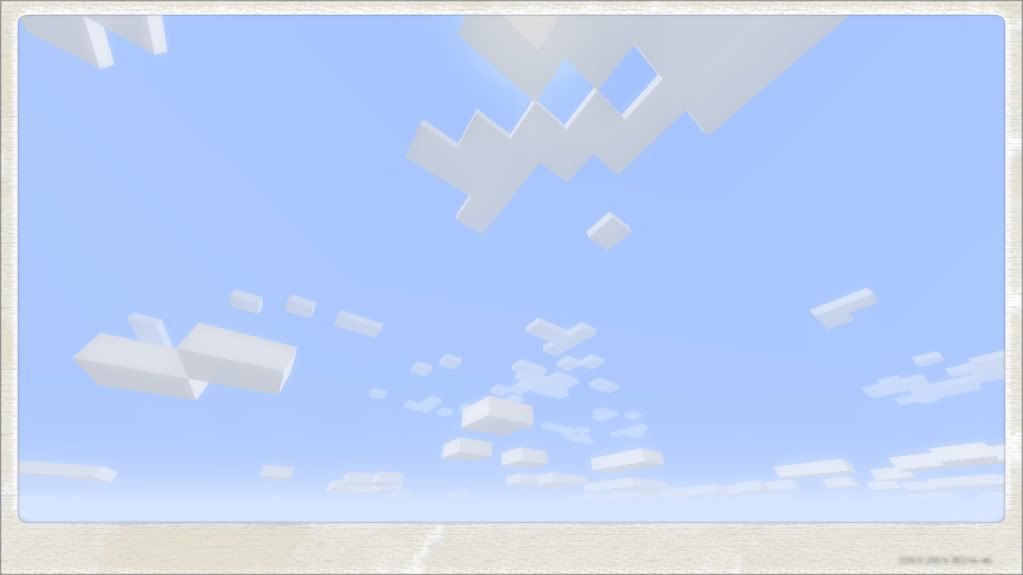 This is the Desert Heat and Desert Blinding. Notice the sides are a little hazy. Is the heat too weird?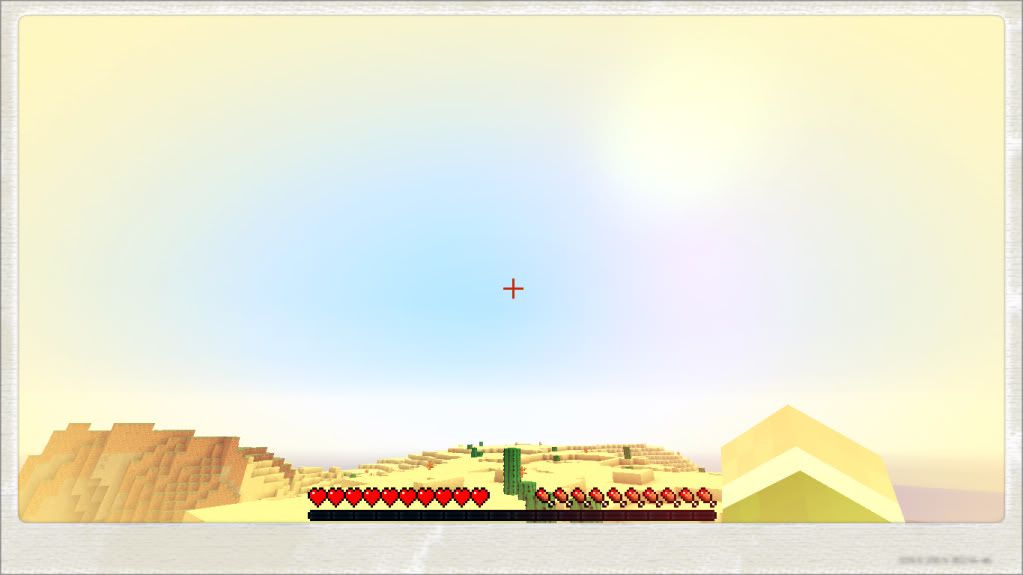 I'm trying to work on focal lens glares. Really hard. If you look into the sun you get something like this: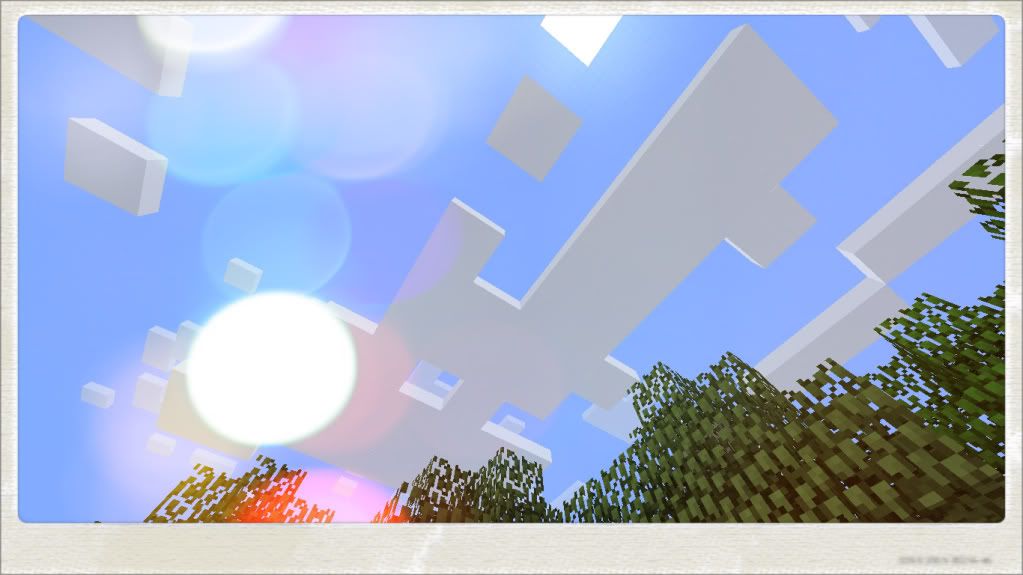 Red = Haven't started
Yellow = Working on it
Green = Finished
Black = Ideas
Blue = Paused In Coding
Purple = In Snapshop
Cyan = Missing Texture/Models. Fixing
Grey = Dropped Ideas.
Italic Neon Green = New Idea(s)
Clouds are not just one simple cloud type. Different types of clouds such as, Stratus (Long flat clouds), Cumulus (Short but puffy clouds), Cirrocumulus (Broken clouds), Cirrus (high, and stretched out clouds) , and Overcast like Cumulonimbus (Thunder like clouds) [Working on]
Colored Clouds! When it rains, clouds are grey. When there's a thunderstorm, clouds are black [Haven't Started]
Double layer clouds (For different types) [Finished]
Clouds cast a some what type of shadow. [Finished]
Clouds look nicer [Finished]
No clouds over deserts, and very little over tundras, [Finished][Working on] (Tundras)
Different rain sounds. [Finished]
Dynamic Clouds [Haven't Started]
Blowing Leaves [Working On]

Stars flicker (After the 1.3 update when stars are smaller) [Haven't Started]
Stars are different colors (very few. Some red, and some faint yellow) [Working on]
Moon gives a gloomier glow. [Finished]
Moon's light depending on what moon it is (New moon, full moon etc) [Haven't Started]
Shooting stars. [Haven't Started]
Heat Blinding, If your in the desert for too long, your vision gets disrupted (FYI, This idea was based nikooo26 "clean weather") [Paused]
Snow Blinding, Like heat blinding, but when your in a tundra for too long the screen gets really bright. (True fact in real life) [Haven't Started]
Rain texture changes for different types of rain (EG: heavier, lighter, drizzle, flake snow Etc) [Fixing]
Focal Lens blur [Paused]
Warmer Torches (Redish to yellow) [Working on]
Desert Warmth [Paused]
Lava Coloring [Haven't Started]
Biome Torches (Colors depend on what biome you are in) [Haven't Started]
Gloomier - Warmth Coloring [Haven't Started]
This is so far my plan. In fact, I've started working on this mod. Sorry for the color coding... You know.. sometimes your just too lazy. Anyway, this mod will be showing snipbits of it, and you may try it out for your self. Please post suggestions, but they better not add any items/blocks/mobs. If anything it may be death animations, but right now I'm going to focus on weather. Then I will focus on more realism. Don't flame. And I will update this mod regularly. Please feel free to follow this! This topic will be edited many time to improve looks and over all performance. If you wish to work with me, great. I'f your good with coding too, I'll like that!

Silly, no snapshot available yet! Follow to get the most features!
Snapshot will be available quite soon. However I forgot my charger at a hotel, and it's being sent over. So I can't really give it out. Will only have the 'Stable' parts of the mod.
Change Log:
Rain Sounds/Thunder Created [9/9/2012]
Works better with Shader Mod [9/8/2012]
Torches Give out a "Gloomy Warm Feeling" [8/27/2012]
Testing Warm Torches [8/4/2012]
Optimizing Sun Flares [7/5/2012]
Creating Bump-Map Textures (Fail) [7/1/2012]
Testing Clouds+ (Official Name for The Cloud Changing Part of Mod) [6/16/2012]
New Coder: Rainfur! He makes great Mods! [6/7/2012]
Added Lighting Focal, and desert warmth to list [5/29/2012]
Added Biome Additions, for Biome specific features. [4/29/2012]
.Added Weather and Clouds to list. [3/29/2012]
Overall creator: Alaskafish
Textures: Alaskafish
Idea maker: Alaskafish, Mineprojasper, Prawn_creep, AlaskafishShrimp
If you wish to help, tell me why and if you are good. I'll consider you! If you say a suggestion I like, I'll add you here to the suggestion list!
-Alaskafish
I'm A Official Retexturer. Contact me if you want a MOD/SKIN/TEXTURE PACK/ETC for FREE!