mastodon_matthewi
Out of the Water
Join Date:

4/5/2019

Posts:

6

Member Details
For now it's just an idea.
We have lots of dinosaur-themed mods (Fossils and Archaeology, Jurassicraft, Prehistoric Eclipse...). But what about world before dinosaurs? PermianCraft is a mof that makes that possible.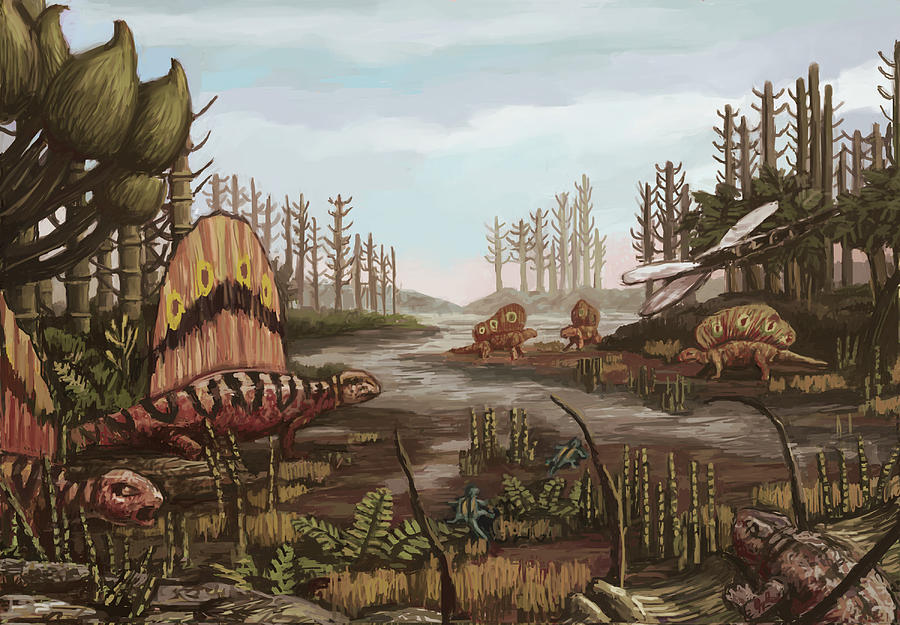 Early Permian landscape.
Permian period begun after Carboniferous, about 299 MYA, and ended before Triassic, about 250 MYA. Permian was the period of synapsids, also called "stem-mammals" or "mammal-reptiles". Synapsids were ancestors of mammals. They looked like very differently, but there is one fact - early species (caseids, varanopids, pelycosaurs) like Dimetrodon were amphibian or reptile-like, and late species (therapsids) like Inostrancevia were mammal-like.

Sphenacodon, one of the early synapsids.
Lycosuchus, one of the late synapsids.
In Permian, another animal groups were also common. For example - amphibians. In that time, there were temnospondylians (ancestors of most modern amphibians), anthracosaurians (ancestors of synapsids and reptiles) and lepospondylians (extinct amphibian group, possible ancestors of caecilians).
Cheliderpeton, one of the temnospondylians.
Seymouria, one of anthracosaurians.
Diploceraspis, one of the lepospondylians.
There were also reptiles (like Scutosaurus), lots of invertebrates (like trilobites) and fish (like Helicoprion).
Permian was colder than modern time. The supercontinent Pangaea was mostly near the Southern Pole, so winters were even more freezing. There were lots of savannahs, forests, semi-deserts, but swamplands were the most common. The plants of Permian were different: mosses, lycophyts, horsetails, ferns, conifers, cycads and gnetophyts.
To get into the Permian times, you need to find a new mineral - Dolomite. It is a rare one! It can be found in Extreme Hills, Mesa, Savanna and all their variants. Dolomite is always located higher than Coal Ore - the lowest level Dolomite can generate is 130 blocks higher than Bedrock, but the highest level is 140 blocks higher than Bedrock. Dolomite's features are same compared to Granite, Diorite or Andesite, except one - it is need to make portal to Permian!
After you find some Dolomite, build a portal from it - it need to be at least 4 blocks tall and 4 blocks wide. After that, you must create a Time Machine.
Time Machine is a new item. It's craft is like that:
After crafting, the Time Machine can be used same as Flint and Steel in Nether portal. After that the portal is created... And you can go to times before dinosaurs!
Sorry! That's all for now! I will write more later.