jackalope2001
Zombie Killer
Location:

Frostbite Falls, Minnesota

Join Date:

10/2/2014

Posts:

160

Location:

Frostbite Falls, Minnesota

Minecraft:

jackalope2001

Xbox:

jackalope2001

PSN:

Who needs that?!

Member Details
Hello, modding community!
I'm Jackalope, and I have an announcement to make:
Very few of you may have heard of my endeavor to resurrect Minecraft back to prominence through my modpack JackalopePack II.
It's no secret that Minecraft has suffered a tremendous popularity decline. Notch even said so himself (see attachment image #1 on this thread).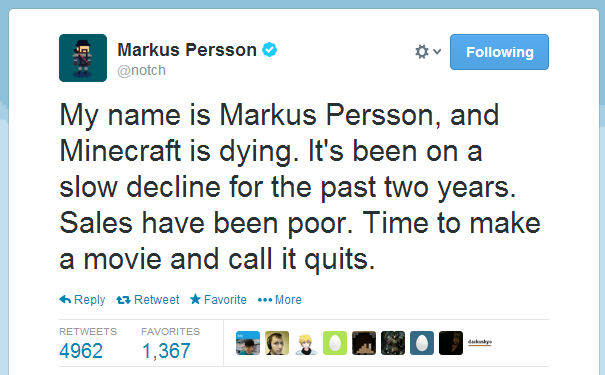 Google Trend results show that "minecraft" has been appearing less and less frequently (see attachment image #2 on this thread). Google Trend results have an occasional to be dodgy, but in this context of this situation, I think they can be trusted.

If you visit YouTube and search "minecraft is dying" or something along those lines (see attachment image #3), you will find pages upon pages of videos proclaiming the "DEATH OF MINECRAFT", "IS MINECRAFT DYING?", and "MINECRAFT IS DEAD, HERE'S WHY".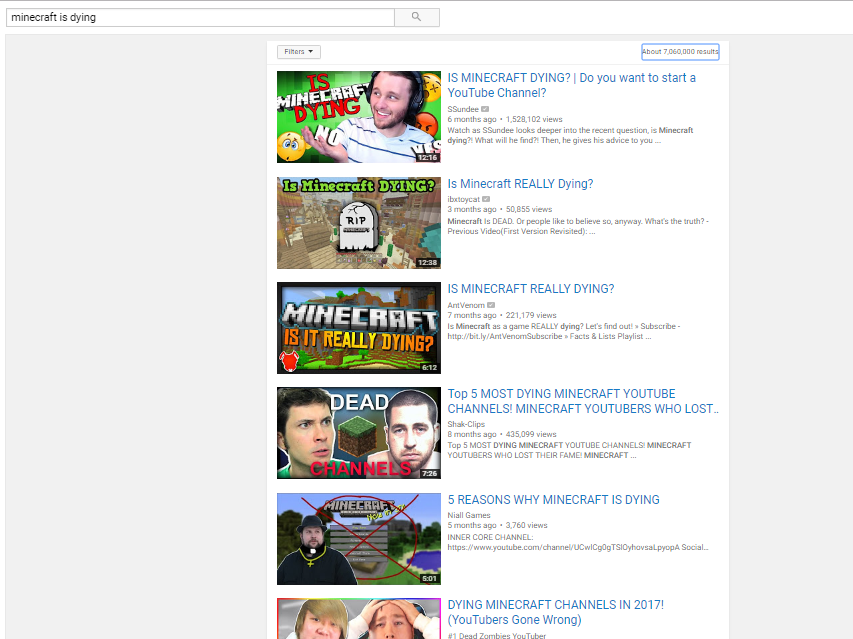 Now are 90% of those videos RageElixir-esque clickbait designed just to entice you in for quick views? Probably. However, some of the top results provide some interesting points and something to ponder in the least. Is Minecraft dying? The answer appears to be: yes. Everyone seems to have their own theory as to why this is happening. Some blame Microsoft for screwing up with the updates. Others blame the community and complain about things like toxicity.
Personally, I blame both.
I think Minecraft's decline in popularity can be summed up with a PM I got from a modder losing interest in Minecraft:
"[I]'ve moved away from playing Minecraft. I feel like, as an adult, I shouldn't be playing the game as it is seen as a "kids game" now. I still sometimes have the urge to code or play the game, but the magic that I felt a year ago isn't there."
When I received this PM, I was stunned. I didn't know why, but I very much disagreed with this man. To me, Minecraft was and always had been the same amazing concept it has always been. But that's just it; a concept. It was then that I realized that I think of Minecraft in a very different way. I think of Minecraft as an idea, as opposed to those who simply look at it from a linear completionist perspective.
So here's what I think went wrong (I'll get to my solution in a moment). When Markus Persson abandoned Minecraft and left it to Microsoft, Microsoft missed the point entirely. They started adding random things with little to no consistency and that didn't flow well with the game. These features by themselves are not altogether bad, but took away more than they contributed. This, in turn, made Minecraft less of a concept, and more of a run-of-the-mill game. But this time, it wasn't even such a good game. Counter-intuitive combat, incomplete story (if that's what they were going for) and useless building tools. That's what Microsoft got wrong. But the community didn't handle it any better. They started viewing it through the same obtuse and narrow-minded lenses that Microsoft viewed it through and began falling away from it. Minecraft was just another linear video game on the shelf along with Halo 3, Final Fantasy XIV, and FNAF 1. Now the Minecraft community has an unfortunate majority of "cringy" Minecraft squeakers who probably aren't old enough to remember Minecraft before Microsoft.
What's my solution? JackalopePack II. You can read more about it on the official JPII thread (link in my signature), but essentially, its goal is to bring elements from other games that we've loved so much and combine it with more sandbox content to make Minecraft great again

. Take Garry's Mod for instance. Garry's Mod was released in 2004. Two thousand and four! That's right. That beloved sandbox is nearly 15 years old. It is still among the top ten best video games in the world, ranking at #7 in the list. Garry's Mod is far from dead. What has kept this desert of a sandbox alive for so long? I'll give you a hint: it's in the name. The answer is "Mod". Modding is part of the reason Garry's Mod has remained relevant all these years. Mods are the community's way of contributing to the game. This is also part of the reason Minecraft has been so popular is because it's creators used to listen to the community. Remember when pistons weren't in the game (wow, I feel old)? They became part of the game because of the community.
JackalopePack II's aim is to bring back the old Minecraft with new features. In JPII, the player's original, vanilla, pre-1.9 Minecraft world is unaltered and fresh, yet with even less creativity limits, optional side-quests/dimensions to explore, better aesthetically-pleasing graphics, and more multiplayer functionality. The greatest thing is... many of the mods we'll be using (such as Aether II, Lord of the Rings, CustomNPCs, Thaumcraft and many more) already bring much of that experience into Minecraft. When accompanied with my ideas for JackalopeCore (the mod that incorporates my additions), Minecraft will be even more. Even more of a sandbox. Even more of an RPG. Even more of the greatest video game in history!
I am a newbie to modding and many of these features are out of my current skill set. Since I am learning Java in my spare time from my busy life of school, extra-curriculars, dates, and my other projects, I cannot promise that these will happen anytime soon. However, being the aspiring entrepeneur, I can afford to pay modder of noteable experience to create these changes for me.
I am currently offering a bid starting at $50 to any modder capable of implementing my changes and additions.
I need a modder capable of:
-Changing melee combat functionality. For instance, I intend to incorporate a "wind-up" delay before the melee attack tracer is sent out.
-Model animation using AnimationAPI or PlayerAPI. Both external player animations and HUD animations (such as holding a gun, or throwing a knife with the player's hands visible)
-Rendering
-Creating new models and mobs
-Creating/editing GUIs
-Creating/editing AI
-Creating new behaviors of the player and mods
-Understanding how other mods work
On the JackalopePack II thread (which you can find in my signature) I have listed several qualified modders who are more or less the standard for the qualification.
Again, I am offering a bid starting at $50. My mind is open to higher bids as well. I will pay via PayPal and pay out 50% in advance and an additional 50% when the modding work is finished.
Contact methods:
a. shoot me a PM here on the forums
b. contact me on Discord at Jackalope#6446
c. email me at [email protected]
d. hit me up on Skype at [email protected]
or e. add me on Steam

Thanks! Have a good day!
-Jack