ShadowJohnX
The Meaning of Life, the Universe, and Everything.
Join Date:

7/2/2013

Posts:

217

Member Details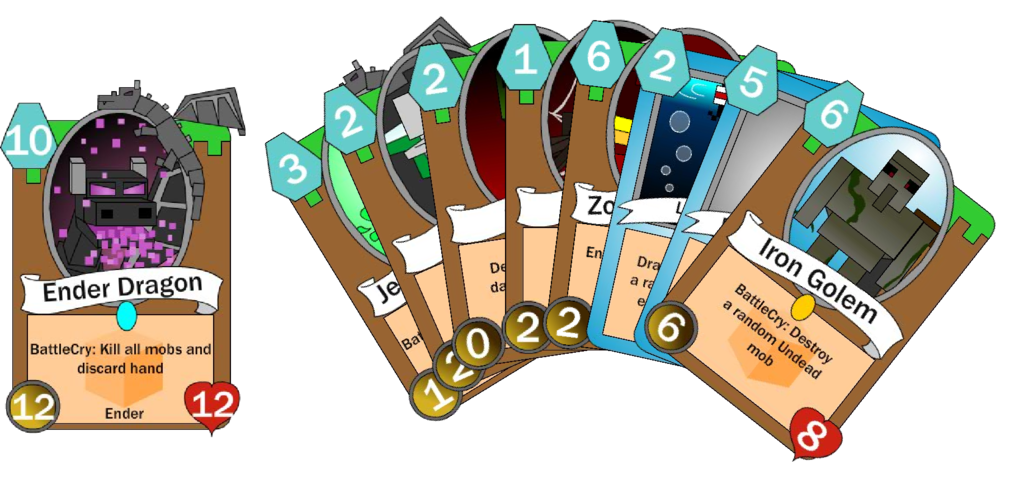 Welcome to Minestone:Heroes of Minecraft.
This is a official thread for my idea for a mod for Minecraft that takes Hearthstone: Heroes of Minecraft, and turns it into Minecraft. This mod plays out like normal hearthstone, but everything is made into the style of Minecraft. You can see that there is a legendary card for the Ender Dragon that I made. And so let me tell you guys how this works:
You can choose a hero and your cards. Then when you start to battle, you and your oppoment starts with 30 health. And by that I mean 20 health and 10 absorbs. When you run out of absorbs, you can't heal it back up unless using some special cards. All cards comes from any Minecraft Mod that fits into itself. Cards can also be from any other Minecraft related sources such as Minecraft StoryMode. When you win a game, instead of coins you earn emeralds currency. You can spend it at the villager market to buy card packs. Or you can spend it on buying a Resource Pack which is use to build cards that you don't own. There is even a rarity system like hearthstone. But instead of common, rare, epic and legendary. You get Iron, Gold, Emerald, and Diamond rarities.
I am hoping that someone make an Official mod for this where you can collect them through dungeon chests. You know, for collecting cards. So here some questions for you guys:
What mob would you like to see as a card and what stats would it have?
What would be a card pack expansion that has a theme into it?
Who would be a great Hero and what Hero Power would they have?