Hydraheads
Lapis Lazuli Collector
Location:

Chicago

Join Date:

4/12/2014

Posts:

1,149

Location:

In a house.

Minecraft:

Hydraheads

Xbox:

No......

PSN:

Why?

Member Details
I know I already posted this request many years ago, but now it would be necro posting. Also, no one was capable of figuring out what I meant. This thread is more clear and revised then that old one. So here: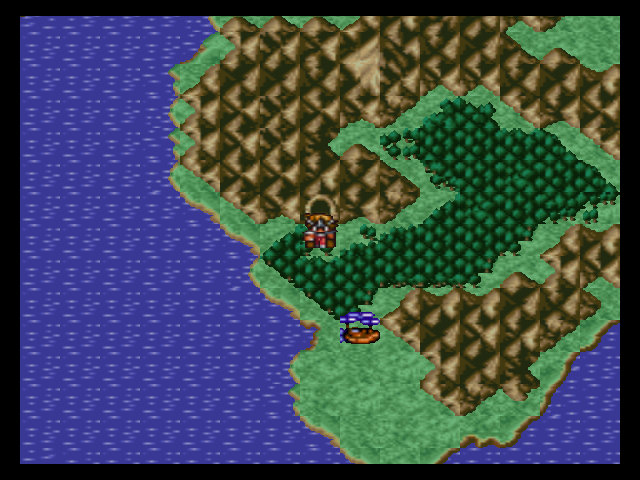 Look at the typical RPG worldmap. Notice the character centered in the middle. I'll explain how this works in RPGs and in Minecraft:
RPG:
Now, I'm not talking mapwriter here. Most JRPGs have world maps. You walk around on an amplified view of a globe with giant houses representing villages and a giant centered person who navigates the map representing the player. The map is made up of invisible tiles which the character walks on. If the player tries to walk on a tile such as the ocean, they cannot cross without a boat. If they walk on the house, they are teleported to a zoomed in version of the village containing houses, shops, and npcs. In they walk into a cave tile, they go into a cave dungeon. If they walk into a castle, they enter a castle, etc. Walking out of this location brings them back to the map. Also, players are subject to random encounters, in which the map is zoomed in and the player's party is pitted off against set enemy formations. Killing them gives loot, exp, and gold. Leveling up increases stats so the players can move to new areas and fight stronger enemies. Generally, the player persues a main quest and several side quests culminating with an epic final boss. RPGs are about story and world building, gameplay is important but follows basic guidelines.
Minecraft:
So as for my mod request, I kind of want it to be a world generation option. NPC Villages with specific configurable trades, schematic insertions for spawnable caves and dungeons, etc. Steve would be walking around this map from an ariel view yet up and down (reference picture). Mob encounters would be a bit like Zelda II in which it is a live nonturnbased encounter in preset backrounds based on biome and the ability to flee encounters by walking out of the zoomed in map. So in other words the random encounter woukd be standard viewpoint Mineceaft pvps. Dungeons would not be random encounters, but preset encounters. Lastly, entering areas would be the same way as the RPG description section.
If you don't get it, watch a playthrough of Final Fantasy I. Most of that one takes place on the map. Or even dragon quest. Or Golden Sun. If you still don't get it, ask for clarification in the comments. This is a mod request, not a reality. But I want it to become a reality. Voice your support by any means possinle and let's make this happen.
Here's an interesting picture I found of the way an rpg town would be in Minecraft, minus first person which would be in the villages/dungeons but not in the world map itself because that is third person:
Here's the final fantasy playthrough with world map: