DinoTrooper
Zombie Killer
Join Date:

1/13/2013

Posts:

243

Location:

Antartica

Member Details
Before I start I would like to note that I cannot code nor texture, I can model but I'm not great. This is meant to be made by someone who can actually do all of these. If anyone would like to just say so below or pm me.
EDIT: I actually may try to make this mod using MCreator. I know I can do it, all it takes is time and patience. (Also contradictory to what most people say MCreator is actually a very good and simple program).
Mobs:
Freddy Krueger-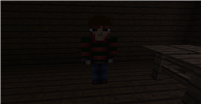 He doesn't have his claws... yet!
Health: Invincible
Weapons: Claws
How he works: I think it should be that every-night you fall asleep in minecraft you have a nightmare (like the herobrine mod). Freddy appears in these nightmares and tries to kill you. He slowly walks up to you, teleports in front of you then vanishes and more creepy things. You will have to survive until the nightmare ends. If your'e lucky when you leave the nightmare you'll get his hat which will make you look like him and have his abilities.
Jason-
Not his final machete
Health: Can be killed (it's hard to though) and will eventually respawn
Weapons: Machete
How he works: Jason should spawn in a new biome called crystal lake. The biome will have cabins around the lake. In these cabins are counselors which he will try to kill. Jason himself will spawn in the middle of the lake. Each time you kill him he will respawn sometime later in the lake. He will NOT leave the biome.
Michael Myers-
Health: Is invincible to anything but fire
Weapons: Michael's Knife
How he works: Michael will spawn in a new structure called the asylum. The asylum will spawn in villages, so michael can escape and try to kill villagers. That's about it for him, he doesn't have much.
The Thing-
Health: Can be killed with fire
Weapons: Itself
How it works: The thing will spawn in the tundra biome. It will spawn near a structure called the crashed u.f.o. If it touches you or anything else living that creature immediately dies and the thing turns into that creature. It will act like that creature until it see's your character or a villager, then it will start chasing you or the villager.
Blair Witch-
Health: Invincible
Weapons: Itself
How it works: The blair witch will spawn in a witch hut that is generated in the woods. It will be in a corner facing the wall. The moment you enter the hut it will chase you until your'e more than 30 blocks from the hut then it will teleport back to where it started.
Items:
Freddy's Hat- Makes you look like freddy and gives you his abilities.
Jason's Machete- A very powerful weapon that does over 15 hearts per hit.
Michael's Knife- Same thing as Jason's Machete
Necronomicon- Makes everything around you turn evil and spawn loads of zombies. It will also give you blindness as long as your holding it then 20 seconds after.
Structures/Biomes:
Nightmare Structures- These are the structures in Freddy's nightmares. It will either be a house, a boiler room, or a school. (Obviously where Freddy spawns)
Crystal Lake- A large lake that has cabins around it. The cabins will hold camp counselors and the lake will be a little darker than normal water (Also Jason spawn in the middle of the lake).
This isn't actually crystal lake, I just wanted to show what the cabins would look like.
Insane Asylum- A large house like structure that spawn in villages. It has 2 stories, jail cells and cobwebs. (This is where Michael Spawns)
Crashed U.F.O- A small crashed U.F.O. (This is where the thing spawns in)
For now this is all, but I will add alot more to this in the future if it actually becomes a mod. (NOTICE #1: I'm going to post pictures of what these thing may look like soon. Notice that I said what they MAY look like not what the WILL look like.)
(NOTICE # 2: All of the pictures I have posted have been done using mods (custom npcs), as I have said before I don't know how to code nor texture. These pictures just show what I think it should look like)
http://www.minecraftforum.net/forums/mapping-and-modding/minecraft-mods/mods-discussion/2406492-1-7-10-mcprehistory-mod(Check this amazing mod out!!!)