Rhea_M
Stuck at Home
Join Date:

8/3/2013

Posts:

459

Location:

June 19th, 1987, 9:47 AM

Minecraft:

Rhea_M

Member Details
I don't know about all of you guys, but after I saw the first episode of Adult Swim's new animated series "Rick and Morty", I was hooked. I couldn't get over how the humor was so well balanced with all the great animation, well designed characters and monsters, and just fantastic writing and setup. Well, you might not see it all from the first episode like I did, but it is so great as a series. In case you haven't seen it, you can read about it on the A.V Club page, here:
http://www.avclub.co...nd-morty-201108
. They do a much better job at explaining it than I do, and they just plain do it better justice than I can.
Here's the thing; I was playing minecraft after watching every episode of "Rick and Morty", and what else could I do but think about easier ways to travel to other dimensions like the Nether and the End? And a Rick and Morty Minecraft Mod would be perfect for this, only it could add more to minecraft. Much more.
And what would this mod need to include? It would basically entail designing a few new minecraft dimensions, which you could keep adding to as the mod goes, and then keep on adding more of as the mod went on. It would include something similar to iChuns portal gun mod, where you shoot a portal onto a wall, and then when you enter it, you end up in another dimension, just like in "Rick and Morty".
And boom! The mod would be finished, just like that. You craft Rick's portal gun, set it for a destination, shoot a green liquid-like portal onto a wall, travel through it to your chosen destination, the portal disappears, and then you have adventures! And science! You have so much science!
You could have a regular dimension, and then the mod could have parallel worlds, which are new minecraft worlds generated each time you choose a new one, and then you could have a few of the dimensions from the show in there, and you could travel to the nether, and the end, and you could have the dimension of the High Council of Ricks. It's a little hard to understand, but
I know most of you probably don't know what I'm rambling about, but it's gonna be great, trust me.
So if you're acting like this right now: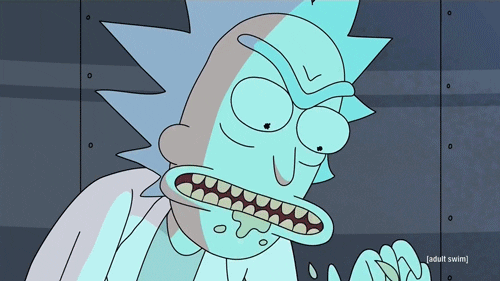 You should stop doing that and start acting like this:
Last edited by
Rhea_M
: Apr 16, 2014