Unzenith
Stone Miner
Join Date:

1/7/2012

Posts:

90

Member Details
I was inspired of the mod "Tales of Kingdom". This is a really big idea for a mod. xp. So let's begin the explanation.
You'll find "lone adventurer" houses, huts, etc. in different biomes. You can interact with them by trading all sort of things. When you enough trust with one of the lone adventurer, you can do activities with them with different abilities such as mob hunting, fishing, mining, wood cutting, building, farming and other things. To have trust, you need to pay them something in return. You can either find a male or a female.
You can also find villages filled with them too. When you have gain enough trust with them, you can be the village leader. You can make other lone adventurers live in your village then continuously expand your village. To expand it, you need to have enough trusts at least with enough adventurers with the ability of building and enough people to populate.
You can adjust the number of builders to make different structures. For example, 2 builders will build a wall, 3 builders will build a small castle and so on. Of course, they will need resources. You can either get what they need by yourself or have a helping hand with miners. They also need to eat too, which means farming/mob hunting/fishing to distribute to all of them. When you have enough people and expanded your village enough, you will unlock the seller option. One of the villagers can be a seller with different varieties such as food, armors, weapons and etc. The farmers, miners, fishermen, hunters, lumberjacks, and etc. will sell their things to the seller then the other villagers need to buy their needs to the seller to survive.
When you reach maximum reputation to your village, you will become the king. Everyone will respect you and you will no longer pay the people to do tasks. Also, the prices are a little bit low for you.
You can also find "dark guilds" spawned in different places, people who settle in them are called "Menacants", they are fictional hostile mobs. If you decide to enter to one of them, Menacants will you kill you in sight. They drop rare items and enchanted items.. If you have soldiers (knights, archers) in your villages with you, you can siege a dark guild. When it's done, you can pretty much grab all their stuffs, mostly rare items. If you are too lazy to find a dark guild, you can craft a longhorn. What this basically does is it will make a loud noise which is a sign of declaring a war to Menacants, they will spawn suddenly in far enough distances and attack you. You will need handful of soldiers for this because you need to survive in every wave. There is a chance that Menacants will invade your village with their own will so you will need a lot of soldiers. (this will happen if you became a king so you need to be careful!) If you die, you will lose a bit of reputation. If you kept dying and lost enough reputation, you will no longer worthy of being a king and someone else will replace and sit on your throne.
An idea of what Menacant would look like: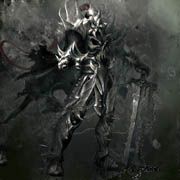 That's pretty much it. I know this is ridiculously long but I think this idea that I had was really good and I just want to share it to everyone.