herculeswill22
Redstone Miner
Location:

A place where nobody writes 'Beh

Join Date:

3/4/2011

Posts:

553

Minecraft:

Same as my forum name.

Member Details
Introduction

I was bored the other day, and I started thinking- what if there was a mob that spawned only underground, that was impervious to light? I have also been replaying Dragon Age Origins, (Great game by the way) and I think Darkspawn, or something like them, would fit admirably.
The Content
Stage 1: Corruption blocks
If you've surfed the released mods scene on occasion, you may have seen a mod or two that feature blocks that transform other blocks around them into more of themselves. I propose a block like this, called Tainted Stone. They would spawn at low altitudes, and only in underground caves. These blocks would then slowly spread, turning other blocks around them to Tainted Stone. However, only Smoothstone, Ores, and cobblestone can be converted to Tainted Stone. In addition, the said types of blocks, in order to be corrupted, must not only be next to a corrupted block, but also must be adjacent to a block of air. This is intended to keep the taint inside caves, rather than overwhelming the entire world.
Stage 2: Darkspawn warriors
Now that we have the blocks, we move on to the creatures themselves. All of these creatures spawn on Tainted Stone ONLY. Light level has no effect on their ability to spawn.
Darkspawn Warrior (Hurlock)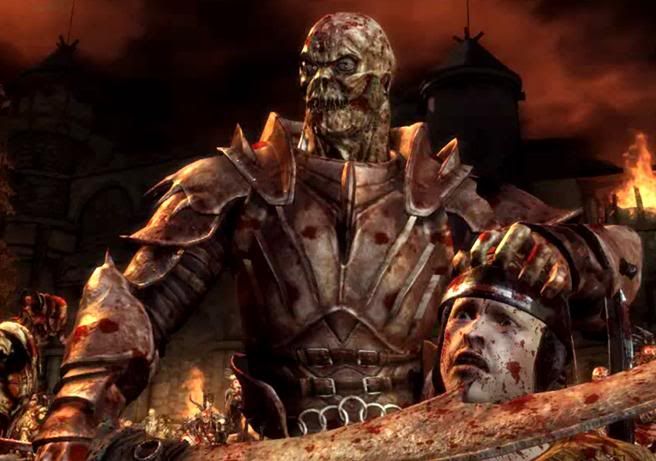 The backbone of the darkspawn armies, these guys are out to kill anything that isn't one of them. Zombies, Wolves, Players- anything that isn't a darkspawn is a target. They act like Zombie Pigmen that are already agressive- when they detect you, all nearby Darkspawn will detect and attack you as well. They wear crude, ugly, but still serviceable darkspawn armor, and wield crude darkspawn swords. Somewhat stronger than zombie pigmen.
Drops: 50% - Bones 5% - a piece of darkspawn armor, which is the same as iron.
Darkspawn Emissary
Darkspawn who have learned a special kind of magic, powered by their taint. They shoot magical energy balls out of the staffs they carry, which do damage, but DO NOT explode. Similar to a Skeleton in health and behaviour, except for one special ability: They can turn blocks other than Smoothstone, cobblestone and ores. This will allow the darkspawn to spread past any barrier blocks you place. Their corruption is still limited to blocks connected to air, however.
Drops: At random, one of these:
A book
An Iron ingot
A piece of dirt
A piece of darkspawn armor
An Emissary's staff
Darkspawn Searcher (Genlock)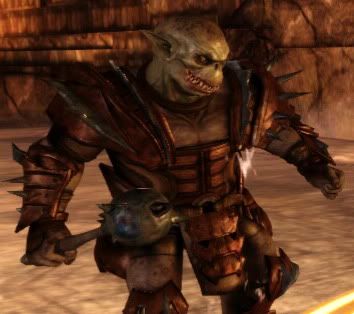 In Dragon Age lore, the Darkspawn, when not being actively led by an archdemon, are searching for one. Since there aren't any to find, these guys are just going to dig. They dig only horizontally, nothing vertical. Essentially, all they do is connect tunnel systems. They can only dig through Corruptible materials mentioned earlier, so you can still block your tunnels if you find darkspawn on the other side. Very rarely, and only at a certain low depth, Searchers will dig out a large, open cave, which will be filled with loot...and tons of darkspawn, including our last, and strongest, mob.
Drops: 100% Smoothstone, 20% stone pickaxes
Darkspawn Queen (Broodmother)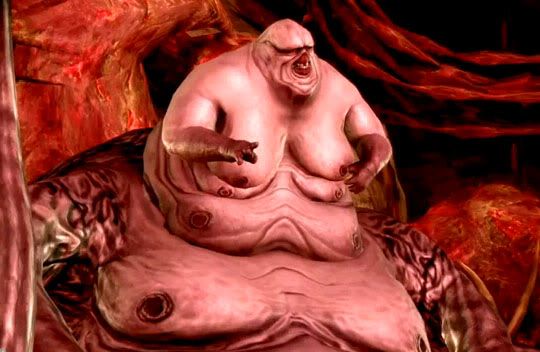 These things are massive, and guard the caves that Darkspawn Searchers build. They are completely immobile, but have a huge amount of health, and spit the same projectile as the emissaries, if infrequently. Oh, and they also summon groups of bloodthirsty Hurlocks on occasion. Don't try and tangle with these unless you have an army behind you, or diamond armor and a lot of food.
Drops: Nothing, the stuff in the chests found in this cave should be enough for you :smile.gif:
Stage 3: The items
Darkspawn armor and weapons:
While crude, they are still effective, especially since they're so dirty. Same strength as iron.
Emissary's staff:
Acts like a bow, but rather than using arrows, it consumes durability per shot.
The Broodmother Cave loot:
This contains multiple chests with regular dungeon loot, as well as a chest loaded with darkspawn weapons and armor.
Dragonbone sword:
Found in a broodmother cave, these swords are as powerful as diamond. But it gets better- every time you swing the sword, it turns Tainted Stone back into smoothstone within a small area! This will be the only way to remove corruption without breaking the affected blocks.
So there it is. Feel free to toss out suggestions. It doesn't necessarily have to be darkspawn, it could be goblins or something, but I feel Minecraft needs something like this. Cheers!