drybones967
Curse Premium
IRC HACKER
Join Date:

2/9/2014

Posts:

1,558

Location:

Narnia, Disney World

Minecraft:

Dryb0nes

PSN:

drybonez967

Member Details
-------------------------------------------------------------------------------------------------------------------------------------------------------------
The Simple Pak. This Mod Pack is full of magic, tech, and nature/ ambient mods that make minecraft have tons of new content. If you want to go to the moon or study the art of the thamatauge (Wizard), have tons of new blocks and mobs (HAMSTERS!), and go to alternate dimensions with all powerful tools and tons of new foods, then this is for you. VERSION 1.1.3 (http://www.technicpack.net/modpack/details/the-simple-pak.413960)
MY NEW MODPACK CAN BE FOUND HERE: ( http://www.minecraftforum.net/forums/mapping-and-modding/minecraft-mods/mods-discussion/2210957-shape-the-world-modpack-w-i-p-feedback-appreciated)
I MAY STILL BE UPDATING THIS BACK, CHECK BACK FOR MORE INFO.

Mods: There are over 60 mods, some optional, some not. NOTE: This Modpack is for Minecraft 1.6.4 because most of the mods will not be updated!

1) Autoutils 2) Bibliocraft 3) Carpenter's blocks 4) Chisel 5) CodeChickenCore 6) CoFHCore 7) Food Plus
8) Fossils And Archaeology 9) Galacticraft

10) Galacticraft Planets 11) Hamsterrific 12) Idfix (IMPORTANT!) 13) Micdoodlecore 14) Morph 15) MrCrayfishFurnitureMod
16) NotEnoughItems

18) Sopwith's NoSnow Mod (For all snow haters) 19) TinkersConstruct 20) Thaumcraft 21) Thermal Expansion 23) ZansMinimap 24) Aether 2 25)(There will be a version for 1.6.4 in July, 2014) 25) Advanced Genetics AND MORE!
-------------------------------------------------------------------------------------------------------------------------------------------------------------
GETTING STARTED
There are many ways to chose with this mod.Let's take a look.
You should start of by getting basic materials. Note that ore generation is changed.
Then you can build a shelter and a farm.
Then from there you can start on the few main mods.
THAUMCRAFT 4
The first thing you will need to craft is a wand. The first one available to you is the Iron Capped Wooden Wand crafted as shown here (using a stick and iron nuggets(To get iron nuggets, put a iron ingot in the crafting square to receive 9 nuggets):
You then place a bookshelf in the world and right click on it with the wand
.
This gives you the Thaumonomicon which explains almost everything else you will need to know about Thaumcraft.
Stuck with Aspects and don't mind a spoiler? Use this! *There is no time aspect, and Alienis is actually Vacuos and Tenebrae if I remember correctly*
http://ftbwiki.org/List_of_Aspects
FOSSILS AND ARCHEOLOGY
The first thing you should do is mine fossils like so:
Next you should make a analyzer and a cultivator.
Analyze the
BIO-FOSSILS
in the analyzer and hope that you can get DNA.
Cultivate that and you get you first egg!
WITCHERY
Starting Witchery
Some things that can be done to get going with the Witchery mod:









TINKER'S CONSTRUCT
Getting Started



Really, all you need is wood to get started. Literally, you never need to craft a single vanilla tool (barring subcombines for machines from other mods). In fact, there's even a config option to disable vanilla tool construction. So, let's go over how to get started.
First off, there is the Pattern. Looking it up in NEI or in the reference material which you spawned with, you'll see it is just two planks and two sticks. These are going to be needed to craft the three stations you will need to start making tools. I'd suggest starting off by making a dozen or so. Don't worry, the blank patterns do stack.
Now for these three stations you will need to make: The Stencil Table, crafted with a pattern and a wooden plank, the Part Builder, crafted with a pattern and a log, and the Tool Station, crafted with a pattern and a vanilla crafting table. You might also want to make a Pattern Chest at this time. It can only store patterns, however when adjacent to the Part Builder, you can access the inventory from the Part Builder GUI without needing to access the chest itself.
To make a tool, first you need patterns. For that, you need to put Blank Patterns into the Stencil Table, then use the arrows to find the pattern you are wanting. Then you put the pattern into the Part Builder along with material to make the tool part. Once you have all the tool parts, you can assemble the tool, and name it, in the Tool Station.
When you made any of the aforementioned stations, a second book appeared in your inventory. This book contains an amazing amount of information on what tools need what parts, and what effects various materials have.
TECH MODS
THERMAL EXPANSION
Now, this isn't intended as a derogatory term. After all, everyone starts off as a newbie. In case it has escaped your notice, it is a not very clever adaptation of the infamous <whatever> For Dummies book series. So, now that we've got that out of the way, let's look at this mod.
So, first off, what does this mod do?
It brings your production to the industrial age, with machines which more efficiently smelt, and even get a higher rate of return on your ores!
It also has machines which provide utility. This can either be ease of use, or it can be lag-reducing techniques.
To begin with this mod, you will need to have already accomplished the following:
Established a 'home' or 'base' that will at least keep the creepers off of you
Done a bit of mining, down to gold/redstone level. No diamonds are necessary to get started
Have about a half stack of iron, and at least a dozen copper and tin, as well as some gold and a half stack of redstone. You might also need a little bit of silver.
You will also need a good bit of glass to get started, so sand is something you'll actually want to snap up as you come across it. About a half a stack will get you started.
One of your first machines will also need a couple of brick blocks, so if you see any clay, grab it.
That's really about it. Once you get some iron, gold, silver, tin, copper, and redstone… you're ready to get started!
The Basics: MOAR POWER!
Many, but not all, of these machines require power to run. This power is measured in MJ, or Minecraft Joules and produced by Engines. Output of engines which produce MJ is generally measured in MJ/t or Minecraft Joules per tick. There are generally twenty ticks per second, although those on servers might experience varying numbers due to lag. Power draw for these machines is also generally measured in MJ/t.
So, let's get to generating power! The first step is deciding which engine to use. There's lots of different engines which have differing outputs, differing fuel sources, and differing mechanics. If you haven't checked it out yet, go look up the NEI Tutorial and then search for the word 'engine'.
Yea, there's a lot of them, aren't there? Well, don't let that confuse you. Right now, our requirements are: Easy to make, can be made with the materials we have on hand, can produce enough MJ to keep our initial machines powered, and runs on a fuel you have easy access to. For this reason, I would suggest the Steam Engine, which is also a part of this mod. It's the one that requires something called a 'redstone transmission coil' in the recipe.
Now then, this engine runs on coal or charcoal, and also requires water to convert into steam to run itself. Coal is easily found, and charcoal is simply logs which have been cooked in an oven, but a supply of water? Fortunately, there's a solution to that as well. This machine is called the Aqueous Accumulator. Don't worry, it doesn't require any power to run at all. Look up the recipe in NEI.
Get used to that Machine Frame, it's needed in virtually all of the machines in this mod. However, this isn't particularly painful to make… a piece of gold, some iron and some glass. Next, you'll need the servo, which requires some redstone, iron, and more glass. Then you'll need a bucket, still more glass, and some tin. I hope you found some sand nearby.
Right. So, what does this thing do? Well, if you put a water source block on two sides of this machine, it will function as an infinite water source which automatically pumps water out. Nifty, huh?
Right, now you've got a feel for this cute little mechanic, and you're wanting to go ahead and get this done already. No problem. So, determine where your want your machines. You're going to want this engine to be about three or four blocks behind it. Yes, you do need some room, you'll grow into it, don't worry.
One block below where you want your engine, put your Aqueous Accumulator. Also dig out a one block hole on the left and right, and fill these with water. Open up your AA's interface, and you should see it rapidly filling with water. Good, it's working. Now to make your engine.
You'll need 11 copper for this engine,, plus eight sticks and eight cobble, as well as a Piston (which is cobble, wood planks, one iron ingot, and one redstone), and something called a 'redstone transmission coil'. Let's look up that recipe in NEI. Looks like it's one Silver ingot and a couple of redstone, so not too bad.
Look up the recipie for the gears in the NEI. It's basically four sticks, then four cobble around the wooden gear, then four copper ingots around the stone gear… and you'll need two of them.
Right, so we get the engine made. Let's drop it directly on top of the AA and click on it. Hey cool, we've got water automatically flowing into the engine! Now it just needs some coal or charcoal to get fired up and it can start producing power! Unlike most Buildcraft-style engines, as long as you have Redstone configuration set to Enabled/Low, you won't even need a redstone signal to make it start running!
But first, we're going to have to figure out how to transmit that power. For now, we're going to have to use Conductive Pipe. You're going to need a Wooden Conductive Pipe and some Gold Conductive Pipe. The Wooden Conductive Pipe is your 'input' energy pipe. Engines have to be facing a wooden conductive pipe to be able to transmit energy through the pipes. The golden conductive pipes transit energy with minimal energy loss over distance.
MINEFACTORY RELOADED
MFR aims to automate a number of tasks that previously would be difficult, boring, or work-intensive. It also provides some additional support blocks and machines.
The first thing you'll need to make is rubber. You can find MFR rubber trees in swamps - look for the bright green leaves. Once you have raw rubber, smelt it once to get rubber bars, and then again to get plastic:
(Top: IC2 rubberballs, bottom: MFR rubberbars)
Then, take your raw plastic and craft it into plastic sheets:
Finally, make machine blocks:
And a hammer:
You'll need it to rotate machines.
There's also "ceramic dyes", used for a few things later. Substitute the dye of your choice to change the color.
Due to MFR liquids being placeable in the world, milk buckets can no longer be drank from. Instead, you can make milk bottles:
There is the ability to smelt sugar into sugar charcoal:
Weaker than standard charcoal, but easy to come by.
Some machines accept upgrades:
There are numerous upgrade tiers, all crafted like this but with the top material changed (to gold, bronze, silver, diamonds, etc). Upgrades boost the effective radius of a machine. Machines with upgrade slots will have a single slot with a 'ghosted' upgrade spite in it.
I'll also take a moment to explain the MFR GUIs. Most machines will look like this:
Some may not have an inventory or a liquid storage bar. From left to right, the four bars at the right are:
Liquid stored
Power stored
Progress towards completion, which is not always used
Idle countdown, which occurs if a machine can't do anything (to reduce CPU load)
Several have specialized GUIs, and their individual entries will describe that.
All machines can be broken by hand; you don't even need a pick. Breaking a machine will drop its items but destroy any power, liquid, or work progress it has built up.
Finally, all machines can be powered by Thermal Expansion conduits. All machines can be serviced by any standard liquid pipes.
GALATICRAFT
Step One: Gathering Resources
Overworld Ores
The first thing is to gather
Tin Ore
,
Copper Ore
, and
Aluminum Ore
(which can be smelted into
Tin Ingots
,
Copper Ingots
, and
Aluminum Ingots
respectively), and
Silicon Ore
, which is rarer than the other three ores and forms at deeper levels (smelts into
Raw Silicon
).
Oil
If Galacticraft is the only mod that you have installed, you will need to wait until we can create
Empty Liquid Canisters
and a
Portable Oil Extractor
before you can gather oil -- we'll get to these in a minute. If you have Buildcraft installed, the recommended method for gathering oil is by using a pump and Buildcraft or Railcraft tanks. Buildcraft also adds the ability to gather oil in buckets. Forestry gives you the option of using tin cans, which are cheap, but single-use.
Or, you can wait until we've created the Galacticraft tools necessary for oil collection.
Step Two: Power Source
In order to make most of the Galacticraft components and tools, you need Galacticraft machines which themselves need power to run. If you already have a power infrastructural from another of the mods mentioned at the top of this page, you're golden. If you're limited to Galacticraft, you'll need to create a
Coal Generator
at this point, since
Basic Solar Panels
and
Advanced Solar Panels
require components that require power to generate.
Step Three: Crafting Machines
Galacticraft has a quite a number of machines - usually the size of a crafting table - that perform some amazing functions. Although the orientation of a simple crafting table doesn't matter much, the machines you create using Galacticraft have some unique sides to them. Some might require power input on a particular side, some might produce oxygen on another side, and so on. Usually right-clicking on the machine will let you view its console - it may need some required materials added, or it may be unable to function until it has enough electricity to power up.
Circuit Fabricator
The first machine that you will want to build is the
Circuit Fabricator
, since it creates the
Basic Wafer
and
Advanced Wafer
which are the components of all the other machines.
Side Note: If you power a
Circuit Fabricator
via a Buildcraft kinesis pipe network, I recommend using an iron kinesis pipe to limit the power that it draws. It worked fine for me on an iron pipe at the lowest 2 MJ setting, but connected directly to the power network, it drew all available power and caused other things to shut down.
Compressor
Now that you are able to create a
Basic Wafer
, the next machine to build is a
Compressor
, which compacts ingots into more durable, compressed versions of the material. The
Compressor
runs on coal, or other combustibles. Later you will be able to make an
Electric Compressor
that runs from a power source instead, but since it requires compressed materials to build, you need to make the coal-fired one first.
Step Four: Begin Refining Fuel
If you have not been using another mod to collect oil, now is the time to make an
Portable Oil Extractor
and some
Empty Liquid Canisters
so that you can collect it.
You will need either the Galacticraft
Refinery
or the Buildcraft refinery to (slowly, using much power in the process) refine the oil into
Rocket Fuel
/ Fuel, which has twenty times the energy as unrefined oil.
Step Five: Collecting Oxygen
Eventually, you will be able to create oxygen while in space. But your first time up, it's a rather crucial resource to bring with you!
Oxygen Collector
First, you will need to create an
Oxygen Collector
, which likewise requires power to run. In the Overworld, you can place it anywhere to begin gathering oxygen; in a no-atmosphere environment, you will need to surround it either with leaves (which it will slowly consume) or growing wheat (which stops producing oxygen when it's full-grown, so it needs to be harvested and replanted regularly.
But in the Overworld, you can place it anywhere. But then you need:
Oxygen Pipe
In order to do anything with the oxygen collected by the collector, you will need to create
Oxygen Pipes
using six panes of glass on the regular crafting grid - three across the top and bottom.
4
You will use the
Oxygen Pipe
to feed the Oxygen from the
Oxygen Collector
to the...
Oxygen Compressor
You will need to pipe the oxygen into the
Oxygen Compressor
, which will use it to fill....
Oxygen Tanks
You will use the
Oxygen Compressor
to fill Oxygen Tanks. There are three sizes of oxygen tank that you can build -- the
Light Oxygen Tank
, the
Medium Oxygen Tank
, or the
Heavy Oxygen Tank
. For detailed information on oxygen tanks as well as how to put on your spacesuit, head over to the
Oxygen Tutorial
page.
Step Six: Rocket Pre-Flight
Reviewing steps completed so far: you've gathered ore and oil, created a power source (perhaps even solar power), crafted various machines for processing ore and filling both fuel and oxygen tanks, you're wearing your spacesuit gear - or at least the oxygen-related components - since it's always a good idea when leaving solid ground to carry a
Parachute
, add that too. The last slot on the spacesuit tab is for a
Frequency Module
- add this to better enable sounds while in space.
It's now time to get to work on your rocket: First up, build the
NASA Workbench
- right click to view an empty
Tier 1 Rocket
layout. Insert the various exterior components to make the rocket -
nose cone
,
plating
,
fins
and of course, the
engine
. Build a
launch pad
and drop your rocket in the middle and you're almost ready for take-off!
Installing a
Fuel Loader
next to the launch pad enables the loading of fuel via canisters from your
Refinery
.
Other mods can also enable piping fuel directly, rather than using canisters.
Click the
Load Fuel
button to start the refuelling process for your rocket. Enter your rocket and press "F" to not only view the fuel load percentage but also your inventory and - if you added chests during assembly - the inventory of the rocket itself.
Step Seven
Coming soon... ---
Getting Started
Building rockets, space stations and colonies on new worlds may seem a little overwhelming, if you're just starting out. So here is a small guide to getting started with Galacticraft!
First Steps
Before you head into space, you will need a few items including the
Tier 1 Rocket
,
Rocket Launch Pad
,
Oxygen Sealer
,
Oxygen Bubble Distributor
,
Oxygen Gear
,
Oxygen Mask
,
Oxygen Compressor
,
Parachute
,
Compressor
, three or more
Battery
(s),
Basic
or
Advanced
Solar Panels,
Refinery
,
NASA Workbench
,
Fuel Loader
,
Oxygen Tank
x2, and
Oxygen Collector
, as these are the most vital necessities you will need on your journey into space.
Obtain Oxygen Apparatus and a Parachute
The four most crucial items you will need are the
Parachute
and
Oxygen Gear
and
Oxygen Mask
and
Oxygen Tank
. Once you have acquired this equipment you are almost ready. After this, all you need take with you are the Galacticraft machines.
Build Oxygen Machines, Refine Fuel, and Launch Your Ship
Lastly, it is necessary to build a few machines before going to the moon, some of which you will be taking with you. You will need to make the
Oxygen Compressor
,
Oxygen Bubble Distributor
,
Oxygen Sealer
,
NASA Workbench
,
Refinery
, three
Battery
(s), two or more
Basic Solar Panel
or
Advanced Solar Panel
,
Oxygen Collector
, and the
Fuel Loader
. Next, you will need to make the
Rocket Launch Pad
and
Tier 1 Rocket
, of course (make the rocket in the NASA Workbench). Once you have the rocket and launch pad, you need the
Fuel Loader
.
Place the nine rocket launch pads you have on the ground in a 3x3 block shape. On top of them, you will place your rocket in the middle pad, so that there are eight launch pads surrounding the rocket. You will then place the
Fuel Loader
directly adjacent to the launch pad and rocket on any side of the launch pad. You are all but ready. If you haven't found any oil yet, go ahead and get some, which generates deep in the ground around the gold and diamond level. Once you have at least five-thousand (five) or more oil in the refinery, put a battery in the refinery and start converting the crude oil to
Rocket Fuel
. This process will likely require more power than your battery can store, therefore recharge it in one of your solar panels.
After you have converted all of the oil to
Rocket Fuel
, load it into the
Tier 1 Rocket
using a battery. You may now go to the moon! All you have to do is equip your
Parachute
and
Oxygen Gear
and mask. The items you will be taking to the
Moon
with you are your
Oxygen Sealer
,
Oxygen Collector
, solar panels, batteries,
Compressor
,
Oxygen Compressor
, and the
Fuel Loader
. If you are wondering what the sealer's, collector's and bubble distributor's function and purposes are, the sealer is meant to lock oxygen in an enclosed room. To "enclose" your future Moon-base, you will need at least seven
Air Lock Frame
(s), one
Air Lock Controller
. If you are good with redstone, you can also make a piston door, as long as the pistons are covered with sealable blocks and the blocks the pistons push are sealable (you can change what blocks are and aren't sealable in the configuration file). Next, oxygen can be provided to your Moon-base through the use of the
Oxygen Bubble Distributor
and the
Oxygen Collector
. Breathable oxygen is created by planting two or more trees on the moon with a source of water nearby (preferably an unlimited water source) with the Oxygen Collector very close to the trees. Then, connect the
Oxygen Bubble Distributor
to the
Oxygen Collector
with
Oxygen Pipes
, so that the oxygen can travel from the collector to the bubble distributor. This is the preferred setup before the player has made a functioning Air Lock door to his or her base. After that, it is possible to use the
Oxygen Sealer
.
Like all Galacticraft machines, the oxygen providing machines require a source of power to work. The best source of power is the solar panel (which is why you are taking them to the moon with you), or batteries for off-and-on use. As soon as you have built your Moon-base, you can finally explore the lunar surface for
Moon Village
(s) or even the prized
Moon Dungeon
. Next stop,
Mars
!
Don't Forget!
Be sure to do a little research about the
Moon
so that you know how and when to land safely!
AETHER 2
Getting Started in a Newly Generated World
When starting a completely new world with the Aether mod, you first want to play regular vanilla Minecraft. Collect materials, survive, etc. Your first objective should be traveling to the Nether. When in the Nether, try and find Glowstone. It will usually be hanging above from the ceiling of the Nether, but sometimes you are able to grab it when the ceiling hangs low. Glowstone is the material that you make the Aether portal with. You must grab at least 10 blocks worth of Glowstone, otherwise known as 40 glowstone dust or more. Make sure to grab not just ten Glowstone dust, but make sure to craft them into Glowstone blocks like this:
Once you have gathered Glowstone, you are going to need a bucket of water. This is the ignition to the Aether portal, much like the Flint and Steel (or, any sort of fire in general) is for the Nether. Then, build your regular portal frame (its the same portal frame as a Nether portal), except leave out the corners in order to not have to collect 14 Glowstone bocks instead of 10. Once you have finished the portal frame, dump the bucket of water into the bottom of the portal frame and it will ignite into a swirling, blue portal which should make you say "Wow" inside your head. Entities are also able to go through the Aether portal. BEFORE going into the Aether, we recommend bringing some basic tools with you, blocks, and also another bucket of water. Try not to bring any items that are too precious; just bring iron or lower status things. Bringing a bucket of water is really helpful when in the Aether. The reason for this is so you can descend from high places easily and not take any fall damage. You are now ready to enter the Aether. Get ready, because many more challenges await you in this mystical dimension.
For people who do not mind cheating a little, it may be wise to turn on gamerule keepInventory.
Now in the Aether
You are now inside the Aether dimension. When you first spawn inside the Aether, you will most likely spawn somewhere in the air. Like mentioned in the previous paragraph, use your blocks to make your way over to the mainland. Use your water bucket when needed. When building your little bridge over to the mainland, be aware of your surroundings. You will most likely find
Zephyrs
, which are flying
mobs
that shoot cloudballs at you. These projectiles deal no damage, but have a big knockback effect which will launch you in the air. If you fall off the Aether, you will be teleported back to the Overworld, but you will land directly on top of the portal and die of fall damage. If you were far away from the portal when you fell, though, you may land in a completely unfamiliar place.
Once you have successfully made a bridge over to the mainland, you want to gather your basic Aether materials. It's basically vanilla Minecraft except with Aether themed materials. Trees are very common in the Aether; they're almost everywhere. In fact, there are no biomes in the Aether; it's all one, similar to that of the Nether. When harvesting trees, you will sometimes encounter
Skyroot Log Walls
, which are basically the roots of trees. These cannot be made into
Skyroot Planks
like regular
Skyroot Logs
can. These are purely for aesthetic purposes.
Once you get Skyroot Logs, make them into planks, then into a
Skyroot Crafting Table
. There is no difference between the vanilla crafting table and the Skyroot one, besides their texture and name. Place down the table and make your basic
Skyroot tools
. As you go on, you will need to upgrade to better tools, so gather
Holystone
. Holystone is the block that substitutes for Stone in the Overworld. Mining in the Aether can be really dangerous. Don't dig too far down, or else you will fall through the bottom of the floating island you are mining in. When mining, you can find many different
ores
. These ores can be crafted into different armor and tools. If you happen to have taken torches to the Aether, you may have found them defective. This is because you need Aether-specific torches, which are called
Ambrosium Torches
.
Ambrosium
can be gathered from
Ambrosium Ore
, which is, in simple words, the counterpart of Coal in the Aether. To make Ambrosium Torches, put an
Ambrosium Shard
over a
Skyroot Stick
, and it will give you two, unlike regular torches (which gives four).
There are several new types of food in the Aether. Across the landscape of the Aether, there are leaves that have a berry-like texture on it. Inside the leaves is a
Blue Berry stem
. These can be easily farmed, and they're a really efficient source of food; replenishing 2 hunger. You may also find the slightly taller
Orange
plants. They're like a slightly better version of the
Blueberry
, replenishing 4 hunger. You may want to start with Blueberry farms, but eventually upgrade to an Orange farm. Orange plants can grow up to 2 blocks high, unlike the Blueberry bushes (which only grow one block tall).
Also, Holystone can be turned into a
healing stone
using an
altar
and three pieces of Ambrosium as fuel. Occasionally in the Aether, you will come across tiny chunks of land in the sky with a blue tree on top; this is a
Crystal Tree
. When the
leaves
with white specks in them are destroyed, they will drop
White Apples
. These do not replenish any hunger, but will terminate any poison effect the player has. In coming versions of Aether II, Crystal Trees will be changed to being on land instead of floating on islands in the sky.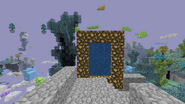 Inside the Aether Dimension. This is the portal you use to come in.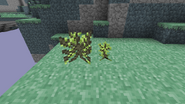 The plants before growth.
The plants after growth.
-------------------------------------------------------------------------------------------------------------------------------------------------------------
1.0 - Initial Release
1.0.1 - Took out portal gun mod due to permissions
- Fixed bugs with Optifine and disappearing limbs
- Updated Fossils & Archeology to 6.3
- Added More Nature
- And More!
1.1 - Added Necromancy
- Added Aether!
- Added Balkons Weapons
- Added BOP
- Took out optifine due to permissions
- Custom config!
1.1.1 - Took out Optifine for realz
- Took out VoxelMap because of lag.
- Added Mapwriter
- Updated F/A mod.
- Added Witchery
1.1.1 (B) - Spiced up the Pack Description
- Changed Pack Logo.
1.1.2 - Removed natura, more nature.
- Updated F/A
- More!
1.1.3 - Updated F/A
- Added Treecapitator
- Refreshed Config for id conflicts when trying to play LAN.






1.2 - Mo creatures?
- Thaumatic Tinkerer?
- Open Blocks?
-------------------------------------------------------------------------------------------------------------------------------------------------------------
You are allowed to include it into mod packs of any kind, without asking for permission.-AUTOMATIC_MAIDEN
You're allowed to include this mod in a modpack. This also means you don't have to ask.-Mineshopper
As long as you provide proper credit to me for my work(s) and have a link back to
www.bibliocraftmod.com
, you can use my mod(s) in your mod pack. - Nuchaz (
http://www.bibliocraftmod.com
)
You are ALLOWED to use Food Plus in a mod pack if you: 1.-Put a link to this thread. 2.-Give proper credits to the author. 3.-Keep it non-profit. 4.-DON'T modify the mod in any way.-JoseTheCrafter (
http://www.minecraftforum.net/forums/mapping-and-modding/minecraft-mods/1288375-food-plus-mod-more-food-than-you-can-imagine-v2-9
)
This is the Internet. Even if you don't like us (we still like you, really) for some reason, we can't (and wouldn't) stop you and maintain any semblance of a moral high ground, so have fun. Permission granted. This was made to be played, after all.A courtesy notification is definitely appreciated, as well as a link to the wiki. As a consideration to the community, I would request that you make all possible efforts in order to comply with the respective licenses and terms of all other mods in your pack.If anything here is not acceptable to you (not sure what), please feel free to contact us and we can work something out.- Team CoFH (
http://teamcofh.com
)
Use of this MOD to be installed, manually or automatically, is given to the USER without restriction.This MOD may only be distributed where uploaded, mirrored, or otherwise linked to by the OWNER solely. Requests for permissions to distribute the MOD will be denied. Modpacks which already had permission retain that permission unless revoked. ANY attempts to make money off of this MOD (selling, selling modified versions, adfly, sharecash, etc.) are STRICTLY FORBIDDEN, and theOWNER may claim damages or take other action to rectify the situation.- Micdoodle8 (
http://www.micdoodle8.com/oldsite/galacticraft/
) (
http://micdoodle8.com/mods/galacticraft/downloads
)
You are free to do whatever you wish, add to any modpack, as long as it falls under the CC license.-4f6f3b (
http://www.minecraftforum.net/forums/mapping-and-modding/minecraft-mods/1288066-fossils-and-archeology-revival-build-6-2-updated
)
If you want to use it for a modpack, include a link to this thread-RazzleberryFox (
http://www.minecraftforum.net/forums/mapping-and-modding/minecraft-mods/1292592-1-6-2-1-6-4-hamsterrific-v2-0-pet-hamsters-for
)
If you want to release your modpack (with this mod included) to the public, you must: 1. Link back to this forum post. 2. Not make money off it without permission.-Mr_Crayfish (
http://www.minecraftforum.net/forums/mapping-and-modding/minecraft-mods/1282349-mrcrayfishs-furniture-mod-v3-3-4-bathroom-update
)
This document and the content is Copyright © 2013-2014 and is the intellectual property of the author. It may be not be reproduced under any circumstances except where authorized by written permission, or for personal, private use as long as it remains in its unaltered, unedited form. It may not be placed on any web site or otherwise distributed publicly without advance written permission. Use of this mod on any other website or as a part of any public display is strictly prohibited, and a violation of copyright.-Sopwith (
http://www.minecraftforum.net/forums/mapping-and-modding/minecraft-mods/1288267-1-7-10-forge-nosnow-mod
)
This mod is covered under the Creative Commons 3.0 license. Modpacks are encouraged, feel free to do anything you like with it. I only ask that you enjoy it!-mDiyo
You want Thaumcraft in your mod pack? All you need to meet are five simple conditions:
1. Your mod pack needs a link back to this forum post.
2. You cannot make any money off of the mod pack.
3. You cannot claim that you made any part of the mod, and you must give credit to the author of the mod (Azanor).
4. If I ever ask you to remove my mod from your pack, for whatever reason, you do so.
5. Handle any queries and bug reports internally first. This is one of the main reasons I had such a strict anti-modpack policy for such a long time - people using modpacks would come here posting errors that have nothing to do with my mod or that have been fixed ages ago, but still occurs in the modpack because it is using an older version.-Azanor (
http://www.minecraftforum.net/forums/mapping-and-modding/minecraft-mods/1292130-thaumcraft-4-1-1-14-updated-20-5-2014
)
Modpacks: This mod may be included in modpacks, if I am credited (please include a link to this page) and you do not make money from the modpack. No charging for it or putting it behind an ad link (like adf.ly)-mamiyaotaru (
http://www.planetminecraft.com/member/mamiyaotaru/
)
Yes, feel free to use either, but we ask that you credit Gilded Games and the Aether Team when doing so. Also, be aware that the Aether II is in its alpha state is is incompatible with many mods. Fixing any incompatibilities is on you.-MrBrandonPotts (
http://www.minecraftforum.net/forums/mapping-and-modding/minecraft-mods/1289717-alpha-aether-ii-genesis-of-the-void-fixed
)
Credits for his mod goes to ChickenBones (
http://www.minecraftforum.net/topic/909223-164-smp-chickenbones-mods/
)
This modification is sole property of me. The download link or download itself may only be mirrored or reposted with advance written permissions. URL shorteners or other attempts to make money of my mod are strictly forbidden.-Click_Me (
http://www.minecraftforum.net/forums/mapping-and-modding/minecraft-mods/1282011-more-nature-tropical-fish-birds-insects-more
)
You are not allowed to sell TeamDNA mods or earn money with them in any way.
You are not allowed to copy or reverse engineer any of the code that was released by TeamDNA.
You are not allowed to upload instances of TeamDNA mods without a written permission of the author.
You are allowed to create modpacks with TeamDNA mods.
All TeamDNA mods must be downloaded from the TeamDNA.de-Server.- TeamDNA (
http://ag.teamdna.de/wiki/mc16/index.html?art=home
)
This mod is covered under the Creative Commons 3.0 license. Modpacks are encouraged, feel free to do anything you like with it. I only ask that you enjoy it!-mDiyo (Natura)
Free for non-commercial use. You are free to include any of these mods in any modpacks or server-specific packs without needing to ask permission (but it'd be nice to hear if you do!), provided something either in the download or on your site lists me as the creator. You are also free to produce Bukkit ports. A link to this thread would be nice for any of the above, but that's all I ask.-skyboy026 (
http://www.minecraftforum.net/forums/mapping-and-modding/minecraft-mods/1292152-powercrystals-mods-minefactoryreloaded
)
you have the right to have access the source code of the mod,
you have the right to be able to edit/use parts (or all) of the source code provided that you provide proper credit to the original authour(s),
you have the right to distribute the source code and/or compiled versions of the source code
you have the right to use this mod in Lets Plays/YouTube videos however you see fit (monetization, for fun, etc) as long as you provide credit to the original authour(s)(a link back to this thread for example)
if you wind up using parts of my mod in your own, then create a really awesome mod so that i can be proud-sirolf2009 (
http://www.minecraftforum.net/forums/mapping-and-modding/minecraft-mods/1286889-1-6-4-the-necromancy-mod-1-5-necro-api-1-2
)
Public modpacks (no profit): Free to include Balkon's WeaponMod, as long as the modpack is not monetized. Credit to the original author must be given and a link to this thread must be available.-BalkondeurAlpha (
http://www.minecraftforum.net/forums/mapping-and-modding/minecraft-mods/1272627-balkons-weaponmod-v1-14
)
Mapwriter by mapwriter:
http://www.minecraftforum.net/forums/mapping-and-modding/minecraft-mods/1286882-mapwriter-an-open-source-mini-map
Witchery by Emoniph:
https://sites.google.com/site/witcherymod/
-------------------------------------------------------------------------------------------------------------------------------------------------------------
A Modpack Pulled Together By Drybones967 And Godzillanator. Plz give us your feedback!