FyberOptic
Curse Premium
Gold Miner
Join Date:

3/13/2013

Posts:

368

Member Details
Note: If you're not interested in the inner workings of Minecraft and modding, then this long-winded post is probably not for you!
We all enjoy modding today thanks to the work of the MCP and Forge teams, but there was obviously a time when there was no MCP and Forge. People had to manually disassemble/decompile the various classes and try to figure out what did what so that they could write even the simplest JAR mods. I believe there may still be a handful of people who try to do this now, like Immibis, who makes mods like Podzol to Diamonds not long after a Minecraft version gets released. But overall I think that kind of modding is mostly a thing of the past.
Well, I decided I wanted to see if I could do this myself. But not just write a simple mod; I wanted to be able to do anything to the game, regardless of whether it was releasable. And I wanted to do it to a specific version. In other words, I wanted to decompile and deobfuscate the game, by myself.
The subject/victim of my project was alpha 1.1.2. It was the last version before biomes were introduced, had a noticeably different look and feel, and obviously the simplest of all the versions I like to play with. It also had specific characteristics that I wanted to try to mod right away, such as making food stack, adding your coordinates into the F3 info, making the F3 info toggle on and off instead of only showing when you hold the key, burning wood tools, creating charcoal from logs, shift-click items from the crafting table, etc. Mostly modern conveniences, for starters.
Well since Mojang obfuscates their code, it makes it tricky to decompile. It not only randomizes all of the methods, variables, and class names, but it adds in junk bytecode and such into the compiled class files to confuse any automated programs trying to decompile them back into Java. I figured I would be able to deal with this, because I've decompiled DOS games before (such as Legend of the Red Dragon) and managed to thoroughly label their guts, and the mess of assembly code you initially get from doing that didn't seem like it would be much different than this. Reconstructing Java is a hundred times easier than reconstructing C or Pascal, because no matter how much you try to obfuscate it you're still going to leave behind certain bits of information due to the nature of the language. Plus, I already have Minecraft modding experience, so I had an idea of what goes on inside the game already.
The mistake of course is to ever assume something will be easy.
Minecraft is huge. Even ancient alpha 1.1.2 is a significant amount of code. When I decompiled it (using JD-GUI), I was faced with hundreds upon hundreds of Java errors to fix. This was expected, and many of these weren't hard, sometimes fixing half a dozen in one swoop with some of the automation of Eclipse (a great Java editor). But there were some that I just didn't understand. It was trying to pass arguments to functions which didn't take those arguments, and just a myriad of other conflicting and confusing things in the code.
The biggest problem is that obfuscation causes tons and tons of name clashes in the code, such as multiple functions simply named "a", even inside the same class, where only the arguments passed to that function determine the proper function to be called. This can be a nightmare to deal with.
I went through this code by hand and tried to fix it to the best of my ability. But at some point, as I learned the process better, I realized I'd probably made mistakes earlier on. I'd come up with a better method of resolving conflicts, by looking directly in the disassembled bytecode listing instead of digging through the decompiled Java, and using that as the reference to find out the proper argument types to pass to a function. Slower, yet far more reliable. But it was too late to go back, there was no way to know where the mistakes would be. All I could do was keep going forward, and hope I could fix it once I had something that ran.
This entire process took hours, mind you.
The moment the error count dropped to 0 was a happy time. I had questioned whether I'd even get that far after all the issues I ran into. So, I ran it, and it didn't crash!
Broken. And not only visually, but it wouldn't respond to mouse clicks, either. I wasn't entirely surprised, so I set out to try to fix it. I dug around and dug around, for quite some time, until I eventually said ­screw it. I'd messed this up most likely, and I was never going to find my mistakes.
So I started over.
It went faster this time. I was able to copy some of my work from the previous attempt, files which I knew I'd done properly. It still took quite some time, but I eventually knocked all the errors out yet again, held my breath, and launched it.
Exact same thing.
A bit more disheartened now, I kept trying. I decided to focus on the mouse input problem specifically, since I wasn't any closer to figuring out the graphical one. And keep in mind, this code is still completely obfuscated, you have no idea what does what, you only managed to get it to compile again. So I traced and traced, sending debug output here and there, finally working my way back to a function again which I'd looked at to start with and dismissed. It wasn't being called from anywhere, and I'd initially assumed it was unused code, but that made less sense after I found my way back to it again.
Turns out, it was the crucial code. The decompiler had interpreted the bytecode incorrectly, and was never calling it at all! I rewrote this tiny portion to actually execute it, and suddenly the title screen worked. The graphics weren't broken at all, that's just the way it looks the moment before the blocks come flying down to spell the logo! The input worked now as well. This function was obviously crucial to handling timing and input, and it simply wasn't being called. What a relief. I realized that I might could have even avoided decompiling the second time if I'd found this sooner!
So then I did the ultimate test, and started a game. That's when everything truly went to hell. This screenshot came only after I'd stopped frequent crashing by commenting out things like entity updates.
This one was the disaster. It was hard to tell where to go because nothing was labeled. I disable various things just to see if it even made a visual impact on the game to know if I needed to go deeper there or not. Eventually I came to the conclusion that there probably was just no fixing this. Throughout the process so far I'd come to realize that the issue with so many of the obfuscated names being the same, only differentiated by their arguments, was the death of it. They could be littered throughout the code, calling the completely wrong functions, yet not throw any compile errors because technically the arguments are correct.
An example of this might be one function that wants three integers, and another function that wants three floating-point values. In Java you can pass an integer to a floating point function and it won't complain. But the problem is that if both functions have the same name, then the wrong one is going to get called if you pass those integers but were wanting the floating-point one. Java doesn't have this problem normally because the compiler tracks this stuff. But when you're going in reverse it's up to the decompiler to figure this out, which is much trickier. And mine wasn't doing it.
I dug through and fixed some conflicts in the rendering code which I was able to find, but it made no difference in the end. There was too much code, I could never go through every single class and match up every single argument type of every function call to make sure they were correct. That would take me days, or weeks. I figured that was probably the end of that little project!
But since I'm stubborn, I later decided to look for a different decompiler instead. I tried a few, some seemed to have better results than others. But then I decided I'd give Fernflower a try. It's the one that MCP uses, so I figured if it works for them, maybe it can work for me, even if I wouldn't have the patches and other tools they use when you set MCP up. I honestly didn't know what to expect.
Fernflower has a lot of options, and it took finding the right combination until I got code produced that I felt I could work with. Fernflower was doing some great things, like actually recognizing the arguments a function needed and trying its best to match things up. I was pretty optimistic, especially given that there were far less errors to fix in the code than in any of my previous attempts. I still had to do some manual bytecode comparisons for the occasional issue, but the significant amount of it was easy but tedious fixes. I was able to use some of my old code again for things I knew wouldn't cause issue, which also helped.
So then that magical moment came again, when there were no errors. And I ran it. Everything worked on the title screen, first try. Awesome. My faith in Fernflower skyrocketed. So I did the ultimate test of trying to create a new world. And that's when it just froze, with my computer practically seizing up as well. When I eventually got the task closed, I tried again, but only to the same incredibly strange result. It was absolutely killing my computer, pegging both cores (I only have a wimpy dual-core). This was far from the result I expected.
Well here we go again, I thought. This time though I suspected a code loop, so I put it through the debugger, waited until the game got stuck, and paused execution (after my computer caught up with my mouse clicks again). It didn't take long to trace my way to what was indeed a code loop. Fernflower had misinterpreted some bytecode slightly differently than it was intended. I fixed that, and then the amazing thing happened.
It ran. It created a new world. I believe there was possibly one more crash after this, related to chunk sorting or something, which I was able to resolve (with code that didn't match the bytecode, oddly enough, but that made sense in terms of Java). I just sat there and played it for a few minutes, because I couldn't believe I'd finally made the damn thing work.
I didn't have any sound, though. This was a known problem with alpha 1.1.2. So I went and grabbed the a1.1.2_01 jar from my MultiMC, did a file compare on all the class files, and pulled out only the ones that were different. That was only about three or four files maybe. I disassembled and decompiled these, added those very few bits of changed code into the game (including the version labels), and ran it again. Sound worked. Everything worked. Cool beans.
Even though absolutely nothing was labeled in the code yet, I'd found where the version string is printed on the screen when doing the sound patch, so I put my own little tag into the game as my first modification.
After saving my work thus far in case of terrible disaster, I immediately set forth deobfuscating the code. It's like a puzzle; you know what the final thing is supposed to look like, you just have to figure out what each piece is. And there's a lottt of pieces. But, again, like a puzzle, when you figure out some pieces, other pieces fall into place. It can be pretty addicting, and I'd forgotten that feeling from back when I decompiled games in the past. You want to find the next one, and the next one. Just figure one more class, then you'll quit for the time being. At least, until that one kind of makes another one make sense, then you need to figure that one out before you lose your place.
Some of this time is also spent changing things while you're in-game to figure out what they do (which Java can do, code hot-swapping, it's great), so you're also having fun playing the game while poking its guts.
In the last couple days I've deobfuscated a decent amount of the code, but still not even half of it. I at least covered the major things, including most of the blocks and items. It's enough to start doing some basic modifications though.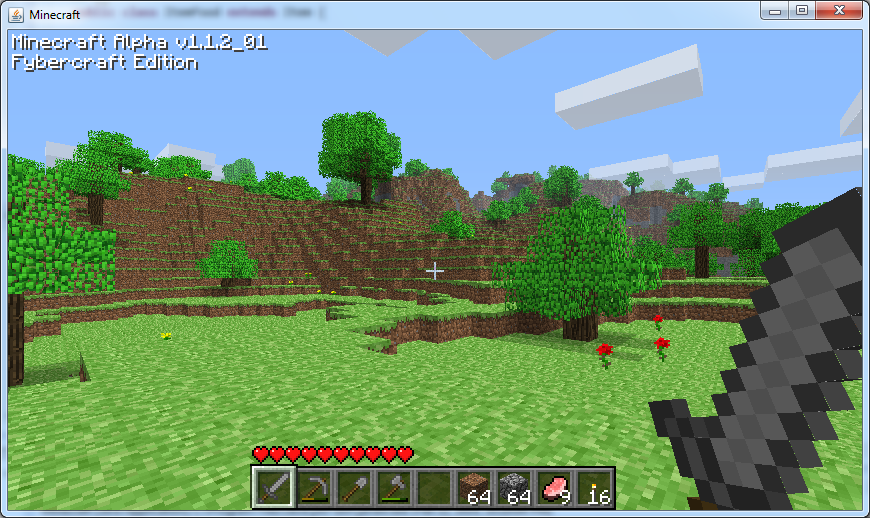 If you're not familiar with that version then you might not notice right away, but that is indeed 9 pieces of pork stacked! I limited the stack to 16 to compromise a bit, and it'll affect both raw and cooked pork since they share the same base class. Now that I think about it, it should affect everything else that uses that class too, like bread and apples, which is also fine! It might seem like an insignificant change to the game, but to me this was the goal, which I somewhat surprised myself by achieving after all of the failure along the way.
Anyhoo, I realize that this is a really long post, and might not even be particularly interesting to a lot of people. But I thought I'd share this with everyone, in case it helps them have a bit of insight into this process as well. Or maybe it just makes you want to play an old version of Minecraft again, which is fine too!
Just keep in mind that this isn't all the MCP team does. All I did was basically decompile and deobfuscate the game (or part of it, so far). They not only deobfuscate it, but also create all of the mappings and the process to re-obfuscate again, which is a crucial part to being able to release mods! I would like to attempt this as well, but it was only briefly before starting to write this post that I realized that the first version of MCP ever released was, ironically enough, for Minecraft v1.1.2_01. Had I realized, I might have simply downloaded that, even, and saved you from this terribly long post.
Maybe I'll leave reobfuscation to the experts!