DeathProtocol69

Zombie Killer
Location:

Mesa, AZ

Join Date:

1/9/2011

Posts:

197

Member Details
I have a thought that since gold sucks as armor and weapons that you should be able to trade with pigmen that are in the real world. They would live in ruins and there they would have alot of stuff that you could pay them with gold coins.
How to make gold coins
[]


[]
[]


[]
[] [] [] []
or




The stuff they could give you for gold coins would be
-diamond(very expensive)
-pickaxes
-flowers(for no reason)
-buckets
-coal or charcoal
-food
-torches
it would be pretty use full if you died and lost all your stuff or if you spawned in a bad location and you find one of their villages(ruins). But the amount of gold in the world would have to be increased
The down side of it is if you kill one of them they all turn an you and you can never trade with them.
so if you agree with me then post a comment and tell me what you think of it so far or if you think other stuff needs to be added.
[url=http://www.minecraftforum.net/viewtopic.php?f=25&t=212301][img]http://i807.photobucket.com/albums/yy358/MintoSoldier/PigmenRuins.png[/img][/url]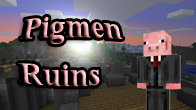 Thanks to Rienzoku for the banner
Also check out my other idea The Shroud Gem and Ultimate Gem -
viewtopic.php?f=1033&t=211247
Minecraft is not realistic enough?