Mega_Builds_2016
Carpenter
Location:

A Minecraft Village

Join Date:

10/22/2016

Posts:

248

Member Details
I am making a mod that adds blocks with 32*32 textures. Just wondering if there is a template out there for making modded armor textures. Thanks.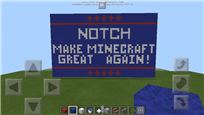 Finds a server that says "No PvP"
*Pushes AFK player off cliff*
Steals Player's Stuff
Admin Can't do anything cause I didn't hit him so "no actual PvP".