Mega_Builds_2016
Carpenter
Location:

A Minecraft Village

Join Date:

10/22/2016

Posts:

253

Member Details
package com.kennethsmedievalmod.init.blocks.barrel;

import net.minecraft.item.Item;
import net.minecraft.item.ItemStack;
import net.minecraft.nbt.NBTTagCompound;
import net.minecraft.tileentity.TileEntity;
import net.minecraft.util.ITickable;

public class YewBarrelDataTileEntity extends TileEntity implements ITickable {
	
	public boolean aging = false;
	public float agingTimer = 0f;
	public int DrinksLeft = 0;
	
	public void SetInput (String selectedInput) {
		
	}
	public int TakeDrink() {
        DrinksLeft--;
        markDirty();
        return DrinksLeft;
    }
    public int AddDrink() {
        DrinksLeft++;
        markDirty();
        return DrinksLeft;
    }
    public void StartAging () {
    	aging = true;
    	agingTimer = 0f;
    	DrinksLeft = 0;
    }
    @Override
    public void readFromNBT(NBTTagCompound compound) {
        super.readFromNBT(compound);
        aging = compound.getBoolean("aging");
        agingTimer = compound.getFloat("agingTimer");
        DrinksLeft = compound.getInteger("drinks_left");
    }
    @Override
    public NBTTagCompound writeToNBT(NBTTagCompound compound) {
        super.writeToNBT(compound);
        compound.setBoolean("aging", aging);
        compound.setFloat("agingTimer", agingTimer);
        compound.setInteger("drinks_left", DrinksLeft);
        return compound;
    }
	@Override
	public void update() {
		if(!this.world.isRemote) {
    		if (aging == true) {
    			if(agingTimer < 24000) {
    				agingTimer += 1;
    			} else if (agingTimer >= 24000) {
    				StopAging();
    			}
    		}
    	}
	}
	public void StopAging () {
		aging = false;
		agingTimer = 0;
		DrinksLeft = 10;
	}
}
Above is the code to my barrel
How can I modify this to make custom recipes where if I input an item it makes one type of drink, but if I input something else it makes a different drink?
The player inputs items via holding the ingredient in their hand and right clicking on the barrel. Right now the only ingredient the barrel accepts is wheat.
Note that I am not using a GUI for this mod. To input an item for a recipe just right click on the barrel while holding the item.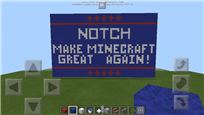 Finds a server that says "No PvP"
*Pushes AFK player off cliff*
Steals Player's Stuff
Admin Can't do anything cause I didn't hit him so "no actual PvP".