Mega_Builds_2016
Carpenter
Location:

A Minecraft Village

Join Date:

10/22/2016

Posts:

244

Member Details
Hi, I am making a new ore that when using the default Minecraft texture pack, the stone part looks like default stone. Then when using the John Smith legacy pack the stone texture switches to the John Smith Legacy Pack's stone texture. For the ore part, it simply displays a transparent texture on top of the stone background. Is this doable?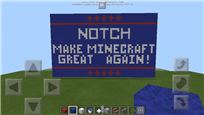 Finds a server that says "No PvP"
*Pushes AFK player off cliff*
Steals Player's Stuff
Admin Can't do anything cause I didn't hit him so "no actual PvP".