HyperzZ6
Join Date:

11/6/2022

Posts:

1

Member Details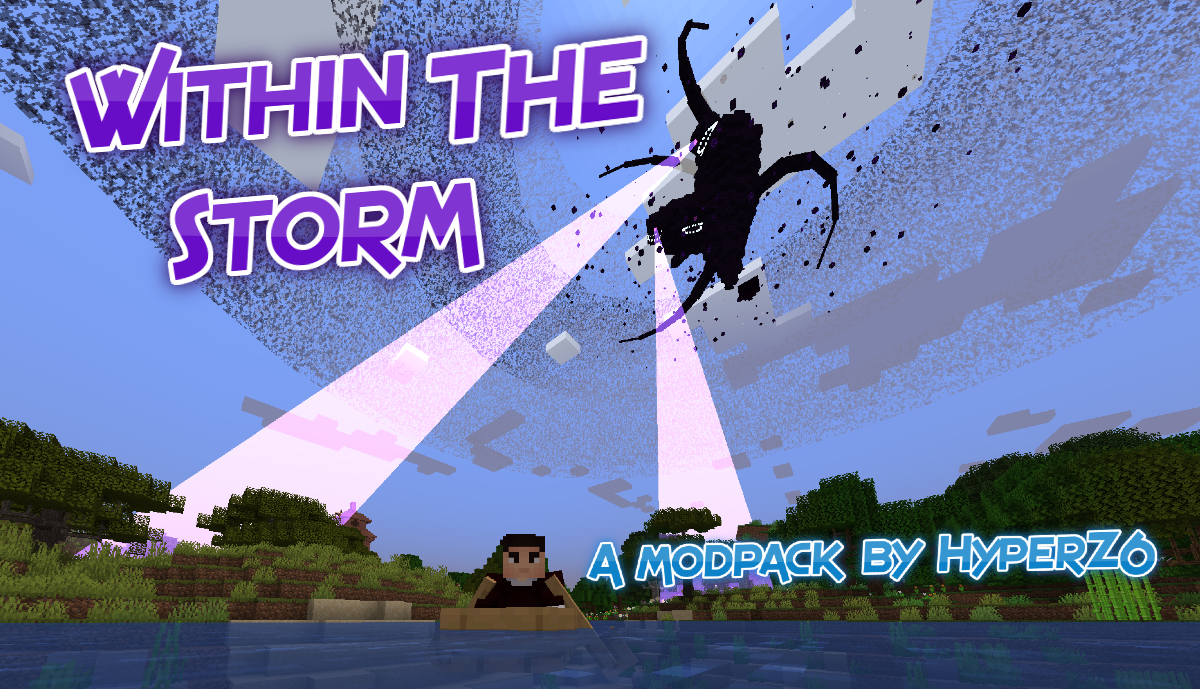 Optifine does NOT work in this pack (hence why it is not included) and is highly suggested against using as it can cause render issues with certain mods and other unpredictable bugs.
Within The Storm early access versions AND release versions prior to version 1.3 can be found in the Within The Storm discord page under #modpack-download: https://discord.gg/nCu82Swk
Curseforge Launcher: This pack is currently not available via the Twitch launcher but can be downloaded using the Curseforge launcher.
https://download.curseforge.com/ (by the time it becomes available to download on the Curseforge launcher)
Forge: It is recommended to use at least Forge version 40.1.68 for Minecraft version 1.18.2. Any later versions of Forge that release after this should be fine to use as well. This pack currently comes with Forge version 40.1.68.
Servers: Server owners feel free incorporate this pack into your server as you please. Please note any parameters regarding world generation types and world name etc must be changed via the server.properties file.
Essentials mod is included within this modpack which can be used to set up multiplayer worlds with your friends but be warned:
Essentials mod contains optional microtransactions and no monetary or profit gain is acquired by me because I am not in affiliation with the essentials mod. So please purchase if desired cautiously if you want to at your own risk.

This initially started off with me discovering an amazing new mod for 1.18.2 called the Wither Storm mod and had a couple playthroughs with it in normal survival with just the mod and realized the amazing gameplay potential and excitement it had so I thought: "Why not just make a super cool adventure RPG boss themed modpack that also happens to be extremely Difficult. So this modpack brings you exactly just that! If you loved playing with The Wither Storm mod you'll for sure enjoy this modpack :).
Within The Storm is a modpack with one goal in mind and that is to survive and eventually progress towards defeating the main boss of the game that will be tormenting you throughout your journey and that being the Wither Storm (inspired by Minecraft Story mode). EXCEPT with a twist. Along your journey you'll face many threats and strong foes looking to want to cut your journey short along with The Wither Storm. This modpack has mods that include many new mobs, structures, biomes, new generation types, weapons, armour, and gear and other bosses as well as custom side quests and main quest lines that all culminate together into this one modpack. Along with the many adventures and foes you will come across in your journey. There is only one true main goal and that is to Defeat the storm.
Main point I'm trying to make is if you enjoyed The Wither Storm mod, you will love this mod pack but it does NOT mean it will be easy. You are going to die a lot and so you must be prepared for that and persevere through all odds. You must be constantly on the move as to not risk The Storm catching up to you. This is a very brutal modpack in terms of pure difficulty so if you expected it would be only a slight challenge to 100% this modpack you are in for a rude awakening. This modpack has a progressional difficulty system which means the game gets harder as you progress. You don't get to one shot mobs all day long as soon as you get a sharpness 5 netherite sword. ;).
Public Server info:
As of now there is no public server currently available for this modpack but please feel free to make your own!
We do however have a discord server which you can access through this link here:

Quick Start Guide: (You may be a little lost if you don't read this!)
* It is recommended that you first set up your backpack open, Journeymap, and ore excavator and Combat Roll keybinds first as they will be the essential ones you use most when starting off.
* You will spawn within your world next to an abandoned house. This house is essential for the completion of this modpack as it is where you are to summon The Wither Storm to begin your journey. (Co-ordinates for abandoned house will also be provided in inventory).
* You will notice that you are unable to break any trees around as that is because you will only unlock your first wooden axe and backpack once you have summoned The Wither Storm. Of course there may be some ways around this to get an axe without summoning The Wither Storm first but that is NOT how the modpack is meant to be played, as it is ruining the essential challenge of the modpack. Side quests will also be disabled until The Wither Storm has been summoned. If it wasn't clear enough already, summoning The Wither Storm should be the first thing that you do. How to do this will be provided in the Quest Book which you spawn with and all necessary items to do so are provided within the abandoned house you spawn next to.
* Once you have summoned The Wither Storm, you will need to run fast and as far away from the Storm as possible and as a word of warning (and my own personal experience) the Storm is *very* fast in the beginning so being able to escape early on is your essential first step. It is recommended you escape where there is a large ocean or a body of water to travel through using a boat as they are quite fast at escaping the Storm early game. The Storm knows where you are in the world at all times so you must be aware of this and plan accordingly.
* Make sure to keep track of the Quest book as it is your one key tool to progressing through the several quests in this modpack to eventually defeat The Storm. Goodluck
Curseforge link: https://www.curseforge.com/minecraft/modpacks/within-the-storm