nidefawl
Curse Premium
Tree Puncher
Join Date:

12/25/2010

Posts:

23

Minecraft:

nidefawl

Member Details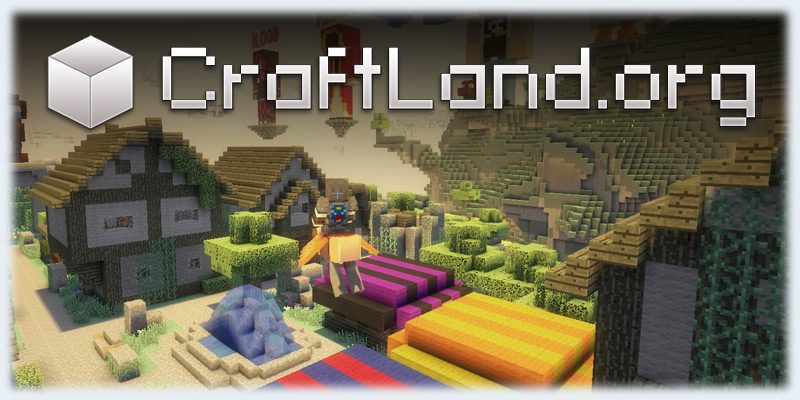 All of Craftlands mods were well thought out and custom coded into the server. Plus Craftland has its very own unique launcher.
It makes joining the server as simple as it can be.
Whether you want to become the strongest warrior around, a king of enterprise, Commander of your own fortress,
or an artistic builder creating the grandest of designs - Craftland has exactly what you need to get it done.
We welcome and await your arrival!
Features:
Little blocks [info]
Pam's Harvest Craft [info]
Unique Seed and Tree mutation system [info]
Unique Infusement System [info]
Unique NPCs Mod [info]
Unique Custom Paintings Mod [info]
Unique MP3/NetRadio MusicPlayer + 3D Sound Jukeboxes Mod [info]
Unique Colored Glass(Panes) Mod [info]
Unique ChestShop Mod [info]
Unique GUIs for Warps/Shops/Regions
Unique highly tweaked client and server
Hopper Ducts [info]
Display Cases[info]
MCMMO [info]
Extrabiomes [info]
Ingame & Online World maps [info]
InvTweaks [info]
SmartMoving [info]
BetterAnimations [info]
Optifine [info]
Server side stats [info]
Tons of Achievements [info]
Mob Dismemberment [info]
Damage indicators
Health Bars
Chat bubbles
Custom Mob Levels
Monsterhunt
Regions
Economy
Server Shop
Feature rich website
Forums
Server wiki
IRC Channel
Admin/Moderator GUI
How to join:
Start it, login with your minecraft account
Once the game started you only have to click Connect to Craftland
You will get a personal link to complete your registration
Reconnected to the server when completed and have fun!