reteo
Diamond Miner
Location:

Northeast Ohio

Join Date:

6/5/2012

Posts:

755

Location:

Northeast Ohio

Minecraft:

Reteo

Member Details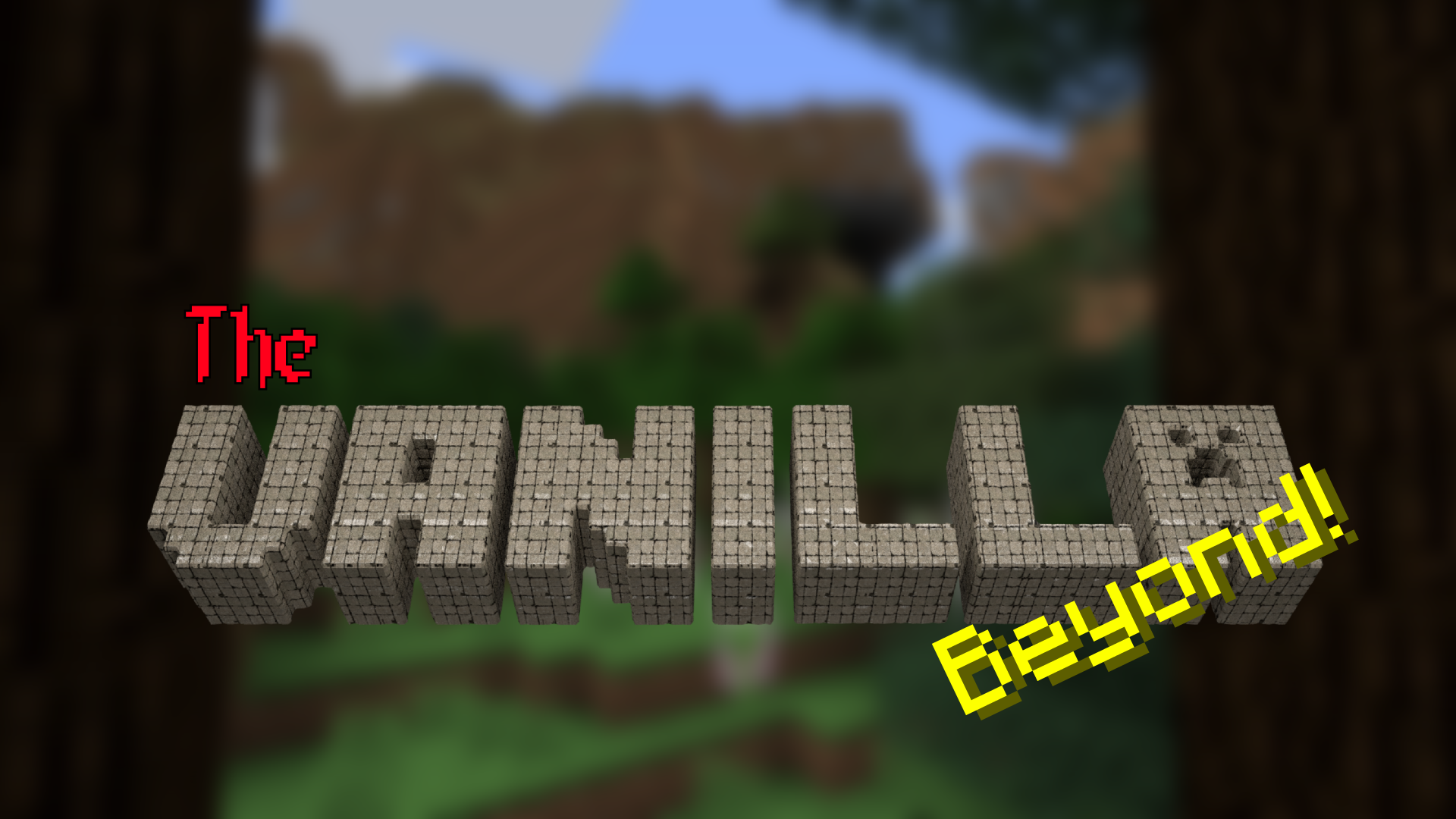 Vanilla Minecraft is a fine game. It's how everyone who's ever played the game started out. Some moved onto modded Minecraft. Others have not. Then, there are those who want to try modded Minecraft, but find that the massive changes just don't suit them. They're familiar with Minecraft, and just want more without a lot of changes.
They want to go beyond vanilla, but they don't want to leave it.
The Vanilla Beyond is for these people. This modpack is designed to carefully retain all of Vanilla's features, while providing expansion to those features, without adding a new plethora of rules and changes that would make the game unrecognizable.
The modpack expands the following sections of the Minecraft game:
Tools and Armor
Mining and Smelting
Redstone Technology
Enchantment
Hunger and Health
Minecarts
Item Storage and Handling
World Generation
Hostile Mobs
Game Interface
Tools and Armor
Tools and armor have not fundamentally changed. However, there have been some expansions to the way they work, and changes as to how they're repaired, but nothing that overrides the vanilla way.
TorchTools has been added to the modpack, allowing a player to place things next to the tool if they right-click. For example, if you have a pickaxe in the second slot, and a torch in the third slot, you can left-click to mine ores, and right-click to place torches. The first slot is the exception, as right-clicking would place whatever's in the last slot, rather than the second. That way, you can place tools in the first two slots, and they will be able to use the last and third slots for placement, respectively.
Tool Utilities has also been added to the pack, meaning that you can use the anvil, with enough XP and the right materials, to add abilities to your tools. These abilities include area of effect attacks for swords (attacking multiple enemies at once) and area mining for axes, shovels and pickaxes (3x1 and 3x3).
TreeCapitator adds a "treecapitator" enchantment that, when applied to an axe, will chop down all connected wood blocks in a tree at once when you break a single block.
Infinibows is a change to bows that, when enchanted with infinite ammo, will not need you to have an arrow in your inventory; the bow makes its own.
The "expanded mining" jmod includes a new feature: incremental tool repair. Tools in this pack do not disappear when broken; they simply stop working. However, repairing them is trivial; simply place the tool and its material component in a crafting grid, and some of the endurance is regained in the tool. For example, an iron pickaxe and an iron ingot in a crafting grid makes an iron pickaxe with some of the endurance restored. You can repair the tool at any time; you don't need to wait until it's broken. Although you might want to use an anvil; they give a bonus, while the crafting grid repairs at a discount.
To those who are familiar with the mod, yes, this is like Tinker's Construct without the complicated tool design.
Antique Atlas is an expansion on the vanilla map. Unlike the vanilla map, the atlas will follow your progress through the entire world, marking each block of the map with an average of the several chunks' biomes around it, and allowing you to place markers. You can also duplicate the atlas, so that if you die, you can use a copy of the atlas to find your death location. It's a long-range map, however, and does not replace the vanilla map for local area exploration.
Ropes+ includes several new types of arrow, a grappling hook, and a zipline. In addition to allowing you to get around, it also includes recipes for explosive arrows, flaming arrows, torch arrows (to get torches into hard-to-reach locations), and the ever-useful warp arrow (an arrow with an ender pearl tip to allow longer-range transport).
Dynamic Lights has also been added to this pack. If you hold a torch, the area around you lights up. The light then follows you. Perfect for cave exploration when down to your last torch!
Mining and Smelting
The Vanilla Beyond includes the "expanded mining" jmod, a re-working of "Moh's Mining" that introduces several new ores, which are commonly used in alternate recipes for different mods. These ores are copper, tin, silver, aluminum, platinum, lead, and nickel. It also introduces the "electrum" and "bronze" alloys, which require "Vanilla Ingot Works" to make (also included). These metals all include armor and tools made of them, so they are more than just chest filler.
As mentioned, "Vanilla Ingot Works" is included. This jmod allows you to make alloys and double your ores' output. This jmod works by providing crucible and sand mold to craft from clay and sand. The crucible holds two metal ingots or two ores, and can be smelted to produce a hot crucible, filled with the liquid metal. Combine the hot crucible with the sand mold in a crafting table, and you can get 2-4 ingots of the desired metal.
Redstone Technology
Minecraft technology is redstone. That's how it should be. So why are there so many modpacks out there dedicated to non-redstone technology? This pack doesn't; it simply expands redstone technology to allow you to make more incredible wonders on less acreage.
Project Red is the backbone of this endeavor. Adding redstone wires and logic blocks (toggles and gates and clocks, oh my!) to your redstone options, you can make much more complex redstone circuitry in a much smaller space, allow you to make a base with automation without needing several bases of empty space to actually run it! And, if you add the optional mod "ComputerCraft" to the list, you can even add a computer to the automation options!
Another key mod is the "Expanded Redstone" mod. This mod provides you with additional world-interaction blocks powered by redstone, beyond the dispenser and piston. Things like block breakers, block placers, and sensors can allow more flexible and controllable automation.
Finally, there is the igniter block. This block is simple: supply a redstone signal, and it catches fire. Lose the redstone, and it goes out. It doesn't catch neighboring blocks on fire, but it works on anything walking over it. And it looks nice in a fireplace.
Enchantment and Magic
The magic system has been expanded in two ways.
The list of available enchantments have been expanded. These enchantments mean a lot more effects can be applied to your gear than vanilla has. For example, cloud armor negates fall damage, and allows you to slow down or speed up your fall (using normal flight controls). Magnet allows you to pick up stuff at range. Heat enchantment allows you to auto-smelt. Leech means you take hitpoint from your enemy. And this is the tip of the iceberg!
Also, the enchantment table now has an upgraded version, which allows you to enchant and disenchant items, and control what enchantments you apply, and at what levels they're applied. Of course, you need to explore the world for scrolls to unlock the enhanced enchantments in the enhanced table, and you need to have enough experience to afford the enchantments you want. The vanilla table may be random, but it doesn't need to unlock enchantments, so you might want to hold off on upgrading until you've got a stockpile of XP and unlocked enchantments.
Hunger and Health
Hunger in Minecraft was always an easy thing to deal with. Carry a stack of steaks, and you can go for weeks without doing anything else to keep stocked.
To make hunger a more important part of the game, Hunger Overhaul has been added. Now the hunger bar will not only track your hunger, but also your saturation (how long until your hunger bar starts to drop) and your usage (how long until another slice is taken from either bar). This allows you to plan your meals to maximize your satiation, which will be important, because all food is now much less filling. Crops and raw food satisfy half a shank, cooked food can satisfy a whole shank.
To help with this situation, Pam's HarvestCraft was added. With this mod, the available crops in the wild has exploded in number, and the number of dishes you can make to eat has also grown vastly, including dishes that, despite the Hunger Overhaul nerf, will fill both meters in a single bite. Farming and cooking have never been so important!
Health has also been something of an issue, but in the other direction; when your health is low, you can die from some pretty stupid stuff, such as 1-block-too-high falls, and bumping into cacti. Natural Absorption has been added to this pack for the sake of mitigating such crazy deaths; you have a 3-heart meter added above your normal health that will take damage first. If you do not take any damage afterwards for some time, it will regenerate quickly. Halo and Mass Effect players will instantly recognize this effect.
Minecarts
Minecraft includes some basic tracks and minecarts. It's good for some basic usage, but it could go further. In this pack, the tracks have been expanded using Railcraft. With this mod, you now have a full-fledged train set, complete with switcher tracks, linked cars, signal lamps, and a steam locomotive! You also have blocks that will interact with carts to load or unload them as needed, expanding your automation to take things over a long distance.
Item Storage and Handling
In addition to trains, the hopper system has had some slight additions as well. With Hopper Ducts, you no longer need to have your hopper directly next to a chest. Now, you can use hopper ducts to pipe things from a hopper to a chest somewhere else. You also now have filtered hoppers, which can be set up to only pull certain items from chests as you wish. Great for sorting stuff you dump into a chest.
Storage options have also increased. Better Storage includes several reinforced chests to expand on the vanilla chest. These chests have a larger capacity (depending on the reinforcing material), and the ability to be locked (and the locks and keys themselves can be enchanted).
In addition to the reinforced chests, Better Storage also includes lockers, which are chests stood up on their sides. They can only be opened from the front, but they are vertically aligned, and don't have the "1 block between" rule. These lockers also come in reinforced versions, and can also be locked.
Another addition to the storage options made by Better Storage is the crate. The crate is a multiblock structure whose storage capacity is directly determined by how large the multiblock is. The downside to this is that opening a chest shows a random sample of its contents; you can only see the "stuff on the surface," if you will, and they'll be randomly scattered in the UI. If you don't see what you're looking for, you'll have to close and reopen the
crate to see what it shows next. It is very useful as a holding area for hoppers to sort from, but I wouldn't use it as long-term storage.
Better Storage also includes a backpack. This backpack can actually be worn, without occupying the chest slot) and used while worn. Additionally, a friend can access it by right clicking on it while it's worn. Useful for sharing stuff during a major building project without the need to "spit it out." If you die while wearing the backpack, the backpack (and all its stored items) is placed in the spot where you died, still holding its contents.
Finally, there are those materials that usually flood chests. Stuff like rotten flesh and cobblestone is usually thrown away, unless you have a big project requiring either. Where do you store these things if you don't want them taking up all your space?
Storage Drawers provide 1-, 2-, and 4-slot blocks that can have large amounts of 1 item in each slot. These blocks can be upgraded to store even more per slot, and the front of the drawers will show what item is stored in them. Very useful for keeping your chests dedicated
to single-stack items.
World Generation
This modpack is a 1.7.10 modpack. In a time of 1.8 and 1.9 modpacks, this is pretty behind-the-times. However, this doesn't mean that this pack is that far behind. A lot of the things you'll find in 1.8 and 1.9 can be found here with the "Et Futurum" mod. Some things (for example, usable slime blocks and guardians) are still not available, but much of the 1.8 and 1.9 worldgen is provided.
Sometimes, you just can't get the drops you need. This can make things tricky, but it can also cause the game to grind on until you have what you need. The Vegan Option changes this; this mod includes many ways of making, finding, or finding alternatives to, mob drops, including string, leather, feathers, eggs, and bones, without needing to kill a single mob. Great for people who simply want to play peaceful games! (If you want to play a challenging peaceful game, check out "Hunger in Peace" in the optional mods section!) At this time, however, neither the Nether Star nor the Dragon Egg is included in this mod.
Hostile Mobs
For those players who get into survival, however, it can seem that, once you have figured out the mobs' movements, you can easily predict them. They become pretty easy to deal with. So much for a challenge! Three mods have been added to this pack to add challenge and diversity to the mobs of the game... without adding any new mobs.
First, creepers, the mascot of the game itself. They're pretty tricky, simply because they don't make any sound (hence the name) until they're either hurt or beginning to ignite. However, we can add a bit more to make them more creepy. Stalker Creepers has one change to the creeper behavior: they don't explode until you see them. If a creeper reaches you, it will just stand there and follow you until you turn around. The moment a creeper becomes visible on your screen (including F5 modes, hint hint), it will begin igniting.
Next, mobs are generally pretty stupid. They can come after you when they see you, but they aren't smart enough to figure out that you make sound, or that you prefer light. Zombie Awareness changes this: wandering zombies and skeletons will generally trend toward lighted areas and sounds, in the hopes that they will find you.
Finally, when they do find you, there's still the stupid AI to contend with. Special AI adds a new twist to the mobs. Each mob type can have one of several behavior patterns, from griefer (they break doors, light sources, chests, and so on when bored) to thrower (they can pick up and throw you or their friends), to shaman (they wear a jack-o-lantern, hold a bone, and heal all hostile mobs in their vicinity), in addition to the vanilla behavior, which is added to the mix for good effect. Tactical thinking has never been so important.
Note that Special AI also changes animal and villager behavior as well; villagers will attack people who break too many blocks in their village, and animals will behave like zombie pigmen, ganging up on you if you attack one of them. Good thing there's the Vegan Option, right?
User Interface
In addition to Dynamic Lights (which allows you to hold a torch for light), there is also sound filters (which adds reverb to caves, and filters out sounds through blocks), and Not Enough Keys, which gives you the ability to save your keyboard configuration (as a backup).
Finally, OpenEye is not useful in the playing, but it can be valuable in bug reports, should something cause the game to crash.
Optional Mods
There are a plethora of optional mods to add to the game, depending on how "purist" you want your game experience. Do you want WAILA and NEI? They're available. Want to refine your farming using AgriCraft? By all means. Do you want more immersive terrain, something closer to the real world? Try "Realistic Terrain Generation" to give you more eye-candy.
And speaking of eye-candy, what about decoration? The options available include Chisel, Ztones, Carpenter's Blocks, and several others. As an interesting bonus, if you have Chisel and Ztones both installed, the ztones will be configured to use the chisel!
Join Us
So, if you've never played modded Minecraft, and want to try it out, or you've tried the other vanilla-themed packs, and found them too conservative, or too divorced from vanilla Minecraft, then feel free to come.
Join us in The Vanilla Beyond!
Last edited by
reteo
: Jun 26, 2016