JTorLeon
Stone Miner
Location:

US

Join Date:

10/11/2021

Posts:

75

Member Details

⛔ I don't allow redistribution of my mods! You are not allowed to re-upload my mod to another website.
📦 This mod requires "Library ferret", download it here: forge | fabric
Adds a new item, the prospecting stick. When you activate it, it tells you if there are ore below you via a sound

There is a stick for each ores:
iron prospecting stick
coal prospecting stick
gold prospecting stick
diamond prospecting stick
lapis prospecting stick
emerald prospecting stick
copper prospecting stick ( version > 1.17.1 )
amethyst prospecting stick ( version > 1.17.1 )
nether gold prospecting stick
nether quartz prospecting stick
nether debris prospecting stick
...
Prospecting is done on the vertical axis only, activate the stick while moving to find the ore.
When it detects a ore, the stick emits/plays a sound.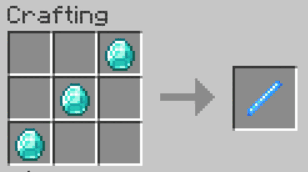 F O R G E
F A B R I C
What is reposting?
Reposting describes the uncredited re-uploading of (mostly copyrighted) files without the permission of the author. Reposting is one of the worst things a mod author can go through, and here is why:
Malicious software

If a mod gets reposted, the mod author doesn't have
any control over the files on the reposting site. This means that malware/adware could get on your computer when downloading/using the mod.


No income for Developers

Developers live from income. If you download from reposting sites, they won't get any revenue, which could mean less mods from them in the future.


Outdated versions

Reposting sites might link you to outdated versions, which could mean more bugs, crashes and errors for you.




What we do
We do our best to provide you with up-to date site lists, a browser extension to block sites, and more.
Block bad sites

Don't want to accidentally visit one? Download our browser extension to be safe!


Maintain a list

We submit new sites periodically. Want to help other users? Find and upload sites so others won't download from them.


Open Source on GitHub

You can visit our GitHub repository to view the site lists. Also, we're always happy about a star!





Get Involved
What can you do to stop mod reposting?
1. Don't visit reposting sites
These sites mostly make ad revenue from every visit. Visiting reposting sites supports them. You can download our free extension for Chrome and Firefox
here
2. Report reposting sites
If you discover a new site and don't see it in our lists, please notify us about it via the
Submit Form
or our
Discord Server
.
3. Support the movement
Every follower, like and retweet helps spread awareness amongst users who download mods. You can also use our hashtag
#StopModReposts
or you can also donate on OpenCollective.
4. For mod authors: Request the removal of your mod
You can file a DMCA takedown notice to request the removal of your mod. Please keep in mind: DMCAs are legal documents, and you must make sure you understand the full procedure, and the consequenses for not following it.