FireController1847
Curse Premium
Stone Miner
Location:

Utah

Join Date:

7/18/2015

Posts:

80

Location:

Utah, USA

Minecraft:

FireControl1847

Xbox:

FireControl1847

Member Details
Previous Owner
NoHero was very kind to allow me to re-create the mod using his source as a basis. While I did write the mod from the ground up, I used his source for many references on how the mod works, and it's only fair to credit it here. You can check out more health enchanted here, and you can see the GitHub issue for continuation here.

What is this mod?
LevelHearts will add a completely unique experience to your Minecraft world. Based off of the original "More Health Enchanted", level up your health by gaining experience, or by searching around the world for heart containers and heart pieces. With plenty of configurable options, you can make your experience perfect for you.
Bring back the true nostalgia of Yogbox with this mod!
How It Works
When you start a world, everything will seem completely normal until you begin to gain experience. This mod works by taking your experience and uses that as a basis for how many hearts you have. So, the more experience you have, the more hearts you have! If you're impatient and you don't want to gain a bunch of experience, you can also find "heart pieces" strewn about the world. Combine four of these to make a "heart container", then right click to gain yourself an extra heart! For now, that's all this mod does, but I'm looking forward to adding more features in the future.
Configuration Instructions
There are many configuration options. Below is a list of each option and its description.


Debug: This will provide a bunch of debug output to the log. It should probably only be used if you're having issues and you need to report a bug.
Hardcore: When enabled, this will cause the player to lose all heart containers and their levels when they die. Overrides punishing.
Items: When disabled, this will ensure that players cannot use heart containers. This does not remove the items from the game, nor does it stop their spawning.
Loot: When disabled, this will prevent heart containers and heart pieces from spawning around the world. Use this in conjunction with items to fully prevent players from using heart containers.
Default Health: The amount of half-hearts a player will have in a new world or after death (in hardcore mode). Default is 20, which is 10 hearts, just like Vanilla MC.
Punish Health: When a player dies, this many hearts will be taken out of their total health. First it removes any hearts gained through the level ramp, then once that has hit zero it will remove your heart containers, until you hit the default health.
Maximum Health: The maximum amount of half-hearts a player can have at any given time. This overrides the level ramp, so if you set this to 40, then there is absolutely no way a player will be able to get over 20 hearts (using LevelHearts. Other mods may conflict and add more than this maximum; you must ask them about this.) Set to -1 to disable.
Level Ramp: Each number represents the level at which a user will gain a heart. So if you have [1, 2, 3, 4, 5], and the player is at level 3, they will have gained 3 hearts.
LevelHearts HUD: By default, LevelHearts will move the armor bar above the food bar. This is because with a large amount of hearts, it pushes the armor bar higher. Disable this to completely disable LevelHeart's modifications (including the below minimal HUD). You should only use this if you want default behavior or are having mod conflicts.
LevelHearts Minimal HUD: Will compress your health bar down into one, regular bar. A number will display to the left of the bar to show you want row you're on. This makes more sense the more you play the game with it on.
XP Multiplier: Will multiply the value of experience by the value set in the configuration. For example, you can make experience be worth 2 or 3 more times than normal.
Always Lose XP on Death: In vanilla Minecraft, the game will keep your experience even if the keepInventory gamerule is enabled. This stops that from happening, forcing a player to lose their experience on death, always.
Images




Make for a very challenging beginner experience by setting the player's beginning hearts to three levels!



The more you gain experience, the more hearts you will earn! Maybe you can make it back to that full set of 10...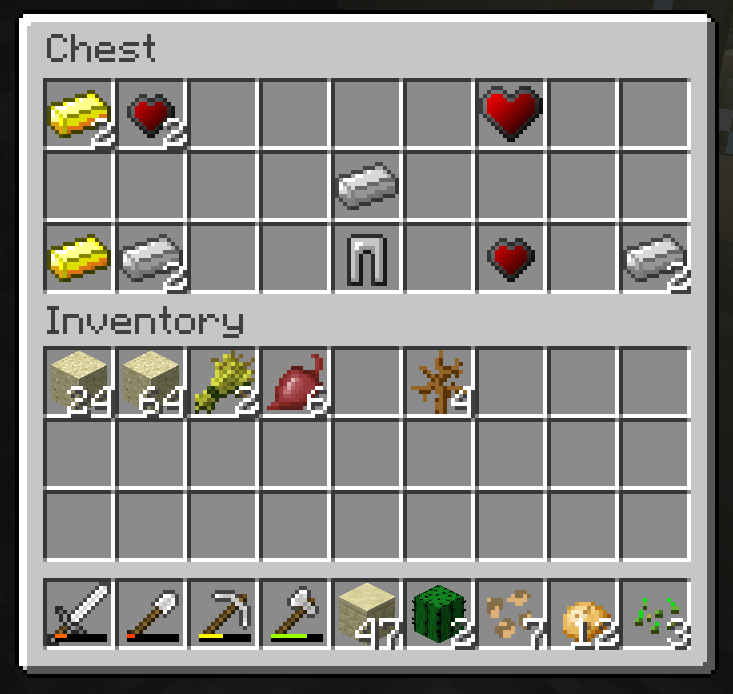 Make your adventures unique by finding heart containers strewn about the map!
Downloads
GitLab Repository