FireController1847
Curse Premium
Stone Miner
Location:

Utah

Join Date:

7/18/2015

Posts:

79

Location:

Utah, USA

Minecraft:

FireControl1847

Xbox:

FireControl1847

Member Details
Previous Owner
NoHero was very kind to allow me to re-create the mod using his source as a basis. While I did write the mod from the ground up, I used his source for many references on how the mod works, and it's only fair to credit it here. You can check out more health enchanted here, and you can see the GitHub issue for continuation here.

What is this mod?
LevelHearts completely overhauls the health system. It's based off of the original "More Health Enchanted." You can gain more health with heart containers (made by heart pieces) or by gaining levels through experience. With plenty of configurable options, you can make your game experience unique to you.
Bring back the true nostalgia of Yogbox with this mod!
How It Works
When you start a world, everything will seem completely normal until you begin to gain experience. This mod works by taking your experience and uses that as a basis for how many hearts you have. So, the more experience you have, the more hearts you have! If you're impatient and you don't want to gain a bunch of experience, you can also find "heart pieces" strewn about the world. Combine four of these to make a "heart container", then right click to gain yourself an extra heart! For now, that's all this mod does, but I'm looking forward to adding more features in the future.
Configuration Instructions
For those brave souls who go out and edit configuration files, this mod allows much configuration when it comes to how it works:
* In normal gameplay, the player will retain the hearts gained via experience after death. However, if you dislike this, you can enable "hardcore mode" to make players lose all gained hearts after they die.
* By default, the player will gain experience in accordance to a "ramp" shown within the config; you can modify this "level ramp" to allow players to gain hearts at different experience levels. You gain a heart every time you hit a level shown in the ramp. So if your ramp is 1, 3, 5, 7, 10, and your player has 20 experience, you will have 5 extra hearts.
* By default, the player starts with 20 health (this is translated to 10 hearts, or the default amount Minecraft Vanilla starts you out). You can change this to change how many hearts the player starts with.
* By default, there is no maximum amount of hearts the player can have (technically there is, it's 255 (the maximum number you can fit in a byte). This is done to save storage space in the player's data). If you want to limit the player to a certain amount of hearts, you can set this option.
* There are two major HUD modes; "default mode" and "minimal mode". The default mode moves your armor bar to the right side, just above your food. This allows for you to have multiple rows of hearts without it pushing the armor bar higher (in older Minecraft versions, it would simply draw over it). In minimal mode, the mod will compress your multiple bars of hearts down into one bar. This bar has a number to the left of it that indicates what "layer" you're on. Say you have 3 bars of hearts; in minimal mode, it'd only show one bar, but with the number "3" next to it. You still have 3 bars of hearts, but it only shows in one bar (this makes sense the more you play).
* If you have any conflicting HUD mods, you can disable the custom LevelHearts HUD. However, ensure your other mods will be able to display all the extra (or taken away) hearts that you have, otherwise you may not be able to tell!
* There are two extra options that relate to "experience" and not necessarily health. There's the "XP Multiplier" and the "Always Lose XP on Death" options.
** The "XP Multiplier" option will do exactly what it says; multiply the value of XP. Every XP orb picked up by the player normally is worth "1" experience point. However, if the multiplier is set to "2", then every orb is worth "2" experience points.
** The "Always Lose XP on Death" option was mostly made for the Yogbox 2.0, but works for anyone using the mod. When the keepInventory gamemode is enabled, by default the player will NOT lose their XP. This option reverses that; it forces players to lose their XP on death no matter what gamemode they're in or gamerule is set.
Images




Make for a very challenging beginner experience by setting the player's beginning hearts to three levels!



The more you gain experience, the more hearts you will earn! Maybe you can make it back to that full set of 10...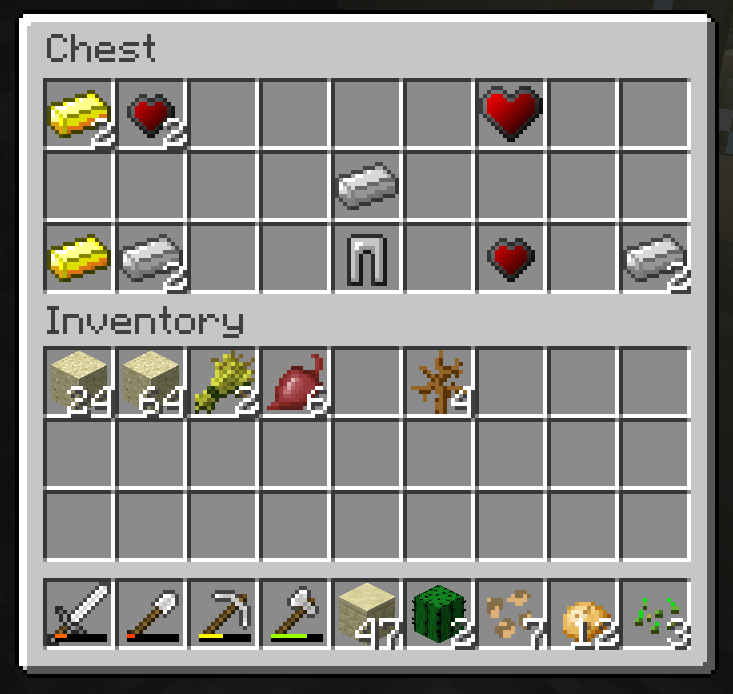 Make your adventures unique by finding heart containers strewn about the map!
Downloads
GitLab Repository