BlackJar72
Curse Premium
Lapis Lazuli Collector
Join Date:

1/28/2013

Posts:

1,078

Location:

a perilous realm

Minecraft:

JaredBGreat

Member Details
This is a mod about world maps that make sense. Based on some experimenting I was doing into generating campaign map for RPGs, this mod completely changes the way biomes are laid out in your world. Instead of the random scattering of land, water, and biomes you get with vanilla you will find large continents with biomes laid out according to a climate model; that it completely replaces the vanilla noise maps and biome groups with a system based on a semi-realistic climate model -- realistic enough to feel believable while avoiding being boring or unbalanced in the number of biomes. The goal is to make the worlds more fun and believable, not to be a slave to realism -- its a game mod, not a scientific model after all.
This mod is not about terrain (it uses the vanilla chunk provider, so vanilla style terrain, which I like). Its also not about new biomes, though it does add a few to fill in some gaps left by the vanilla system. What it does give you are 4096x4096 block map zones with biome laid out in a generally believable way -- that's 256x256 chunks, 2x2 level 5 maps, or 1/2 the size of the Skyrim map, if you're wondering. Version 2 is a complete re-write with huge improvements over version 1 (which was more a proof of concept than anything else). Some things you will find include:
Much faster and more efficient world gen than version 1, possibly even faster than vanilla in some situations
Large, fully navigable rivers, which can run for hundreds or thousands of block, and may merge into semi-realistic river systems
Several new biomes, including subtropical forest, tropical forest, dense scrub, dry scrub, and swampy pine woods, most of which have hilly variants
Sizes for continents and biome areas can now be configure
One new tree to represent the pines and cedars of warm climates
The ability to add biome mods to existing worlds without ugly clifts (though you will need to find a new continent to see them) -- warning, taking biomes out will require configuring and make ugly clifts.
Fully supports Biomes O'Plenty and Traverse out of the box
A configuration system that can add biomes from any other mod (as long as they have vanilla IDs)
The ability to create your own variations of existing biomes with custom terrain
Dynamic trees support is available through an add-on
Some Pictures
These are some old in-game maps (vanilla and map-writer) of a generated continent; these are from 1.0, since I haven't mapped this far in 2.0 yet. With the new system you would have the same land shape but different climates / biomes.

A bushy scrub brush biome in a chaparral like climate between the plains and desert.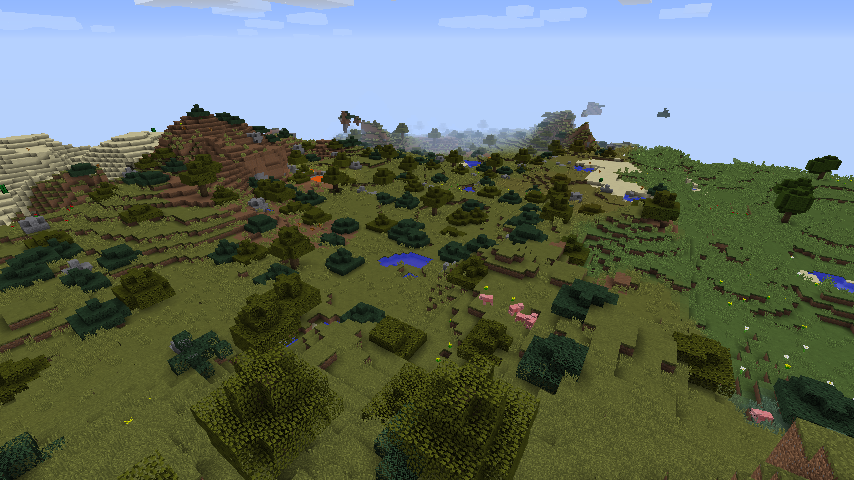 Pines in a subtropical forest, along with pine log, pine planks, pine leaves, and pine sapling.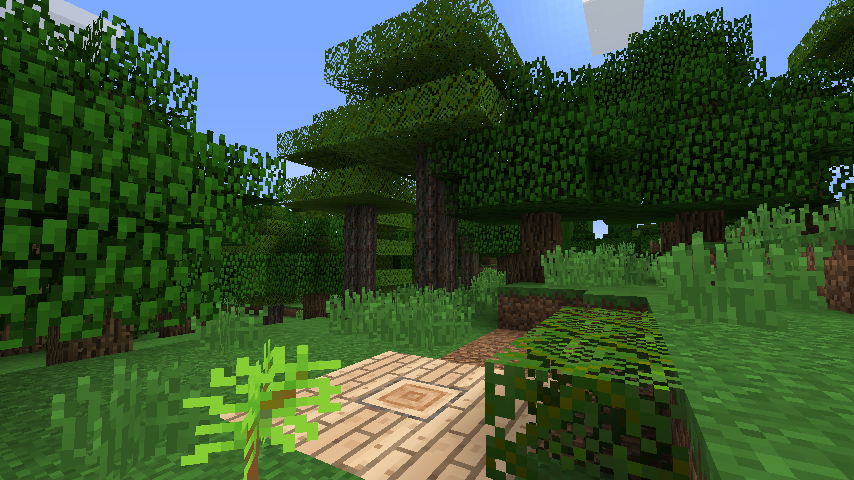 License
Copyright (C) Jared Blackburn, 2017, This work is licensed under the MIT License.
https://github.com/BlackJar72/ClimaticBiomePlacement/blob/v2/LICENSE
The source code can be found here:
https://github.com/BlackJar72/ClimaticBiomePlacement
My Other Mod
Support This / Me:
Ko-Fi (one time donation)