kwpugh81915
Out of the Water
Join Date:

10/1/2018

Posts:

6

Member Details
https://minecraft.curseforge.com/projects/gobber
GOBBER IS GOOD!
Gobber is a small mod that adds a new layer of tools/weapons/armor above diamond materials and a few other things, designed to make your Minecraft a little more fun.
Tested and verified for single and multiplayer
Getting Started:
The key material for this mod is called Glob, which can be obtained in two ways.
Mining - Gobber Ore, which drops 1-4 Globs, spawns randomly at y=20-30 and can be mined with any tool
Growing - Globettes can be obtained as a rare drop from grass, which can be crafted into a Glob Seed and grown on vanilla farmland. Globettes can be crafted into Globs as well as Glob Seeds.
The next step is to make some ingots for crafting.
Crafting - To make Globots, you will need to craft a Glob with an iron and gold ingot and a diamond. This results in (3) Raw Globots.
Smelting - Simply smelt a Raw Globot and get a regular Globot, ready for crafting.
MOD CONTENTS:
Tools/Weapons:
Glopper - a powerful sword, right-click for Fire Resistance
Gigger - a long-lasting pickaxe, right-click for Night Vision
Govel - a shovel, right-click for Water Breathing
Goe - a hoe
Gaxe - an axe
Gow - a bow with great power and limitless arrows
Ghears - a pair of shears
Gaxel - a powerful tool that combines a Gigger, Glopper, and Gaxe into one powerful tool, right-click for Night Vision
Armor:
Garmor - a very sturdy set of armor, wearing pants and boots provides "No Fall Damage"
Specialty Items:
Movement:
Gring of the Clouds - gives a slow ascent for 45 seconds
Gring of the Rocket - gives a rapid ascent for 10 seconds
Gring of Leaping - provides a significant jump boost when in hand
Gring of Acceleration - increase forward motion while aloft
Gring of Blink - teleport to the location the player is viewing
Gring of the Void - teleports the player to the void
Gring of Return - returns the player to their bed spawn
Gring of the Traveler - provides a large jump, forward acceleration, and No Fall Damage
Combat:
Gring of the Shield - 30 seconds of damage resistance
Gring of Elimination - kills hostile mobs in a small range around the player
Gring of Grinding - levitates mobs and drops them to their deaths
Gring of Enchantment - gives special enchantments to the Garmor and Glopper
Gaff of the Ghast - shoots fast fireballs, limit 100 shots
Gaff of the Dragon - shoots dragon fireballs, limit 100 shots
Gaff of the Wither - shoots wither skulls, limit 100 shots
Gaff of Ensnarement - capture/release a mob (passive/hostile)
Block Destruction:
Gring of Arboreal Destruction - breaks logs and leaves in a defined area (9x9x20)
Gring of Sedimentary Destruction - breaks stone, dirt, grass, sand, and gravel in a defined area (5x5x5)
Misc:
Gring of Attraction - an item magnet, sneak right-click to toggle on/off
Gring of Stowage - provides easy access to player's enderchest
Gring of Growth - gives growth to plants/crops in a 5 block range
Gring of Love - causes animals to get "busy" in range
Gring of Helios - clear up a rainy day with a simple right-click
Gring of Absolution - removes all effects with a right-click
Specialty Blocks:
Block of Repulsion - a block that repels hostile mobs within a 64 block range
Block of Elimination - a block that kills hostile mobs within a 32 block range
Block of Burning Ascent - a block that tortures mobs in a 16 block range
Repulsion, Burning Ascent, and Elimination blocks
Food:
Goo - a lumpy, messy, food made from Glob, Sugar, Egg, and Slime Ball
Goop - a smooth drink made from Goo (gives Absorption and Saturation)
Gaffy Apple- Glob-infused apples (gives Speed and Jump Boost)
Fuel:
Foo - a furnace fuel made from charcoal and Glob giving 128,000 tick burn time
Worldgen:
Gobber Ore - a fairly rare ore found between y=20-30 which drops Globs. The ore throws light so it is easier to find in caves.
Globs - a bit of Gobber in your hand, not much good until it is processed in some way
Globette - uncommon drop from grass which can be crafted into Globs
Glucky Block - a fairly common block found between y=70-110 which drops random loot when broken.
Materials:
Raw Globot - a proto-ingot made from Glob, Diamond, Iron Ingot, and Gold Ingot in a crafting table
Globot - a smelted version of the Raw Globot, now suitable for crafting purposes
Globot Rod - a tough rod used for crafting tools and weapons
Crops:
Glob Seed - can be crafted from Globettes and a Beetroot seed, used to grow Glob Plants.
Glob Plant - a planted Glob Seed grows into a Glob Plant and drops Globette for crafting. It can be right-clicked for harvest, leaving the plant in place. Also works with auto farmers (e.g. Farmer from Actually Additions). A Gring of Growth accelerates the process.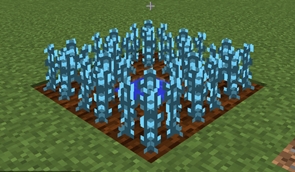 A small farm of mature Glob Plants
JEI is highly recommended for the various recipes.
Installation
Install Forge.
Run Minecraft once and quit at the main menu.
Place mod jar file into your 'mods' folder
Licence
"Gobber" mod is an open source Minecraft mod released under version 3 of the GNU Lesser General Public License. What this means is that the source of this mod is publicly available and you have certain rights with respective to the code. Feel free to read up more on Open Source Software and what the GPL/LGPL give you in terms of your rights to software released under that license, but the short version for you folks here is:
you have the right to have access the source code of the mod.
you have the right to be able to edit/use parts (or all) of the source code provided that you provide proper credit to the original authour(s).
you have the right to distribute the source code and/or compiled versions of the source code.
you have the right to use this mod in Lets Plays/YouTube videos however you see fit (monetization, for fun, etc) as long as you provide credit to the original authour(s)(a link back to this thread for example).
Mod Packs
"Gobber" mod is an open source mod and released under the LGPL v3, that means you have the right to include this mod in your modpack.