NightKosh
Curse Premium
Diamond Miner
Location:

Saint-Petersburg

Join Date:

3/2/2013

Posts:

859

Minecraft:

NightKosh

Member Details
Advanced Fishing
Follow @NightKosh
Patreon
This mod adds new 43 fishes, recipe for luck potion and overrides fishing mechanics. All of the new and vanilla fishes can be catched only in own types of biomes, dimensions and liquids.
Catch in desert savanna & mesa:
Cod
Squid
Sandy Bass
Golden Koi
Sunfish
Catch in jungles:
Cod
Squid
Piranha
Sparkling Ell
Mandarinfish
Catch in swamps:
Cod
Squid
Ruffe
Mud Tuna
Swamp Plaice
Catch in snowy biomes & taiga:
Cod
Squid
Snowy Walleye
Frost Minnow
Glacier Anchovy
Catch in oceans and beaches:
Blue Jellyfish
Angelfish
Squid
Puffer
Clown Fish
Sponge Eater
Additional catch in deap ocean:
Abyssal Lurker
Angler fish
Catch in other owerworld biomes:
Cod
Squid
Salmon
Catfish
Pike
Explosive Crucian
Catch in mushroom biomes:
Cod
Squid
Salmon
Catfish
Pike
Red Shroomfin
Brown Shroomfin
Catch in dead biomes(there aren't such biomes in vanilla minecraft):
Green Jellyfish
Bone Fish
Cursed Koi
Spookyfin
Rare catch in the caves:
Specular Snapper (at the depth of 50 blocks)
Cave Trout (at the depth of 40 blocks)
Crystal Mullet (at the depth of 25blocks)
Charged Bullhead (at the depth of 25blocks)
Catch in the End:
Ender Shad
Pearl Sardine
Chorus Koi
Catch in lava:
Obsidian Bream
Magma Jellyfish
Wither Skull
Catch in lava(only in the Nether):
Nether Sturgeon
Magma Jellyfish
Quartz Chub
Fungi Catfish
Withered Crucian
Flarefin Koi
Blaze Pike
Wither Skull
"Blazing Fishing Pole":
This items can be used to fish in lava. You can find it Nether Fortress chests of catch it in lava.




Recipes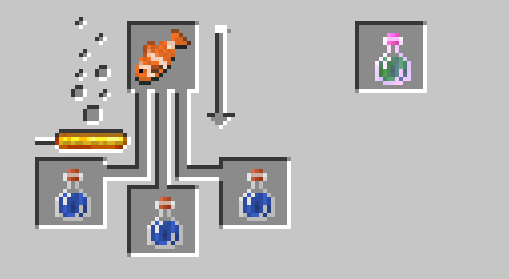 Download - Minecraft 1.12.2
Installation
Install Forge.
Run Minecraft once and quit at the main menu.
Place mod jar file into your 'mods' folder
Licence
"Advanced Fishing" mod is an open source Minecraft mod released under version 3 of the GNU Lesser General Public License. What this means is that the source of this mod is publicly available and you have certain rights with respective to the code. Feel free to read up more on Open Source Software and what the GPL/LGPL give you in terms of your rights to software released under that license, but the short version for you folks here is:
you have the right to have access the source code of the mod.
you have the right to be able to edit/use parts (or all) of the source code provided that you provide proper credit to the original authour(s).
you have the right to distribute the source code and/or compiled versions of the source code.
you have the right to use this mod in Lets Plays/YouTube videos however you see fit (monetization, for fun, etc) as long as you provide credit to the original authour(s)(a link back to this thread for example).
Mod Packs
"Advanced Fishing" modis an open source mod and released under the LGPL v3, that means you have the right to include this mod in your modpack.
Source Code
All source code of "Advanced Fishing" and its "API" available at GitHub.