Wazmaster_Jastin
Tree Puncher
Join Date:

3/31/2017

Posts:

18

Member Details
Vanilla Builders Extension is a mod that adds all the missing stairs, slabs, fences, gates, and even walls for vanilla blocks that ain't got any. The blocks that are added use the textures of their respective vanilla parent-block. That way they will work with every resource pack.
Release version 1.0.4 is now available.
Want Polished Andesite Stairs? Check
Or Hay Slabs and Stairs for your roof? Check
You found a bug or have a problem?
You have a suggestion or want to state your opinion?
Feel free to comment below
Preview images
Vanilla Texture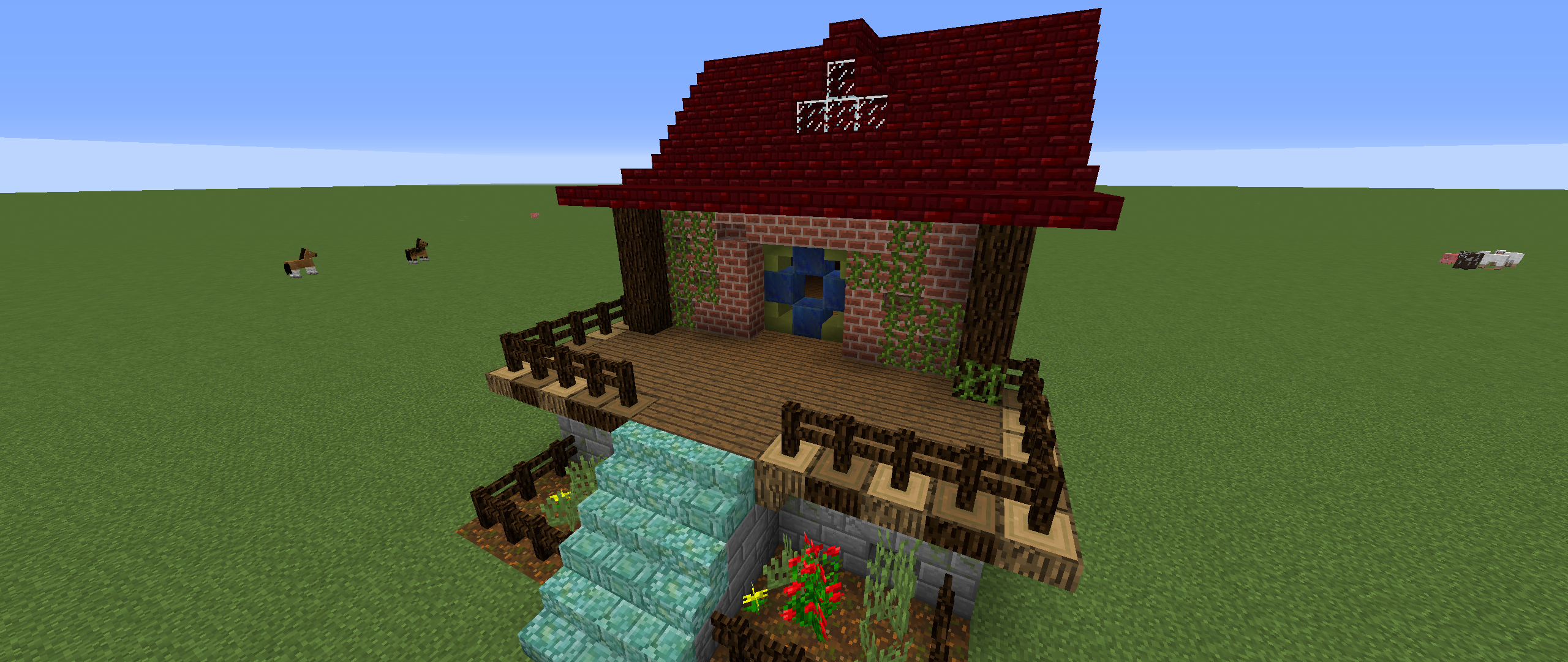 David's Details Ressource Pack: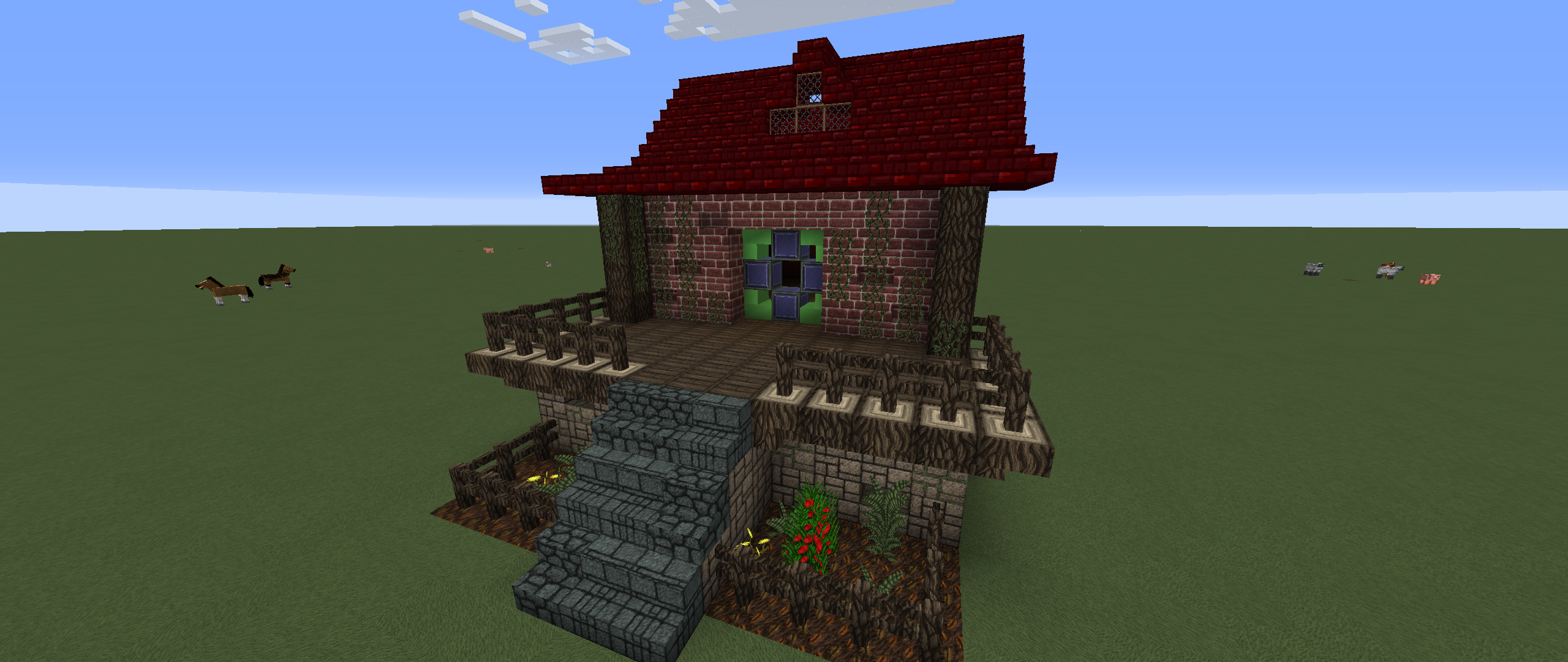 Previews created by Leichenengel (Upper image = Vanilla || Lower image = MojoKraft 64x Pack):
What does the mod currently offer?
Currently there are stairs, slabs, walls, fences and gates for 60 blocks and a Smooth Stone block (the default stone slab).
Stairs, Slabs, Walls, Fences and Gates:
Bone
Clay
Coal
Diamond
Emerald
End Brick
End Stone
Gold
Hardened Clay
All 16 Stained Clay
Iron
Lapis
Acacia Log
Dark Oak Log
Birch Log
Jungle Log
Oak Log
Spruce Log
Netherrack
Nether Wart
Obsidian
Prismarine Brick
Dark Prismarine
Prismarine
Purpur Pillar
Chiseled Quartz
Quartz Pillar
Red Nether Brick
Chiseled Red Sandstone
Smooth Red Sandstone
Chiseled Sandstone
Smooth Sandstone
Chiseled Stone Brick
Cracked Stone Brick
Mossy Stone Brick
Andesite
Polished Andesite
Diorite
Polished Diorite
Granite
Polished Granite
Hay
Packed Ice
Stone (Regular stone texture)
Mossy Cobblestone (Stairs, Slab, Fence and Gate)
Brick (Wall, Fence and Gate)
Nether Brick (Wall and Gate)
Purpur (Wall, Fence and Gate)
Glass (Stairs and Slab)
Stained Glass (Stairs and Slab)
Stone Brick (Wall, Fence and Gate)
Cobblestone (Fence and Gate)
Sandstone (Wall, Fence and Gate)
Red Sandstone (Wall, Fence and Gate)
Quartz (Wall, Fence and Gate)
Dirt (Stairs and Slab)
Coarse Dirt (Stairs and Slab)
Grass (Stairs and Slab)
Path (Stairs and Slab)
Podzol (Stairs and Slab)
Mycelium (Stairs and Slab)
Leaves (Stairs, Slab, Fence, and Wall)
Polished Stone:
Polished Stone Block (Full block with Vanilla stone slab texture)
Polished Stone Stairs, Wall, Fence and Gate
Mushrooms:
Mushroom Stem Block (Full block)
Mushroom Insides Block (Full block)
Red Mushroom (Stairs, Slab, Wall, Fence and Gate)
Brown Mushroom (Stairs, Slab, Wall, Fence and Gate)
Mushroom Stem (Stairs, Slab, Wall, Fence and Gate)
Mushroom Insides (Stairs, Slab, Wall, Fence and Gate)
Changelogs
Official Release
Version 1.0.4:
- Another adjustment to fix the crash caused by color manager

- Bone stairs and walls textures adjusted

- Custom creative tabs for each block type added per request
- Names updated from Stained Clay to Hardened Clay
- Recipe added to convert grass blocks to path blocks, if grass crafting is enabled

Version 1.0.2:
- Fix for Issue 1: Crash caused by color manager
- Fix for Issue 2: Crash at loading

- Dirt and Grass crafting issue fixed

- Granite and Mossy Stone wall crafting fixed
Version 1.0:
- Updated configs with new options for block groups

- Added compatibility with Quark. Duplicated blocks are not loaded if Quark is present. Config option added to ignore this. (if you have them disabled from Quark instead)
- Added Leaves Stairs, Slab, Fence, and Wall
Beta
Version b0.8.2:
- Updated configs with new options
- crafting selections
- disable block types
- Added Stone Brick Wall, Fence, and Gate
- Added Cobblestone Fence, and Gate
- Added Sandstone Wall, Fence, and Gate
- Added Red Sandstone Wall, Fence, and Gate
- Added Quartz Wall, Fence, and Gate
- Added Dirt Stairs and Slab
- Added Coarse Dirt Stairs and Slab
- Added Grass Stairs and Slab
- Added Path Stairs and Slab
- Added Podzol Stairs and Slab
- Added Mycelium Stairs and Slab
- Added Red Mushroom Stairs, Slab, Wall, Fence and Gate
- Added Brown Mushroom Stairs, Slab, Wall, Fence and Gate
- Added Mushroom Insides Stairs, Slab, Wall, Fence and Gate
- Added Mushroom Stem Stairs, Slab, Wall, Fence and Gate
- Texture fixed on log walls
- Bug fix: Place torch on new walls
- Bug fix: corrected block placing sounds
- Bug fix: corrected glass lighting issue
Version b0.7.0:
- Added Purpur Wall, Fence, and Gate
- Added Glass Stairs and Slab
- Added Stained Glass Stairs and Slab
- Minor text fixes
Version b0.6.6:
- Fix for multiplayer bug
Version b0.6.5:
- Added Fence Gates

- Added Walls
- Added Smooth Stone (based on Vanilla Stone Slab)
- Added Stone, Nether Brick, Brick, and Packed Ice
- Fixed a few minor texture bugs
Alpha
Version a0.5.2:
- corrected an inventory texturing issue
Version a0.5.1:
- created stairs, slabs and fences for several vanilla blocks like Cracked Stone Bricks, Stained Clay, Nether Wart Blocks and more
Requirements and Download

Built for Minecraft 1.11.2 with Forge 13.20.0.2260
Built for Minecraft 1.10.2 with Forge 12.18.3.2185
Mods by me:
Vanilla Builders Extension - Forum Post - Curse Page - Current Version 1.0.4 for MC 1.11.2
Experience Cache - coming soon - Curse Page - Current Version 0.5.3 for MC 1.11.2
Analog Circuits - coming soon