Purplicious_Cow
Lapis Lazuli Collector
Location:

Amsterdam

Join Date:

11/30/2014

Posts:

1,104

Location:

Amsterdam

Member Details
Voxels - Latest Version 1.7.10 & 1.10.2
Support Voxels! Become a Patreon!
Purplicious_Cow
Latest version fixes many compat/crashing issues with other mods.

Ever thought to yourself… "Shouldn't there be some kind of universal currency in Minecraft, so I can trade my hard-won items with NPCs for cash?"
Or… "What if Creepers were actually sapient beings, smarter than Players, and capable of incredible advancements, such as a working economy and thriving, vibrant villages?"
Or even … "What if Villagers didn't trade crap and were actually fun?"
Or… Where are the sheep fountains that I was promised some time ago?
Well, then, Voxels is for you!
What is Voxels?
Voxels is primarily a trading modification to Minecraft, greatly improving the overall trading experience, and introducing a new in-game currency, Voxels. With Voxels installed, you will be able to trade items from vanilla or any other mod for Voxels. These Voxels can then be exchanged for items in the game, including hard-to-find resources, special armor or weapons, or even items from other mods.
There is only one place to download this file, at curse forge (link below). Any other download location is not authorized.
Mod Showcases
(German)
(Spanish)
How do I get these Voxels?
There are two ways to get Voxels:
Kill monsters (who can occasionally drop Voxels)
Trade resources and items away for Voxels
But wait, who do I trade with?
Why, intelligent Creepers, of course. Didn't I mention that? To be clear, the Creepers who live in Creeper Villages scattered all around the Overworld in Plains, Deserts, Savannas, and Oceans. Within these villages, you will find several different types of Creepers who happily buy and sell different items.

So, who are these Creepers?
Creeper Farmer – Plants, Foods, Farming Tools, and Plant byproducts
Creeper Rancher – Foods, Ranching Tools, Animals and Animal byproducts
Creeper Miner – Mining Tools, Ores, and Gems
Creeper Guard – Weapons and Armor
Creeper Scientist – Potions
Creeper Lab Assistant – Potion ingredients and redstone-related equipment
Creeper Mayor – Specialty Items
Creeper Citizen – Buy only
Shady Creeper – Don't ask
Custom Trader – If enabled, items from other mods in game
... and a few others you will discover on your adventures
Be aware that each Creeper only carries around a certain amount of Voxels at a time (for safety reasons, of course).
How do I trade?
Right click on one of the above Creeper types in a Creeper Village to engage the trading GUI.
When trading is engaged, hover over an item in your inventory to show its Value as well as the Price the Creeper trader is will to pay for it, or hover over an item in the Creeper's inventory to see its Value and the Price you will be charged.
To engage in a transaction, simply Shift-Right-Click on the item you wish to trade. This goes for buying or selling:
Shift-Right-Click on an item in your inventory to sell it
Shift-Right-Click on an item in the Creeper inventory to buy it
If all goes well, you will hear the sound of currency exchanging. If there is an issue with the transaction, you will hear a gong sound and no exchange will take place. If you hear the gong, check the chat window to see what went wrong.
Here are the reasons you might have a problem:
You are not Shift-Right-Clicking. This is the only way to exchange. Not right-click, not left-click, not scrolling with your nose while hitting spacebar. Shift-Right-Click.
You do not have enough Voxels to make a purchase. You will have to earn more. Nice try.
The Vendor does not have enough Voxels to buy your item. Vendors slowly get more Voxels over time.
You are trying to buy a Special Item but are not holding the Key to the City in your inventory. For more about the Key to the City, see Special Items.
Your computer is not on. Try plugging it in and then hitting the power on button.
Wait, I sold something I didn't mean to. What do I do?
Don't worry, you can always buy it back from the Creeper you sold it to. Every Creeper has a special buyback shelf, showing the most recent transactions. Simply purchase it as you would any other item. Unfortunately, the Creeper trader will still take a cut, because business is business.
Where are the Voxels? I don't see them in my inventory!
Voxels do not need to be stored in your inventory. They are magically stored with your player. Using magic! You can see your total Voxels in the upper left hand corner of your screen. When in trading mode, you will see the total kept at the bottom of your inventory.
Your Voxels total is saved when you log out or die. Please note that you will automatically lose 10% of your Voxels when you die (this can be changed in the config, if so desired).
Reputation and Price Markup
Maintaining a high reputation with the Creepers is good for business. And what's good for business is also good for your health. You have been warned.
There are three reputation levels with the Creepers:
Neutral Rep (Yellow)
Neutral Rep means Creepers are indifferent to your presence. You are neither a friend nor a foe, but they are happy to trade with you. When the mod is first installed, you will start out with Neutral Rep.
Trading: Creepers take a 20% cut. That means they charge 20% over value when selling, and pay 20% less when buying.
By default, Neutral Rep is between -99 and +100 reputation points.
Good Rep (Green)
Good Rep means Creepers consider you their friend and ally. As a result, you receive better pricing during trades, and a more friendly experience in town.
Trading: Creepers take only a 5% cut.
By default, Good Rep is above 100 reputation points
Bad Rep (Red)
Bad Rep means you have upset the Creepers more than once, and are now seen as a dangerous and unwelcome criminal in their eyes.
Trading: Creepers will not trade with you (except the Shady Creeper). And most will run away, except for guards, who are under orders to kill you on sight.
By default, Bad Rep is below -100 reputation points
If your reputation is Bad, the only Creeper you can trade with is the Shady Creeper (see more about the Shady Creeper below).
All rep thresholds can be changed in the config file.
So, how do I gain Reputation?
You can gain reputation in multiple ways:
Spreading joy and harmony in the world by planting Creeper Spores and bringing new Creeper Children into the world. Aw.
Disposing of the village nemesis, the Shady Creeper
Learning more about the Creepers through reading special books available for purchase from the Shady Creeper
Successfully purging the village of a rarely seen tea-wielding monstrosity that is rumored to terrorize villages
And how do I lose Reputation?
You lose reputation every time you commit a crime (see the Justice System)
The amount of reputation you lose is dependent on the severity of the crime committed, for example, damaging property is penalized less than hitting the Mayor
Shady Creeper
The Shady Creeper is an outcast citizen of the Creeper Village, who employs rather dubious tactics for quick profits. The Shady Creeper will happily trade his items on the black market to players with low reputation, for a slight fee of course. By default, the Shady Creeper takes a whopping 50% cut of any trade. But "half is better than nothing" as he likes to say… while counting his Voxels.
Shady Creepers are often found lurking close by Creeper Villages.
What are these Special Items I hear talk of?
Some Creepers have a Special Item shelf, which displays certain rare or high value items. These items can only be purchased if you are holding a Key to the City in your inventory. The Key to the City is awarded for good citizenship (and a generous donation of Voxels to the mayoral campaign).
And what are these (1-, 2-, 3- ) Enchanted Items?
As the name implies, each of these Special Items possesses a certain number of random, hidden enchantments. Simply right click on your purchased item to reveal its magical properties. Rumor has it that these items have built-in names as well.
Can I Craft (1-, 2-, 3-) Enchanted Items?
Yes, you can! Using special materials acquired from killing wild creepers in combination with a healthy supply of Emeralds, you can craft these magical items.
[recipe pics coming]
What are these other Special Items?
Miner's Helm – Allows you to see in the dark without torches
Woodcutter's Axe – Fells trees in a single stroke
Murderous Axe – A powerful weapon disguised as a tool. Pre-owned!
Creeper Spores – Plant baby Creepers and make the world a better place. Aw.
Mob Zapper – Place this block down anywhere and it will kill all vanilla mobs dead within a certain radius. Great for parties.
Can I Repair Special Items?
Why yes. You'll need to purchase a Repair Kit, available from the Miner, and use it in the Anvil with your item.
The 'Justice' System
"So, what's to stop me from just taking all this stuff in the Creeper Villages and creating mayhem?"
Creeper Villages take a hard stance against crime, and follow the simple three-strike rule. Commit three or more crimes within a specified period of time, and the city alarm will sound and Guards will want have a quiet word with you. Well, not really quiet. And it's more of a deadly explosion than a word. But hey.
"What crimes?"
Stealing items
Damaging property
Striking or killing a Creeper citizen
"Hah. Me strong. Can fight gud. Kill puny Guards."
Yeah, good luck. Guards call on emergency backup in case they run into any difficulties.
"Can't I just kill the Mayor and take all his stuff?"
You do that. Please post video.
How can I quickly cheat increase my reputation or number of Voxels? You know, for, uh, testing and stuff?
There are two commands in Voxels to help you:
/voxels [number]
Sets your current amount of Voxels to the specified number
/voxels [player] [number]
Sets the specified player's current amount of Voxels to the specified number
/rep [number]
Sets your current reputation to the specified number. Please note, you can also set rep to a negative number, if you are feeling evil.
/rep [player] [number]
Sets the specified player's current reputation to the specified number. Negative numbers are ok.
Enjoy your, uh, testing. And stuff.
Achievements
There are many achievements in the mod, some harder to achieve than others, but all laid out in a somewhat logical progression.
How Does Voxels Determine the Value of an Item?
Voxels does its best to find a good value for every item in the game, vanilla or modded.
For vanilla items, Voxels has pre-determined values that were assigned after several decades of thorough research by top scientists and economists in the field today by me
For modded items based on Vanilla items, Voxels can determine a value based on the item ingredients
For modded items that have some Vanilla ingredients and some modded item ingredients, Voxels will try its best to assign a value. Worst case scenario, Voxels will assign a small value to all unknown base-level ingredient and extrapolate. This base level value can me changed in the config.
For completely unique modded items that have no crafting recipe, Voxels will assign a small base value.
Some items have a pre-set value of Zero, to prevent exploitation.
Please note that all of the vanilla values can be modified, and specific values for modded items can be manually set in the prices json file, found in the config directory folder Voxels, named Prices.json. To learn more about this process, see the next section Setting Your Own Prices.
Setting Your Own Prices
I don't like these default prices! They should be changed. Plus you need to add prices for all these other mods. I'm angry and your super-fun free software you spent months of your life making is annoying me!
Hey, chill out. It's going to be ok. You can change the prices yourself. Go into the config folder and look for the Voxels folder and edit the Prices.json file. Feel free to adjust any of the prices to your liking and save. The next time you start the game, the new prices will be reflected.
We do plan to add more prices to the database as we get them. Feel free to share your price files on the github or forum.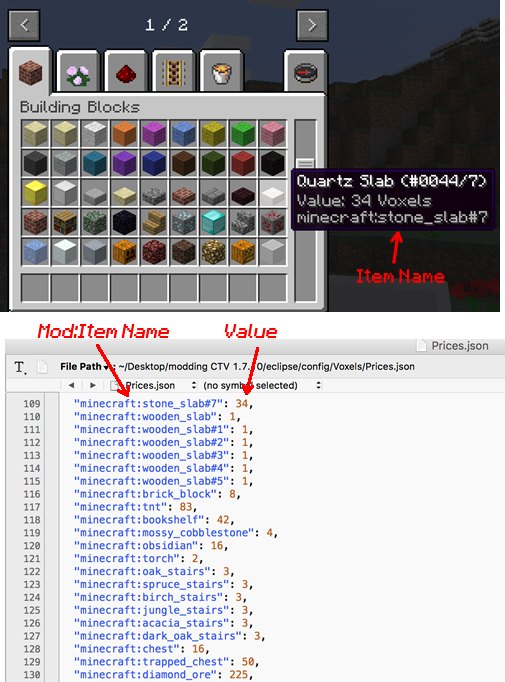 You can also directly add other modded items in here. Simply follow the same structure: add the item name of the item, followed by the value, and save.
To get the internal name of the item, simply review the tooltip of the item in Creative Mode. Voxels reveals this information by default (see above).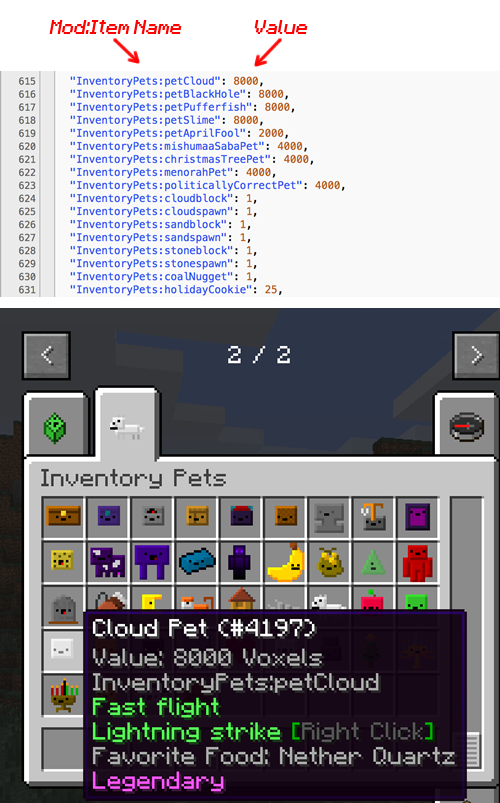 I dunno what happened, but now the prices aren't working. Can you help?
Yeah, just delete the Prices.json file and restart Minecraft and Voxels will make a new one with the original prices. If you made customizations, you may want to make a backup.
Help with Prices and Other Mods/Modpacks
Hey, there are so many prices to put in here, seems like a lot of work. Is there anything you can do to help?
Yes, as a matter of fact. After an initial launch of the game world, Voxels identifies each item it is unable to find a price for. It then dumps this list into another file in the Voxels directory called 'Price_gaps.json'. You can literally copy and paste the items from this file into the Prices.json file, save, and restart the game. The new prices will be reflected upon relaunch.
What about Tinker's Construct?
What about crazy mods like Tinker's Construct that use metadata to identify items and blocks. At the moment, Tinker's Construct can only be about 60% supported due to this. We have a plan to include a mechanism to support this mod in the future.
Your Very Own Custom Traders
Using the config and a special JSON file, you can create a specialized Custom Trader that trades only items you determine.
How it works:
To enable the Custom Trader, ensure the value of the config variable EnableCustomTrader is set to true.
There are three types of Custom Traders:
Trades random craftable Vanilla Items
Trades random craftable items from all mods currently loaded in the game (default option)
Custom Items (which you set in a separate file)
To modify the name of the Custom Trader, change the config variable CustomTraderName to a new string of your choosing. The default name is "Custom Trader".
In the config directory, edit the 'Custom_trader.json' file to contain the items you wish the trader to sell. You can reference an item from any currently installed mod. You just need to know the internal item name of the item. To get the internal item of an item, simply go into creative mode and hover over the item in question. Voxels reveals this for you.
If you would like to add custom prices to these items, edit the 'Prices.json' file and add/adjust the price of the items there.
Once all of this is done, create a new world and find a Creeper Village. The Custom Trader can be found walking the streets there. Please note, you can add a Custom Trader to an existing world, but he will not appear unless you find a new village (or spawn him in manually).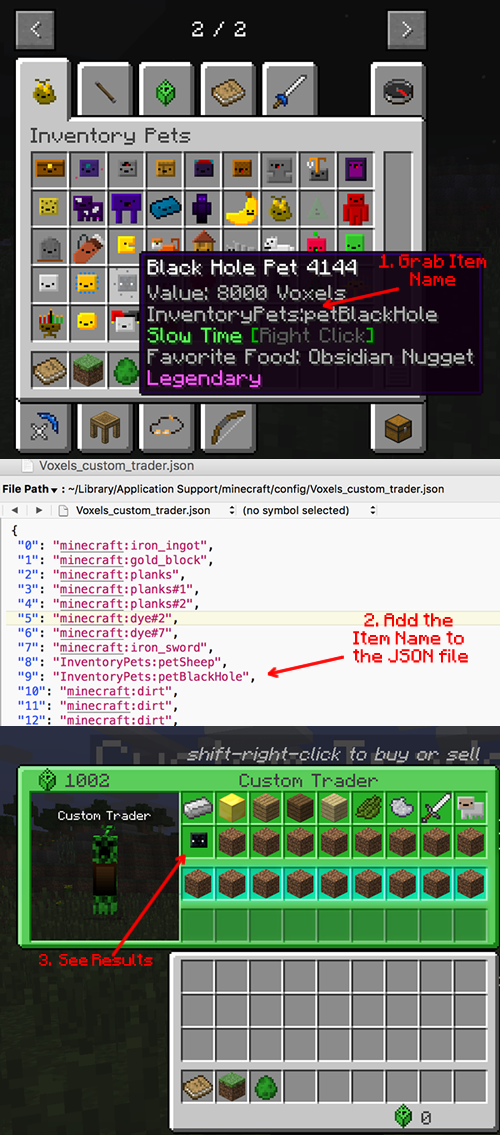 All Traders Customizable
Also in the config, you can now turn all of the Creepers into Custom Traders. Just set the Custom Trader type to True in the Config, and after running Voxels once, simply edit the corresponding JSON file with the items you want. You can choose items from any mod installed.
The Glorious Config
We realize many of you like to have complete control over the mod you are installing, and how it should be played. Here at Purplicious_Cow HQ, we respect your right to configure. Here are just a few of the things you can change via the config file:
Rep threshold numbers for Bad or Good Rep
Percentage markups for buying and selling by creepers
Rep penalties and bonuses for various crimes and good deeds
Rarity/frequency of Creeper Villages
Whether or not Voxels/Rep totals appear on the player screen
Where the Voxels / Rep totals should appear (default is top left)
Whether you lose Voxels or Rep when you die, and how much
Enabling and Configuring the Custom Trader
Items that the Custom Trader offers (via JSON file)
Custom Prices for items or added mods (via JSON file)
The rate at which Traders naturally replenish their Voxels
Default value for unknown/unlisted items
Toggle showing internal item name in Creative Mode
Does Voxels work with Inventory Pets and Custom Pets?
Of course! In fact, the Rancher will have a few special items if these mods are installed. All prices for items are already set for these two mods.
I have lag, what should I do?
If you are playing on 1.7.10, I strongly recommend the installation of the latest FastCraft, found on curseforge.
https://mods.curse.com/mc-mods/minecraft/242677-fastcraft
OMG, there's a bug!
Yeah, it happens. It's ok. And you can help! Report your bug on the github forum for Voxels (link below). Super helpful bug reports include any of the following:
How the issue occurred (steps to reproduce)
Your crash log if you have one
If you are on client or server
What other mods are installed (often in the crash log)
And any screenshots.
We really try to do a good job of maintaining our mods, but need good reports to get them fixed. Thanks for the help! We promise to immortalize you in future release notes.
GitHub for Bug Reports:
https://github.com/capnkirok/Voxels/issues
Modpacks
Please feel free to use this mod in any modpack, both public and private. There is no need to notify or ask us, please just mention Purplicious_Cow and Voxels in the pack if you do make it public, and link back to this forum post.
© Purplicious_Cow 2016. This mod (plugin, patch to Minecraft source, henceforth "Mod" or "The Mod"), by the terms of http://minecraft.net/terms are sole property of the Mod author (Purplicious_Cow, henceforth "Owner" or "The Owner"). By default it may only be distributed on minecraftforums.net and minecraft.curseforge.com by the Owner. They may not be mirrored or reposted with advance written permission of the Owner. URL shorteners or other attempts to make money off The Owner's Mods are strictly forbidden without advance written permission. This mod is not open source.