Purplicious_Cow
Lapis Lazuli Collector
Location:

Amsterdam

Join Date:

11/30/2014

Posts:

1,104

Location:

Amsterdam

Member Details

Custom Pets - 1.0.5 Full Release for Forge 1.7.10


If you find any more bugs, please report them and help to make this mod better!
Known issues can be found here: https://github.com/capnkirok/Custom-Pets/issues
Support Custom Pets! Become a Patreon!
Purplicious_Cow
One Pet to Rule Them All!


Make your own Custom Inventory Pets!
Gather Ability Cards from killing mobs (see Ability Card Locations below) and teach your pet new abilities. Stronger mobs drop rarer cards.
Over 50 in-game abilities to chose from, including Passive, On Attack, World, Active, and Area of Effect
Level-Up your Custom Pets to make your abilities stronger
Choose your shape from a given set of Pet Templates, then choose your Colors.
Choose the food your pet will eat
Choose the sound your pet makes when it is hungry
All abilities, textures, colors, eating, and sounds are LIVE, DYNAMIC, and IN-GAME
DOES NOT REQUIRE INVENTORY PETS
If you use OptiFine, please update to the latest version for 1.7.10
Powerful Config
Choose the Drop Rate of Cards (easy, normal, or hard)
Determine the difficulty of Upgrades (easy, normal, or hard)
Determine the difficulty of foods (nuggets or whole items)
Choose to have negative AOE effects affect other players (for PVP)
Choose to not use Ability Cards at all, and play the game with all abilities immediately available
More!
The Randomizer!
From the Custom Pet GUI press the Randomize Me button (or Do it Again!)
Gives you a random name, texture, colors, food, and sounds
Win prizes for rare combinations

Two of a Kind = 1 Gold Nugget
Two of a Kind and Two Same Ability Levels = 1 Gold Ingot
Three of a Kind = 1 Diamond
Three of a Kind and Two Same Ability Levels = 1 Emerald
Three of a Kind and All Same Ability Levels = 1 Nether Star
To access your Custom Pet, simply press G while holding it
Showcases
Another Great Showcase from PopularMMOs (see if you can find the Easter Egg):
Great Showcase from Jason Pro (@TrueMU):
Thanks Mrbigcheesecake for the first video review of Custom Pets beta (bugs and all)
1. Choose your Name, Abilities, and Level Up!
2. Choose your pet Food and Sound!
3. Choose your pet Texture and Colors!
4. Randomize your pet for fun and prizes
5. Gather Ability Cards by killing mobs by the below rules and teach your pet new skills (Idea credit: Nototherium)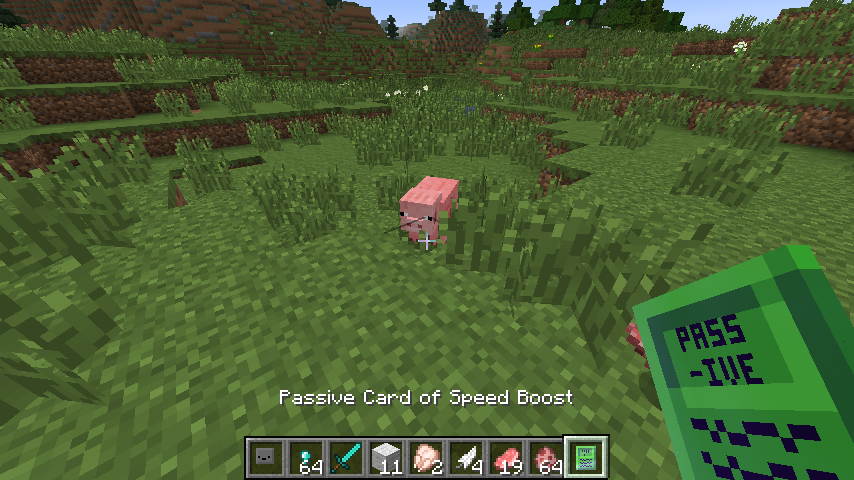 6. Custom Pet recipe
Other Custom Pet facts
If you have Inventory Pets installed, you can remove the additional nuggets recipes in the config. Custom Pets can eat nuggets from Inventory Pets (or other mods)
Pets can be re-customized at any time (live and in game). Just press G.
Abilities can be immediately enabled in Creative Mode, or by disabling ability cards in the config
You can have multiple Custom Pets in your hotbar
Custom Pets work just like Inventory Pets. Put them in your hotbar to enable effects. And feed them when they are hungry.
Cards only drop if you have a happy and fed Custom Pet in your hotbar
Can I use this in my modpack? Will it run on servers? Will it be compatible with other mods? Can I post it on spam sites?
Yes, yes, yes, no.
Ok, more seriously. Yes, you can use it in your modpack. Just list us in your credits (Purplicious_Cow) and link back here (this main forum page)
Yes, it runs on servers. We worked very hard to make sure it did.
Yes, it is supposed to be compatible with other mods. If you run into a conflict, please let us know (see the Bugs section!)
No, please don't repost this and please don't download from those evil spam sites. They make us sad.
© Purplicious_Cow 2015-2016 This mod (plugin, patch to Minecraft source, henceforth "Mod" or "The Mod"), by the terms of http://minecraft.net/terms are sole property of the Mod author (Purplicious_Cow, henceforth "Owner" or "The Owner"). By default it may only be distributed on minecraftforum.net and curseforge.com by the Owner. They may not be mirrored or reposted with advance written permission of the Owner. URL shorteners or other attempts to make money off The Owner's Mods are strictly forbidden without advance written permission. This mod is not open source.
Full Legal:
TERMS AND CONDITIONS 0. USED TERMS MOD - modification, plugin, a piece of software that interfaces with the Minecraft client to extend, add, change or remove original capabilities. MOJANG - Mojang AB OWNER - , Original author(s) of the MOD. Under the copyright terms accepted when purchasing Minecraft (http://www.minecraft.net/copyright.jsp) the OWNER has full rights over their MOD despite use of MOJANG code. USER - End user of the mod, person installing the mod.
1. LIABILITY THIS MOD IS PROVIDED 'AS IS' WITH NO WARRANTIES, IMPLIED OR OTHERWISE. THE OWNER OF THIS MOD TAKES NO RESPONSIBILITY FOR ANY DAMAGES INCURRED FROM THE USE OF THIS MOD. THIS MOD ALTERS FUNDAMENTAL PARTS OF THE MINECRAFT GAME, PARTS OF MINECRAFT MAY NOT WORK WITH THIS MOD INSTALLED. ALL DAMAGES CAUSED FROM THE USE OR MISUSE OF THIS MOD FALL ON THE USER.
2. USE Use of this MOD to be installed, manually or automatically, is given to the USER without restriction.
3. REDISTRIBUTION This MOD may only be distributed where uploaded, mirrored, or otherwise linked to by the OWNER solely. All mirrors of this mod must have advance written permission from the OWNER. ANY attempts to make money off of this MOD (selling, selling modified versions, adfly, sharecash, etc.) are STRICTLY FORBIDDEN, and the OWNER may claim damages or take other action to rectify the situation.
4. DERIVATIVE WORKS/MODIFICATION This mod is provided freely and may be decompiled and modified for private use, either with a decompiler or a bytecode editor. Public distribution of modified versions of this MOD require advance written permission of the OWNER and may be subject to certain terms.