FyberOptic
Curse Premium
Gold Miner
Join Date:

3/13/2013

Posts:

368

Member Details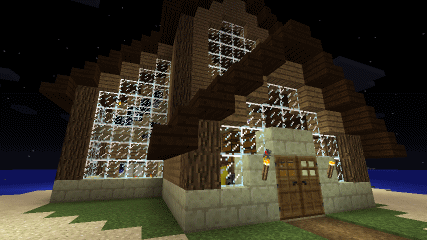 Another small 1.9 snapshot mod that does as the name suggests: it makes glass panes render with a connected texture, making them more aesthetically pleasing.
Note: This doesn't work with stained glass panes or glass blocks yet. I'll get to that eventually.
This mod requires the Meddle mod loader, as well as the DynamicMappings and MeddleAPI mods. It's easy to install, just look here for more info, and feel free to ask if you need help. This mod just goes in your 'meddle' folder with any other mods.
(Firefox and IE users click here, since MCF is always broken: http://www.minecraftforum.net/forums/mapping-and-modding/minecraft-mods/2488387-meddle-minecraft-tweakclass-mod-loader-1-9 )
Since it uses DynamicMappings, it should continue to work with future snapshots. Though due to the number of changes made to the game during development, DynamicMappings will likely have to be updated along the way. Keep an eye on the Meddle thread to stay up to date.
This is a client-side-only mod. Don't try to run it on servers.


-- Downloads --
Version 1.0 - (primary download)
Requires Meddle v1.2.2+, DynamicMappings 009+, and MeddleAPI v1.0.2+.