FyberOptic
Curse Premium
Gold Miner
Join Date:

3/13/2013

Posts:

368

Member Details
There's little things that I want to be able to tweak as we get 1.9/1.10/1.11 snapshots, and instead of doing it the hard way of manually installing tweakclass mods, or the old-fashioned way of jar mods, I decided to make a simple loader based on code I already had for other similar projects. It's called Meddle.
Once Meddle is installed, mods are drag-and-drop, loaded from the "meddle" folder in your instance folder.
Meddle itself isn't Minecraft version-specific. It works through LaunchWrapper (used by Mojang to tweak older versions to work, and by Forge) to simply load tweak class mod jars from a folder. Theoretically it could work as far back as 1.6 or even older, though the mods would have to be compatible with the version of Minecraft you try to run it with.
Through a Meddle mod linked below called DynamicMappings, mods are able to programmatically detect the parts of code they want to use, and can theoretically work across many 1.9/1.10/1.11 snapshot versions without needing to be updated.
If you're interested in how Meddle works, or in making a mod yourself, Meddle is also open-source. Feel free to ask me for details.
---
Installation (for clients):
MultiMC
Vanilla Launcher (Beta installer method)
Vanilla Launcher (manual install)
---
Installation (for servers):
---
Mods:
In either installation case, run the game at least once to create your "meddle" folder inside your instance location. This is where you'll put the mods.
Note: All versions listed as "dynamic" should be capable of running across different snapshot versions! They need the DynamicMappings mod to work. You'll also have to check back to make sure your DynamicMappings is up to date when you update snapshot versions.
DynamicMappings -
Starting with Meddle v1.2, this mod is needed for running all "dynamic" mods! It contains the logic required to search Minecraft for locations necessary for modding. It's now separate to allow more frequent updates without updating Meddle itself.
PhysicsFix -
Ever noticed how mobs seem to float a bit too much in the air when hit? This brings back the behavior of 1.7 and earlier. NOTE: There's a vanilla bug which this mod inadvertently emphasizes, where normally only a mob's shadow drops into the block below them, where as this mod results in mobs appearing to drop half-way into the block. It only occurs in certain situations.
LeafDecay -
Makes leaves decay quickly. Basically does what FastLeafDecay/FastLeaveDecay does.
FireSpread -
Removes the limitation on fire spread, making it more like back in Minecraft alpha/early beta. Burn down entire forests!
AllTheItems -
BabyBuster -
Prevents those pesky baby zombies from spawning!
---
MeddleAPI:
MeddleAPI is an early API for creating higher-level mods that run on Meddle. Rather than simply tweaks, the goal for these mods is to add content. Since DynamicMappings is required for the API, mods can also take advantage of it to run across multiple snapshot versions.
To install the API, simply drop it into your Meddle folder with your other mods.
If it's working properly, you should see something like this on the title screen: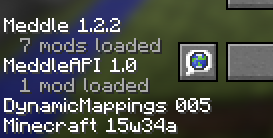 MeddleAPI v1.0 (Requires Meddle v1.2.2+, DynamicMappings 005+)
MeddleAPI v1.0.1 (Requires Meddle v1.2.2+, DynamicMappings 006+)
MeddleAPI v1.0.2 (Requires Meddle v1.2.2+, DynamicMappings 009+)
MeddleAPI v1.0.3 (Requires Meddle v1.2.2+, DynamicMappings 012+)
MeddleAPI v1.0.4 (Requires Meddle v1.2.2+, DynamicMappings 013+)
MeddleAPI v1.0.5 (Requires Meddle v1.2.2+, DynamicMappings 015+)
MeddleAPI v1.0.6 (Requires Meddle v1.2.2+, DynamicMappings 019+)
MeddleAPI v1.0.7 (Requires Meddle v1.2.2+, DynamicMappings 028+)
---
MeddleAPI Mods:
MeddleAPI mods install just as easily as standard Meddle mods.
Note: Items currently still use item IDs that are manually configured! Mods can create config files in the "config" folder in your Meddle folder for you to deal with this for the time being. If you're only running mods from this page then you don't even need to bother looking, they won't conflict. IDs must also match between clients and servers if you're connecting to a remote server.
Double Note: If you use these mods on a world, then load that world without the mods installed, Minecraft will silently remove all mod items from your inventories!
Just Backpack -
Note: This mod is very much still a prototype, it could lose items!
Endermanage -
DoubleDoors -
Makes doors open together, as you might expect double doors to do.
ConnectedGlass -
Makes glass panes render with a connected texture.
JourneyStone -
Allows you to instantly teleport back to a stored location.
MeddleGuide -
View crafting recipes, even from a modded server with vanilla clients!
Blastproof -
Adds two config file options: to drop all blocks affected by an explosion, and to prevent item entities from being destroyed by explosions. Both are enabled by default. This mod can be run on just the server-side if you want.
HeavyMeddle -
Adds a Heavy Axe, allowing you to destroy entire trees. Also adds a config option to allow this for any axe.
FullyLoded -
Allows you to mine entire veins of ore at a time. Hold shift to disable while digging. You can also specify the allowed blocks in the config file. It can be used just server-side if you prefer.
---
Let me know if you find any problems!