BobMowzie
Curse Premium

IRC HACKER
Join Date:

5/5/2012

Posts:

1,415

Minecraft:

BobMowzie

Member Details
Mowzie's Mobs adds a variety of fictional creatures to Minecraft, priding itself in unique AI, environmental and atmospherical appropriateness, and standard-setting animations.
The Mobs:
Foliaath
(FOHL-ee-ayth or fohl-I-ath)
These jungle-lurking plant monsters want nothing more than to eat anything that moves! They may seem like ordinary ferns, but they'll emerge if you come close. You can't get close enough to strike them, so find some other way of killing them! They drop foliaath seeds.
To grow a foliaath, obtain a seed and plant it by right clicking on grass or dirt. Every half-day for two days, feed the baby foliaath by tossing it a meat item. Then, it will emerge as a fully grown foliaath. Be careful: grown foliaaths aren't tamed and will still attack you!
Ferrous Wroughtnaut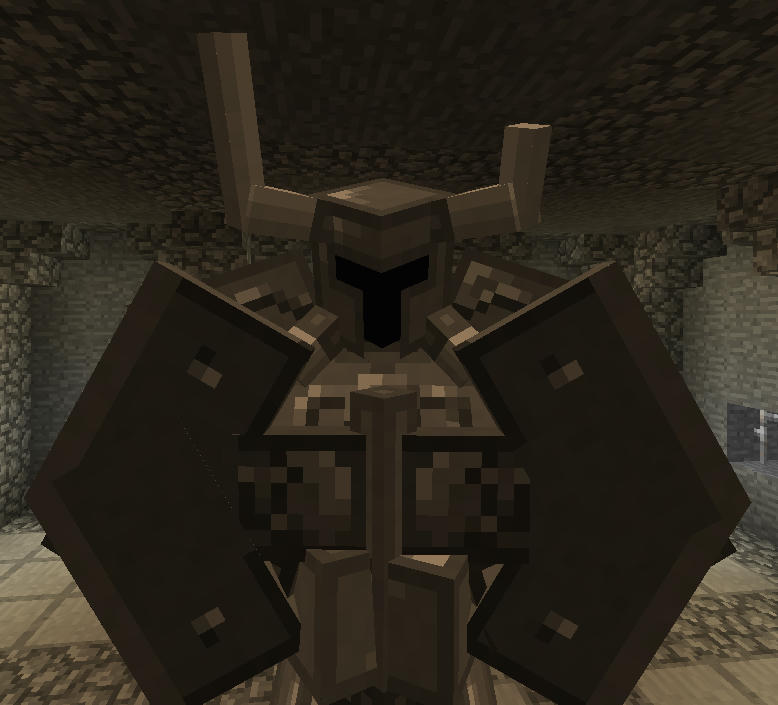 (FER-us RAWT-nawt)
Lost underground many years ago, these heavily armored knights are not men nor are they statues. Are they guarding something? They have forgotten what. Are they waiting for something? They have forgotten when. Are they mourning someone? They have forgotten whom. All they know is to slay those who approach their chambers. There is only one way to damage a Ferrous Wroughtnaut; its weakness is for you to discover.

Only the bravest of adventurers would dare to challenge a Ferrous Wroughtnaut. Upon defeat, the Wroughtnaut will drop its Wrought Helm and its Axe of a Thousand Metals for the victor. Right clicking with the axe attacks in a large arc, and shift-right clicking will create a shockwave that brings targets closer to you. Neither tool can break.
Barakoa


(ba-ra-KO-ah)
Native to the savanna, the Barakoa tribesmen travel in small hunting packs. They are one with the masks on their heads, which cannot be removed. Some use bones as clubs as weapons while others use poisoned blowdarts. Each hunting pack is led by a Barakoana elite, wielding a traditional spear and shield. The Barakoa make traversing the savanna quite dangerous, as they can surround their prey quickly and put up a good chase.

When defeated, the Barakoa will sometimes drop their masks as items that the player can wear. Each mask bestows a different, small buff.
Barakoa can also be found in villages scattered across the savanna plain.
Barako, the Sun Chief


(BA-rah-koh)
Barako is the chief of the Barakoa tribe, residing in a stationary seat upon a throne in Barakoa villages. He draws his power from the sun, calling forth sunstrikes, solar flares, and massive solar beams. He can also create Barakoa followers from masks to defend him during combat. As such, his masked children revere him as a god. Unequipped travelers should keep their distance from his villages, lest they be smitten by his heliomancy.

Those strong enough to face and defeat him, however, are rewarded with his mask: the Sol Visage. This mask allows its wearers to breathe life into masks to create Barakoa followers. Unfortunately, the mask does not bestow heliomancy upon its bearer; this power is innately carried by Barako, and thus dies with him. Perhaps there is another way...?
Frostmaw
(FROST-mah)
Frostmaws are dangerous beasts found rarely in snowy areas. Their massive size, impressive speed, and powerful ice breath make them near-impossible opponents. If, on your travels, you encounter one sleeping in your path, it's likely best to take a different route and let it lay. The beast guards a precious ice crystal that can unleash pure winter energy when wielded.

Download:
MOWZIE'S MOBS HAS TWO DEPENDENCIES AND WILL NOT RUN WITHOUT THEM
Please install the most recent 1.11.2 version of Minecraft Forge and the 1.11.2 version 1.7.6 of
LLibrary
to run Mowzie's Mobs.
Changelog:
1.4:
+Added Frostmaw
+Added Geomancy, Earth Talisman (currently creative mode only)
+Added configurable mob health multiplier
*Changed Axe of a Thousand Metals
*Barakoa spear has a 1/3 chance of instantly killing animals
*Fixed spawning issues
*Increased Barakoa mask drop chance
*Balancing and difficulty changes
1.3:
Update to 1.10.2
+Barakoa villages in savanna biomes
+Sun's Blessing potion effect
+Sol Visage item
+Spear and dart gun item functionality
+Definitely not a secret feature
*Balancing and difficulty changes
Showcases:
By Xaxilis
By PopularMMOs
By ThnxCya
By The Diamond Minecart
By ANTONIcra (Spanish)
Plans:
Mobs:
Crystal Skuttlers - little insect-like crystal clusters than flee from the player up walls and ceilings and spawn in caves.
Strongholder - Floating gauntlet that grabs, pounds, and swats to attack. Floats eerily through stronghold tunnels, maybe passing through walls.
Stalker - Creepy, gangly, hunter creatures that will pursue their prey in stealth before attacking. Their glowing red eyes may alert you to the presence of one. ...Or four??

Considering:
Large, scary insects in swamps, maybe large, scary frog-things to go with them
Anglerfish-like deep sea monster
Evil armor that tries to strangle you by forcing itself upon you.
Something along the lines of ents...
Some sort of village/city of hostile npcs - Orcs? Goblins?
Sky serpents circling nests on mountaintops

I'd like to add at least one mob for each of Minecraft's environments, and I do like suggestions! BUT I'm very picky about what I work on. Only suggest your mob if you can imagine players thinking, "I can't believe I ever played Minecraft without this in my game!". I will not add monsters from existing franchises or mythologies, or just giant versions of real animals. No griefing or one-hit-kill moves.
Features for existing mobs:
None right now.
Texture Packs:
Sphax textures by Phazanor
Modpack Policy:
Open policy on the condition that you let me know through PM or comment.



Very special thanks to RafaMV for his collaboration on animation tools.