FyberOptic
Curse Premium
Gold Miner
Join Date:

3/13/2013

Posts:

368

Member Details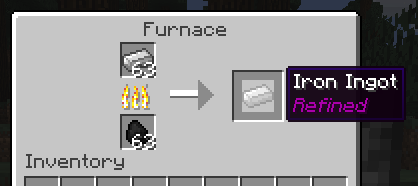 Simple Refinement
is just that: a simple way to process your iron and gold into refined versions. To do so, simply run your ingots through a furnace again. You'll now notice the "Refined" tag on them, and anything you craft using all refined ingots will now also have this tag.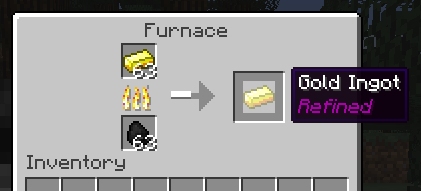 This mod adds no new items into the game. Iron is iron, gold is gold, no matter how refined it is. You can still mix and match refined ingots with regular ones in your crafting without issue.
Anything that you craft using all refined ingots also becomes refined. In the case of any tool, weapon, or armor, they gain a 50% bonus to durability. This may seem like a lot, but diamond is still more durable than refined iron, and refined gold will still be relatively poor. Refinement is not an enchantment, so you can still enchant your tools as well.

-- Downloads --
v1.0 (for Minecraft 1.8) - (
primary
) (
backup 1
) (
backup 2
)
v1.0 (for Minecraft 1.7.10) - (
primary
) (
backup 1
) (
backup 2
)
-- Permissions --
Modpacks:
You don't need to ask permission to include this mod in a modpack. However, I do prefer that you include a list of mods somewhere on your site/page/thread with a link back to this forum thread, in case someone wants to report a bug. And while it's not necessary, I would appreciate you letting me know that you're putting it in your pack, and maybe a little about your pack if it's themed in some particular way. That way if someone asks for pack suggestions to try any of my mods, I'll know some to tell them!

Redistribution:
If you want to list my mod on other websites then you're free to do so as long as you use my download links, since I very much enjoy being able to see download statistics. I would ask as a courtesy that you use the Adf.ly link by default. Preferably include a link to this forum thread as well, so that people can not only report bugs, but find new versions. If you include donation links, then there's one below. If for some reason you can't use my download links in your situation, then you must obtain permission, which I'll probably grant if you have a reasonable excuse.

You do not have my permission to re-host any of my mods in a way that you collect ad revenue for yourself from the download. I'm specifically putting this here because I know there are some sites which are doing it. Mod makers don't spend hours coding for you to profit off of them for doing nothing.
-- My Other Mods --
There are far better/bigger mods which are likely more deserving of your dollars, but if you've particularly enjoyed any of my mods and wish to contribute any amount, or are looking for a donation URL for a download or modpack site, then I certainly appreciate the gesture.