Rimevel
The Meaning of Life, the Universe, and Everything.
Location:

Sweden :)

Join Date:

12/2/2011

Posts:

217

Minecraft:

Rimevel

Member Details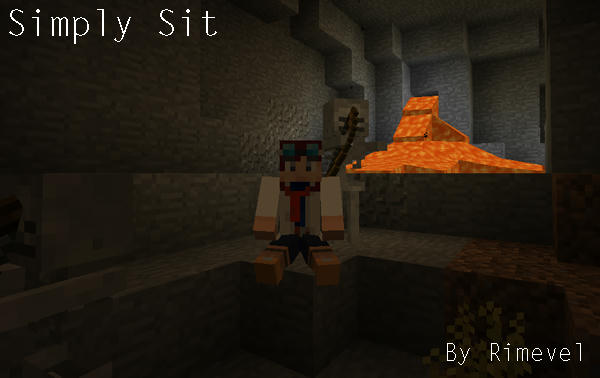 Description

When I started playing Minecraft I quite often had the urge to sit down. Some years later and I decided to make my first mod! Now it is complete and you can now rest your digital behind anywhere you like! Just target a block and press X to sit down

There are some more or less realistic restrictions in place to prevent suffocation, drowning, and in some regards cheating.

I am open to suggestions and if you find any bugs please report them.
Happy sitting!

Spotlight by LexLV(Lextube):

Spotlight by BioMasterZap:
Downloads

Requires Forge! Version 10.13.2.1230 and higher recommended!
Latest Version:
1.7.10-1.1.0
Older versions:
1.7.10-1.0.1
1.7.10-1.0.0
Changelog
1.7.10-1.1.0
- Bug: Removed spam from server console/log.
- Feature: You can now sit in water that is one block deep.
- Bug: Fixed a bug where you did not get dismounted if you or someone else destroyed the block you where sitting on.
- Improvement: Slightly better server performance! Why not ;O
1.7.10-1.0.1
- Improvement: (Optional) Sitting is required to eat, this is
disabled by default
and can be enabled in the config.
- Bug: Fixed the mcmod.info
1.7.10-1.0.0
- Full Release
License
Yes you can use it in your modpack! No need to ask me.
If it is a public modpack I would be happy to get a link though, so I can test your awesome pack

Also please put a link back here on your site or in your credits etc if you can. You do not have to but it is highly appreciated!
The MIT License (MIT)
Copyright (c) 2014 Rimevel
Permission is hereby granted, free of charge, to any person obtaining a copy
of this software and associated documentation files (the "Software"), to deal
in the Software without restriction, including without limitation the rights
to use, copy, modify, merge, publish, distribute, sublicense, and/or sell
copies of the Software, and to permit persons to whom the Software is
furnished to do so, subject to the following conditions:
The above copyright notice and this permission notice shall be included in
all copies or substantial portions of the Software.
THE SOFTWARE IS PROVIDED "AS IS", WITHOUT WARRANTY OF ANY KIND, EXPRESS OR
IMPLIED, INCLUDING BUT NOT LIMITED TO THE WARRANTIES OF MERCHANTABILITY,
FITNESS FOR A PARTICULAR PURPOSE AND NONINFRINGEMENT. IN NO EVENT SHALL THE
AUTHORS OR COPYRIGHT HOLDERS BE LIABLE FOR ANY CLAIM, DAMAGES OR OTHER
LIABILITY, WHETHER IN AN ACTION OF CONTRACT, TORT OR OTHERWISE, ARISING FROM,
OUT OF OR IN CONNECTION WITH THE SOFTWARE OR THE USE OR OTHER DEALINGS IN
THE SOFTWARE.
Last edited by
Rimevel
: Jun 4, 2015