XxRexRaptorxX
Curse Premium
Stone Miner
Location:

Bavaria

Join Date:

6/3/2012

Posts:

76

Location:

Germany

Minecraft:

XxRexRaptorxX

PSN:

RexRaptor_WoM

Member Details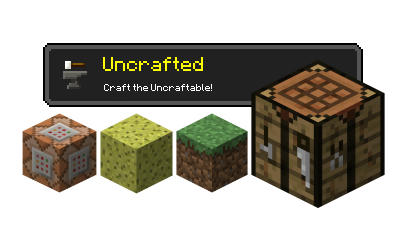 Uncrafted is a mod which adds many new recipes for already existing items and blocks. With the modifiaktion it´s possible to craft spawner, bedrock, name tags, and maaany more..

- No new blocks or items were added. Only crafting and melt recipes for vanilla minecraft.



Videos:




Download:
>> CurseForge



Installation:




1. Make sure you have already installed Minecraft Forge.

2. Locate the minecraft application folder.


On windows open Run from the start menu, type %appdata%\.minecraft\ and click Run.
On mac open finder, hold down ALT and click Go then Library in the top menu bar. Open the folder Application Support and look for minecraft
3. Place the mod you have just downloaded (.jar or .zip file) into the Mods folder.

4. When you launch Minecraft and click the mods button you should now see the mod is installed.



Rights and License - Important!:
This MOD may only be distributed where uploaded, mirrored, or
otherwise linked to by the OWNER solely. All mirrors of this mod must
have advance written permission from the OWNER. ANY attempts to make money off of this MOD (selling, selling modified versions, adfly, sharecash, etc.) are STRICTLY FORBIDDEN, and the OWNER may claim damages or take other action to rectify the situation.
Mod reposts (without the rights of the mod creators) are STRICKTLY FORBIDDEN!
>>
*click*
Youtube & Co.
Let´s Plays, Reviews and videos are okay, but please write the link to the orginal forum post in the descriprion.
And when you write the download link, use the Adf.ly link! Thanks.
Modpacks:

You want Uncrafted in your mod pack?
1. Your mod pack needs a link back to this forum post.
2. You cannot make any money off of the mod pack.
3. You cannot claim that you made any part of the mod, and you must give credit to the author of the mod
(Mod by XxRexRaptorxX & Steve44TV).


Crafting:


Smelting:
Coming soon!

> Config
> More recipes
> Portable craftingtable
> Bug fixes
> and more..


Banner:



-------------------------------------------------------------------------------------------------------------------------------------------------------

Deutsch / German

Uncrafted ist ein Minecraft Mod der viele neue Crafting Rezepte für die bereits vorhandenen Items und Blöcke hinzufügt. Unter anderem lassen sich mit der Modifikation Spawner, Spawn Eier, XP-Flaschen, Sattel, Pferderüstung und mehr craften.

- Es werden keine neuen Blöcke oder Items hinzugefügt. Nur Crafting und Schmelz Rezepte um Minecraft zu erweitern.

Homepage: http://world-of-mine-company.jimdo.com/projekte/minecraft/mod-uncrafted/


Videos:




Installation:

Der Mod benötigt den Forge Modloader. Falls dieser schon installiert ist kann Schritt 1 übersprungen werden.


1.

>> Minecraft Forge in einer vorhandenen Mod Version Downloaden. (empfohlen: neueste Recommended Version -> Installer)

>> Doppelklick auf die runtergeladene Datei

>> "install client" auswählen und mit "OK" bestätigen.

2.

>> Downloade den Mod in der gewünschten Version (muss mit der Forge Version überein stimmen)

>> Öffne Start und gehe auf "Ausführen"

>> Tippe in das Ausführenfenster "%appdata%" ein und bestätige

>> Nun öffnet sich ein Fenster, gehe in den .minecraft Ordner

>> Und schiebe die .jar Datei in den Ordner "mods" (Erstellen wenn es keinen gibt)

>> Glückwunsch du hast den Mod erfolgreich installiert. (Bei Problemen bitte hier kontaktieren)


Rechte
Diese Mod darf nur hochgeladen, neu gepostet und anderweitig
verwendet werden wenn sie die Rechte der Mod Ersteller erhalten haben.
Jeder Versuch, Geld mit dieser Mod zu machen ( Verkauf, Verkauf
modifizierter Versionen, adfly, sharecash, reposts, etc.) sind
STRENGSTENS VERBOTEN. Die Modersteller haben Schadensansprüche und
können andere Maßnahmen ergreifen um die Situation zu
klären.
Youtube & co.
Let´s plays, Reviews und Videos sind okay (wenn sie gut sind werden
sie sogar auf der Seite zu Vorstellungszwecken verwendet :D), aber bitte
schreib in die Beschreibung den Link des ORGINAL Mod
Eintrages.
Und wenn der direkte Download Link angegeben wird, benutze den Adf.ly Link!


Modpacks


Du willst Uncrafted in deinem Modpack?
1. Dein Modpack benötigt einen Link zu diesem Forum Beitrag.
2. Du darfst kein Geld mit deinem Modpack verdienen.
3. Du darfst keinen Teil der Mod als dein Werk ausgeben und die
Autoren (XxRexRaptorxX & Steve44TV) müssen angegeben sein.
Coming soon!

> Config Datei
> Mehr Rezepte
> Portable Craftingtable
> Bug fixes
> und mehr..


Banner:

Wenn ihr den Mod unterstützen und verbreiten wollt könnt ihr einen der folgenden Banner in eure Website oder Forum Signatur einbinden.