jaquadro
Curse Premium
A Space Odyssey
Join Date:

12/17/2010

Posts:

2,011

Minecraft:

Texelsaur

Member Details
The major update I've been working on all week is now available.
1.1.0 - Sep-13-14:
Adds configuration file and GUI. Modify most stats, disable blocks, and a few global settings.
Adds alternate "fast" rendering mode of item labels. Change in config.
Adds a new "Compacting Drawer" block for ores and other compressible items.
Adds status indicator upgrades in 3 levels. The 3rd level only has an effect on compacting drawers.
Changes storage upgrade recipes to use an upgrade template item.
Changes storage upgrade multipliers to track the Fibonacci series.
New translation: Simplified Chinese (zh_CN). Contrib. by D-dur.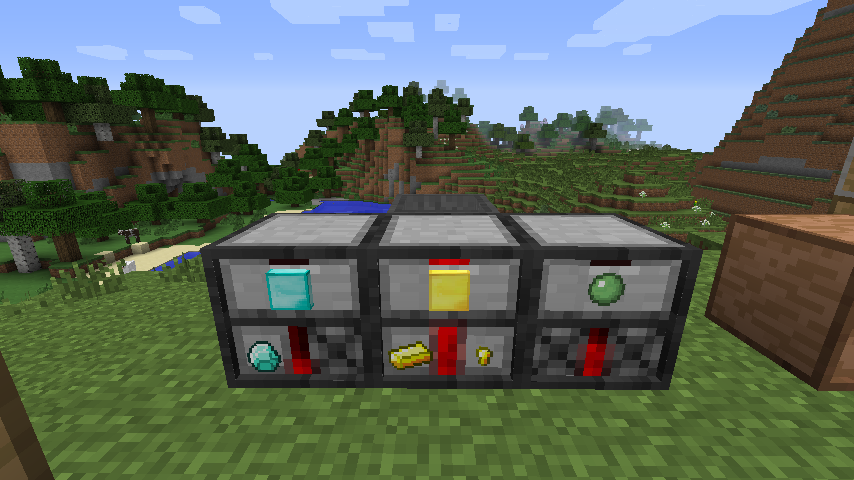 The new industrial looking blocks are compacting drawers. These blocks have the ability to compact or break apart compatible blocks and items.
If you place a compressible item like an ore or redstone in the block, all of its forms will appear in the drawer slots (up to three). Unused slots can't be used by anything else. The item will be stored in a single material pool, and items can be pulled out on demand in any form you like. No more manually managing them on a crafting grid to try and keep your chests sane. The drawer will scrub the recipe registry to find blocks and items that can be converted back-and-forth. It may miss some third party stuff though, so let me know if I need to register special mappings.
An indicator upgrade path was also added, with 3 levels. The 1st indicator level adds a boolean "full" indicator, appearing as a red light over the handle. The 2nd indicator level adds a second amber light that appears when a drawer is at least 75% full. The 3rd indicator level is only supported on the compacting drawers right now. It adds a linear fullness bar to give you an estimate of how full it is.
A full configuration set has been added, which can be edited as a normal config file or via the Forge config GUIs. Each block can be separately disabled and have its base capacity changed. Storage upgrade levels can have their storage multipliers changed (they've been changed to the Fibonacci series by default now, to give you more bang for your diamond and emerald). A few other global settings can be changed, including the item label render mode.
That's it for now. Chances are it's not a bug-free update, so I'll post any bugfix updates in the next couple days along with language updates.