FyberOptic
Curse Premium
Gold Miner
Join Date:

3/13/2013

Posts:

368

Member Details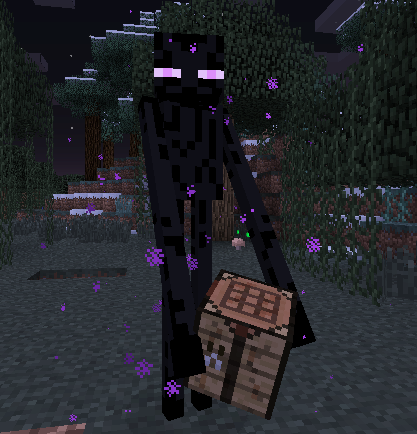 Endermanage allows you to control which blocks Endermen are allowed to pick up and carry. The config file allows three modes: pick up no blocks except the ones specified, pick up the default blocks as well as the ones specified, or pick up all blocks except for the ones specified.

The default mode is to pick up no blocks except those specified, which by default essentially means Endermen will not pick up any blocks until the config is edited.

In 1.6.4: Individual blocks and block ranges can be specified, including mod block IDs.

In 1.7.10: Blocks are specified by their string IDs. This can be found in the debug info in F3, or somewhere like the Minecraft wiki.

Please note that some blocks, especially mod blocks, could have unexpected results from being carried. They may simply not render, or could potentially even crash your game!

Remember that you can set your game to peaceful to temporarily remove all Endermen if necessary.


This mod now has a 1.9 snapshot port for the Meddle mod launcher, and requires MeddleAPI. More info about that can be found here.

-- Forge Downloads --

v1.1 (for Minecraft 1.7.10) - (primary) (backup 1) (backup 2)

v1.0 (for Minecraft 1.6.x) - (primary) (backup 1) (backup 2)
-- MeddleAPI Downloads --
v1.0 (Minecraft 1.9) - (primary)
Requires Meddle v1.2.2+, MeddleAPI 1.0.1+, and DynamicMappings 006+
-- Changelog --
v1.0 - August 25th, 2015
Ported to Meddle mod launcher
v1.1 - January 19th, 2015
Ported to Minecraft 1.7.10
v1.0 - February 14th, 2014
-- Permissions --
You don't need to ask permission to include this mod in a modpack. However, I do prefer that you include a list of mods somewhere on your site/page/thread with a link back to this forum thread, in case someone wants to report a bug. And while it's not necessary, I would appreciate you letting me know that you're putting it in your pack, and maybe a little about your pack if it's themed in some particular way. That way if someone asks for pack suggestions to try any of my mods, I'll know some to tell them!

You do not have my permission to re-host any of my mods in a way that you collect ad revenue for yourself from the download. I'm specifically putting this here because I know there are some sites which are doing it. Mod makers don't spend hours coding for you to profit off of them for doing nothing.