Godshawk
Coal Miner
Join Date:

8/17/2012

Posts:

103

Minecraft:

godshawk

Member Details
I will update when Forge is out for 1.8. No sooner.
And I still can't update version numbers
Mkay, so since Kodehawa officially discontinued the original one, I decided to continue it for him. Plus the irony inherent therein was too good to pass up. Anyway, on with the post!
(Image totally not stolen from the original post)
What is this mod about?
Well, it's for cheating in Minecraft. Yes, it's a stripped-down "hacked client,"
no, I won't disable it in multiplayer (although I will discourage usage of it for that
I probably
will
disable it in SMP; if you want that kind of thing, you're looking in the wrong place!)
How it works (most people can skip this)
It works by loading 'modules' that do different things; each module has methods therein that are called when different Forge events are fired. This functionality is in the base Module class, and every module uses this as its superclass. I currently have world rendering, GUI overlay rendering, and ticking, but I'll add more as needs be. Modules automatically override the world render/tick methods, but, generally, only one will be used. There's also a GUI render method in there, but that's not an abstract method, as I added it in kinda late, as well as the fact that many modules will simply never use it. Built against Forge 10.12.0.1024
Pictures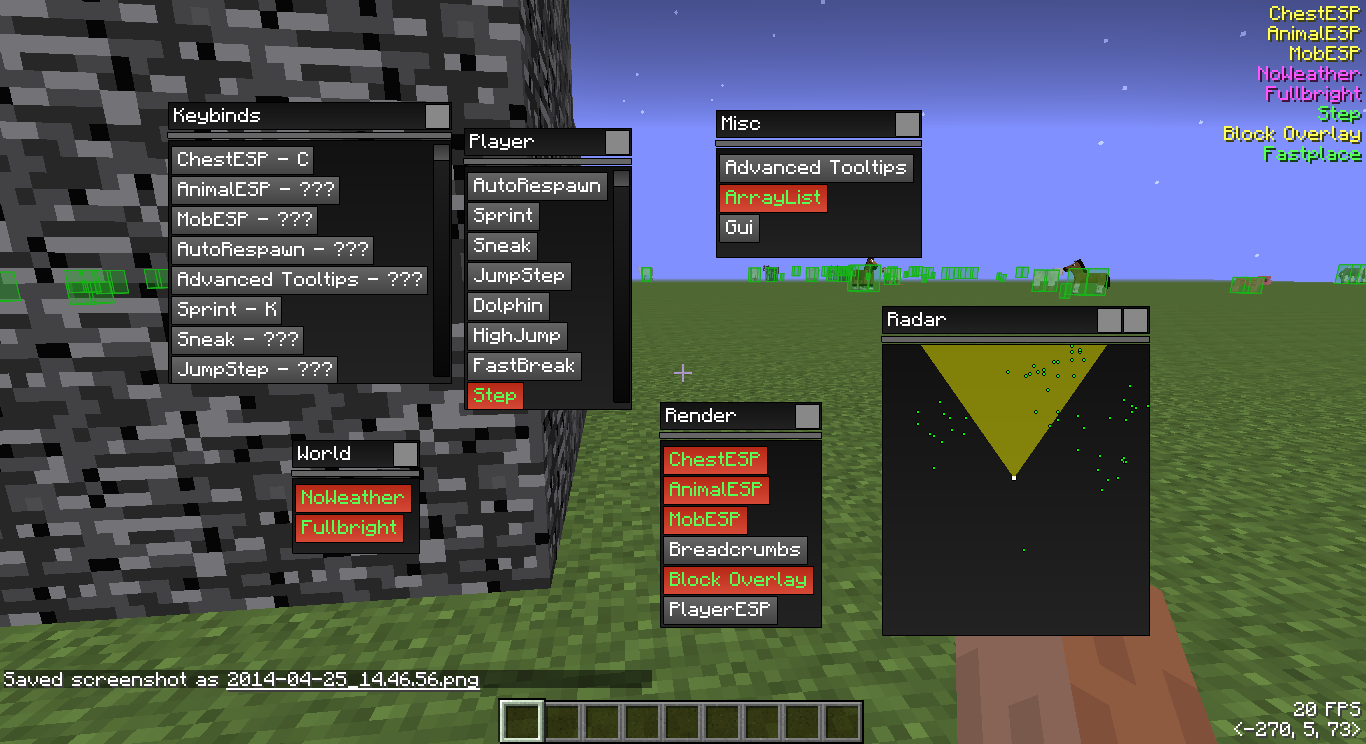 List of "Modules"
AutoRespawn - Automatically respawns you without having to click the button
Sprint - Sprints for you
Sneak - Sneaks for you
JumpStep - Jumps up blocks, or at least tries to
Dolphin - Jump across the water!
HighJump - Jump higher than normal
FastBreak Break blocks faster than normal
Step - Step up multiple blocks
Fly - Creative flight
Advanced Tooltips - Enable Minecraft's advanced item tooltips
ArrayList - Really just a list of enabled modules
GUI - See above picture
NoWeather - No rain/snow
Fullbright - Lets you see in the dark
ChestESP - Draws a box around chests
AnimalESP - Draws a box around animals
MobESP - Draws a box around mobs
Breadcrumbs - Draws a trail showing where you've been
Block Overlay - Draws a better selection box
Fastplace - Lets you place blocks faster
PlayerESP - Draws a box around players
Commands
For simplicity (And so that those of you who use it in SMP can use it), there's "chat commands" that you can use for various things. The default "prefix" for this is a colon (':'), because I use vim way too often. To use them, just type this in chat:
:[other stuff]
Some
Most commands are here:
## All of these are prefixed by a colon!
[Module name] - toggles a module. Some modules, currently only step, have a "set" subcommand, allowing you to add a value to them. Module names are the name of the module, but with all spaces removed and in lowercase. Example: "Advanced Tooltips" would become "advancedtooltips"
help [module/page] - Shows some helpful information about the module.
bind [key] - Shows the current binding for a module, and optionally rebinds it. Using 'unbind' as the key removes a keybind
prefix [new prefix] - Displays the current prefix, and optionally changes it
Keybinds
Default keys:
Sprint - K
Fly - J
GUI - Y
Fullbright - F
FastBreak - G
ChestESP - C
FastPlace - N
PlayerESP - R
Source code
But of course.
Download
Download
Ad-free
Installation
Download jar.
Place in .minecraft/mods.
Done.
Issues I'm aware of
GUI windows don't scale quite right
License
Copyright © 2013-2015 godshawk. This program is free software: you can redistribute it and/or modify it under the terms of the GNU General Public License as published by the Free Software Foundation, either version 3 of the License, or (at your option) any later version.This program is distributed in the hope that it will be useful, but WITHOUT ANY WARRANTY; without even the implied warranty of MERCHANTABILITY or FITNESS FOR A PARTICULAR PURPOSE. See the GNU General Public License for more details.
Shameless begging
฿TC: 1LunaTiAQuHkNcpAGHKaxBa5xH5Axy55Ti
Thank you for reading~
MCF please stahp breaking the formatting; I'd really appreciate it! ^^