commandejrec
Out of the Water
Location:

Join Date:

11/27/2013

Posts:

6

Minecraft:

commanderjec

Member Details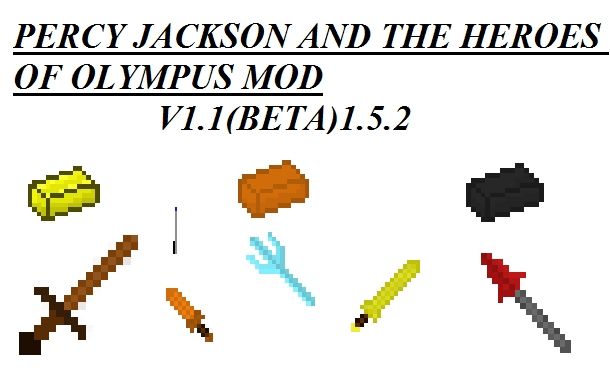 Percy Jackson and The Heroes of Olympus is a mod inspired by Rick Riordan's best selling series Percy Jackson and The Olympians and The Heroes Of Olympus. This mod adds weapons, armor, items, and mobs from the Percy Jackson world!
Download
Installation

1. Download the mod and Minecraft Forge Installer.
2. Make sure you have version 1.5.2 in you versions folder located in you .minecraft folder.
3. Run the Minecraft Forge installer.
4. Open up the new launcher and create a new profile, select version 1.5.2-Forge7.8.1.737.
5. Run Minecraft.
6. Close Minecraft, go to your .minecraft folder, open up the mods folder, and put the mod in it.
7. There you have it, just run Minecraft with version 1.5.2-Forge7.8.1.737 and you can play in the Percy Jackson World!

Crafting

You can watch this video to see a the crafting recipes
the recipes will be on here shortly

YouTube Videos

This is my Showcase of the mod

This is Buster Lee's showcase of the mod

Updates

Update Log:
V 1.2, 11/30/13: Fixed a few crafting bugs.
V 1.1, 11/27/13: A few bugs where fixed involving crafting and duplicating.
V 1.0, 11/26/13: The mod is made.

Future Ideas

- More Monsters(ones from the Percy Jackson series and the Heroes of Olympus)
- Satyrs
- Greek and Roman Gods and Goddesses
- Naturally spawned Camp half-blood and Camp Jupiter(Might not be possible)
- Natural spawning camp half-blood and camp Jupiter outposts/towers
- making the Greek Demigods and Roman Demigods naturally spawn
- there are so many other ideas, I'm also accepting ideas from any person willing to give out ideas.
Copyright

CopyrightCreative Commons LicensePercy Jackson and The Heroes of Olympus Mod by commanderjec is licensed under a Creative Commons Attribution-NoDerivatives 4.0 International License.