FyberOptic
Curse Premium
Gold Miner
Join Date:

3/13/2013

Posts:

368

Member Details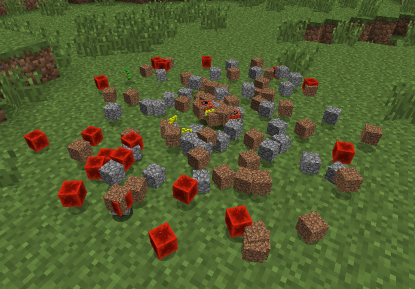 AllTheItems is a simple coremod for Minecraft which eliminates the vanilla behavior of combining items on the ground into item stacks.

Why would you possibly want to do that, you might ask? Well, a practical reason would be in testing a mod. But the more likely reason is for nostalgia, since this was the standard behavior in Minecraft 1.2.5 and earlier. There's a distinct difference in walking through a bunch of items and hearing the rapid item collection sound, as opposed to picking up a couple or so item stacks. Some people found the older method more rewarding when mining, which this brings back.

As of v1.1, you can type /toggleitemgrouping into the console to toggle this behavior.


-- Downloads --
v1.1 (for Minecraft 1.8) - (primary) (backup 1) (backup 2)

v1.1 (for Minecraft 1.7.10) - (primary) (backup 1) (backup 2)

v1.0 (for Minecraft 1.7.2) - (primary) (backup 1) (backup 2)

v1.0 (for Minecraft 1.6.4) - (primary) (backup 1) (backup 2)

v1.0 (for Minecraft 1.6.2) - (primary) (backup 1) (backup 2)


-- Changelog --
v1.1 - January 26th, 2015
Ported to Minecraft 1.7.10 and 1.8
Added /toggleitemgrouping command
v1.0 - February 18th, 2014
Ported to Minecraft 1.7.2
v1.0 - October 29th, 2013
Ported to Minecraft 1.6.4.
v1.0 - August 29th, 2013
-- Permissions --


You don't need to ask permission to include this mod in a modpack. However, I do prefer that you include a list of mods somewhere on your site/page/thread with a link back to this forum thread, in case someone wants to report a bug.

You do not have my permission to re-host any of my mods in a way that you collect ad revenue for yourself from the download. I'm specifically putting this here because I know there are some sites which are doing it. Mod makers don't spend hours coding for you to profit off of them for doing nothing.