ganymedes01
Curse Premium
Void Walker
Location:

UK

Join Date:

7/19/2013

Posts:

1,864

Minecraft:

ganymedes01

Member Details
Gany's Mods is a collection of three mods made by ganymedes01. This is one of the three mods in the collection. Gany's Surface adds blocks and functionalities related to the over world (duh).
 Poop everywhere! Detect when is raining, make armour out of wood, and have a nice cup of tea in the morning before going mining, just don't put the milk in first!

Mod by ganymedes01

Textures by KingPurpleRaptor and ganymedes01




Please check out the wiki for further details on every item and block:
http://ganys-surface.wikia.com/wiki/
by the awesome Jeb_Jeb!

Patreon page:
http://www.patreon.com/ganymedes01

Showcases:
If you make one I'll post it here
Let's Play series by NinjaBee using all three of my mods
Updated:
Old:
Resource Packs:
Downloads:

To see previous downloads see the links in the spoiler below or look here: http://minecraft.curseforge.com/mc-mods/222303-ganys-surface/files
IMPORTANT:
This mod has version check! It will download a file to check if its version is the newest one and warn you of any new updates. You can disable this on the config file!
Minecraft 1.6.4 Downloads:
Add-ons:
http://minecraft.curseforge.com/projects/poop-be-gone
ChangeLog:
v1.9.0
-Fix: Dislocators not being craftable.
-Removed BuildCraft integration for dislocators. Was causing too many crashes, and the BC api is changing so I'l wait until BC 6.1 to be released officially.
-Added breaking animation for chests
-Baby zombies ride chickens
-Fix crash with portable work table
-Several rendering improvements
-Added pine cones and nuts. They drop from spruce leaves just like apples do from oak leaves
-Added 1.8 doors
-Update mutton texture
-Added inverted daylight sensor (right click a normal daylight sensor to invert it)
-Endermen now drop the block they are carrying
-Added leaf walls
-Nerf poop (crafts less fertiliser)
-Infinity enchant on bows no longer requires players to have 1 arrow in their inventory
-Added quivers (right click to fill with arrows)
-Added recipe for re-dyeing carpets and stained glass
-Added block of charcoal
v1.8.0
-Added dispenser action for shears (shears in a dispenser will shear sheep, leaves and whatnot)
-Items dropped on the ground will not disappear if there's players nearby (min distance can be configurable, can also be completely disabled in the configs)
-Added italian translation (by iMenchi)
-Added Coarse Dirt
-Added mc1.8 new stone types
-Added muttons and cooked muttons
-Added mc1.8 sponge texture
-Added prismarine stuff (including the underwater temple)
v1.7.3
-Added key bind for the portable worktable (Default is P; Pressing it will open the table's GUI as long as you have one anywhere in you inventory)
-Poop disappears quicker
-Dynamic snow! (It will get taller it snows and will shrink when it stops snowing) (can be turned off in the configs)
-Remove thaumcraft repairable stuff (causing too many crashes)
v1.7.2
-Port to 1.7.10
v1.7.1
-Tweaks to ore dictionary stuff (forge changed a lot!)
v1.7.0
-Port to minecraft 1.7
-Added: Gearalyser
Wooden Chests:
Vanills chests have always been so bland... So I thought I'd give them a little spin.
Chests are now wood specific!
There's also a config option that you should turn on if you use texture packs! It makes the chests automatically generate their texture based on your tex pack! It's really nifty!
Vanilla tweaks:
-Recipes for re-dyeing stained glass, stained clay, stained glass panes and carpets (item around dye or 1 item and 1 dye)
-Dyeable Iron armour and Chainmail armour (just like leather)
-Endermen drop the block they are carrying
-The infinity enchant no longer requires you to have at least 1 arrow in your inventory.
-Clay: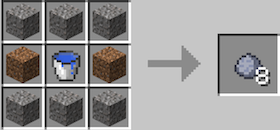 -Name Tags: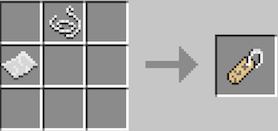 -Cobwebs: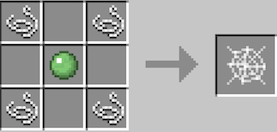 1.8 stuff:
Can't wait to play 1.8 but you still want to play with your favourite mods? Gary's Surface adds several of the 1.8 features including:

-The new doors
-Prismarine temples (no guardians though)=)
-New stones
-Inverted Daylight Sensor
-Iron trapdoors
-Mutton
-Recipes for cracked and mossy stone bricks
-Coarse Dirt
Pine cones:
Have you ever wanted to live in a taiga biome but then found yourself short on food because spruce trees don't drop apples? Well fear no more my little ice lover!
Spruce leaves will now drop pine cones (at the same rate that oak leaves drop apples) which can be put in a crafting table to make pine nuts, which can be eaten!(refills the same amount of hunger as apples)
The texture for the pine cone and nuts is not the best, I know. I you can do better, send it to me and I'll add it to the next version!
Recipe:
Cooked Egg:
A small addition that in my opinion should already exist.
Smelt and egg to get a cooked one that you can eat!
Leaf Walls:
Make stylish fences out of leaves!
Recipe: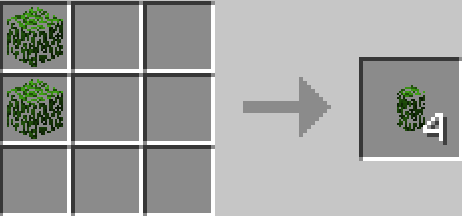 Charcoal Block:
Not much to say really... It's a block of charcoal, works just like a block of coal, but it's... charcoal ;3
Quiver:
-With arrows in your invenroty, right-click the quiver and it will suck them up and store them.
-The amount of arrows the quiver is currently holding can be seen in the tooltip.
-To empty a quiver you can shift-right-click it and the arrows it's holding will be added to your inventory.
Recipe: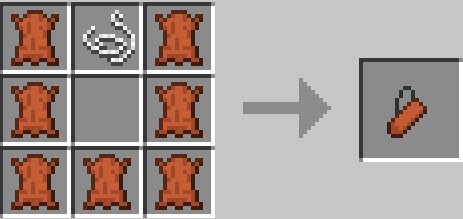 Rain Detector:
Simple block, all it does it emit a redstone signal when it' to raining
Recipe: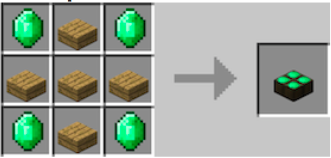 Pooping mobs?!
Once every few minutes farm animals will now expel a smelly material out of their buttocks.
Bats do it too and theirs is even better!
Use poop to make fertilizers and boost your farms, or grow wheat and feed it back to your animals (ew)
You can also throw it at your loved ones
Images and recipes:
http://ganys-surface...com/wiki/Poop:3
If you don't like the pooping feature you can easily disable it in the config file
Wooden Armour:
Why isn't this a vanilla feature?!
The durability and protection are in between leather and iron armour!
Tea:
Block Detector:
A nice block to help you guys automate crops such as sugar canes or anything else you can think of!
Simply place a block or item inside the interface of the block detector and it will emit a redstone signal as soon as that block touches any of the sides! Also works with buckets of lava and water to detect water and lava... obviously...
Recipes and images:
http://ganys-surface.../Block_Detector
Dislocators:
DIslocators are a nice block that will go well with the Block Detector, but can, of course, be also used on their own. There are three tiers to them and what they do is break surrounding blocks and place them in a chest nearby!
Dislocator:
Breaks the block in front of it and places in an inventory that's behind of it.
Recipe and images:
http://ganys-surface...wiki/Dislocator
Sensitive Dislocator:
Combine the dislocator and the block detector to get the best of both! This block will break anything that's in front of it, as long as it matches what is inside of it. And of course, and places whatever it breaks in the inventory behind it
Images and recipes:
http://ganys-surface...tive_Dislocator
Right click it to open the interface that looks exactly like the Block Detector one. Put whatever you want in there and as soon as it detects that around it BAM!
Cubic Sensitive Dislocator:
The maximum tier of dislocators, this will break any block in any face of it, as long as it matches it's inventory. The broken blocks will be places on chests on the top or bottom of this block. All faces are capable of breaking blocks
Recipe and images:
http://ganys-surface...tive_Dislocator
Again... right click to open the interface and blah blah blah
Wooden Wrench:
A nifty wooden wrench that rotates blocks for you:D Right click on a log, hay bale, quartz pillar or dislocator to rotate it
Recipe
Of course you can use any kind of wood to make the wrench
Disguised Trap Doors
Work Tables:
Works just like any crafting table, but here's the good part... It won't drop everything on the floor if you exit the GUI
put anything you want in there, close the GUI, do what you want, come back, and everything is still there
Recipe and images:
http://ganys-surface...wiki/Work_Table
Now with fancy rendering you can see what you left inside
Bat and Squid capturing:
Item Display:
Wanna show off your fancy sword? Dragon egg? Nether star? Poop? Why not use one of these!:
Right click with an item on your hand to insert it, right click again to get it back
Recipe:
You can use any colour of carpet, in case you're wondering
Chocolate:
Yes, I know, there's a hundred mods out there that add chocolate things. But I don't like any of them , and I wanted my own. Nevertheless, if you don't want this chocolate you can turn it off in the config file
Chocolate doesn't fill your hunger bar that much, but it will saturate you way more than normal food, which means that by eating it will take longer for you to get hungry again
Cushions:
This awesome (but tacky) cushion will soften your falls! It acts just like sand blocks, so you can put them on the edge of a cliff, wait for them to hit the ground and then safely jump for a nice and soft landing
(Beware though! Above 20-22 blocks your fall might not be as soft as intended D=)
Organic Matter Compressor:
Ever found yourself overwhelmed with organic matter that you just don't know what to do with? Stacks and stacks of saplings, seeds, rotten flesh, leaves and etc that you can't store anywhere anymore?
Well fear no more!
Put everything (as long as it's organic) in this machine!
Then put a coal on the top right slot, and the process will start! It takes a while.. But when it's done, you'll have a nice chunky block of coal
Easy o store and way more useful
Also! Since this machine requires an immense pressure to operate, it
WILL NOT WORK
unless you place it bellow level 15!
Recipe:
Chest Propellant:
A personal favourite of mine
Propel your inventories upwards using this block! Stack it up on top of a chest for example, and upon right clicking the block it's as if you right clicked on the chest itself! Remove or add items at will
And you can even use hoppers! It's like a chest... with 64 SIDES
Recipe:
Fertilised Soil:
Made mixing loads of poop with a bit of dirt. This soil is powerful! It will grow your crops much faster!
Doesn't need water nearby!
And yes, it glows green. Poop is powerful.
Recipe: