FyberOptic
Curse Premium
Gold Miner
Join Date:

3/13/2013

Posts:

368

Member Details
Hopper Ducts!

If you like to push things upwards, then this mod is for you.

Check out all of this upwards-pushing action.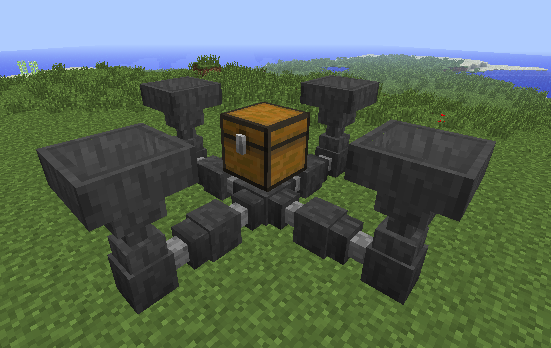 Q. What's this mod all about?
A. It's pretty simple. Hoppers can't transport items upwards. This mod adds ducts, which can attach to hoppers and send items in any direction. This mod also now adds Grated Hoppers, which can filter items.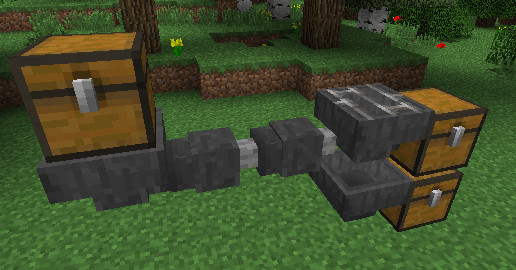 Q. What's the difference between a hopper and a duct?
A. A few things:
Ducts can send items into inventories above them.
Ducts won't pull items from inventories above them.
Ducts only have a single inventory slot.
Ducts can be pointed in a different direction after placing them by hitting them with a stick. Left-clicking with the stick cycles through all possible directions, right-clicking with it cycles in reverse. You can also shift-left-click with the stick to reverse if you prefer. When in creative mode, however, only right-clicking will be available, as left-click breaks blocks.
Ducts auto-orient to adjacent ducts or hoppers. Hold the sneak key while placing to disable this behavior.
Ducts have smaller hitboxes, making it easier to reach blocks behind them.
Q. Then what's a Grated Hopper do?
A. Grated Hoppers contain an extra row of items in their interface. This is the filter inventory. Only items matching this row are allowed into the hopper from a chest, hopper, or duct above it. The Grated Hopper will also only eject these particular items into its destination. Finally, it prevents a hopper beneath it from removing items matching the filter.

Items can still be inserted into the Grated Hopper from the sides and bottom which do not match the filter. This means that you can insert anything into a Grated Hopper, have it eject its matching items into its destination inventory, and then have regular hopper or Grated Hopper beneath it, pulling out the items which don't match the filter, to be directed elsewhere.






Q. What are the crafting recipes?
A. Hopper Ducts are a reduced version of the hopper recipe: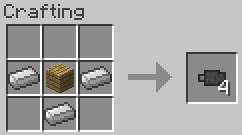 Grated Hoppers are a shapeless recipe: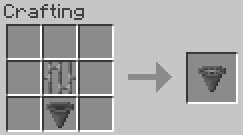 Q. Can I use this mod in my modpack?
A. The short answer is "yep!" Scroll down and check out the permissions area for details.



Spotlight by Ingrimmm of TheMindCrafters:



Spotlight by takavoncracka (LoCGamingOfficial on Youtube):



Spotlight by X_angelz_X (NeturonicAngelz on Youtube):




-- Downloads --


v1.4.7 (for Minecraft 1.9.4/1.10/1.10.2) - (primary)
v1.4.7 (for Minecraft 1.9) - (primary)
v1.4.6 (for Minecraft 1.8.8) - (primary) (backup 1) (backup 2)
v1.4.5 (for Minecraft 1.8) - (primary) (backup 1) (backup 2)

v1.3.2 (for Minecraft 1.7.10) - (primary) (backup 1) (backup 2)

v1.3.2 (for Minecraft 1.7.2) - (primary) (backup 1) (backup 2)

v1.2.2 (for Minecraft 1.6.x) - (primary) (backup 1) (backup 2)

v1.2.2 (for Minecraft 1.5.2) - (primary) (backup 1) (backup 2)


-- Changelog --
v1.4.7 - April 7th, 2016
Ported to Minecraft 1.9
Direct renderer replaced with vanilla model
v1.4.6 - December 18th, 2015
v1.4.5 - January 10th, 2015


Fixed auto-orient placement bug for ducts with grated hoppers
Fixed block bounds to cover duct extensions
Replaced rendering system to avoid threading issues
v1.4.1 - January 8th, 2015


Fixed crash bug with servers
v1.4 - January 6th, 2015


v1.3.2 - August 3rd, 2014
Made ducts and grated hoppers respect inventory slot size
v1.3.1 - July 19th, 2014
Ported to Minecraft 1.7.10
v1.3 - February 11th, 2014
Ported to Minecraft 1.7.2
Added localization support
v1.2.2 - November 6th, 2013
Backported to Minecraft 1.5.2
v1.2.2 - November 1st, 2013
Added shift-right-click when placing ducts to disable auto-orienting of ducts.
v1.2.1 - November 1st, 2013
Added auto-orientation when placing ducts, cycles through adjacent blocks to align to other ducts or hoppers
GUI no longer activates on ducts or grated hoppers when right-clicking them with ducts or hoppers
Fixed duct rendering when grated hopper is connected to one
Changed texture on output side of ducts to be a bit more recognizable
v1.2 - October 31st, 2013
v1.1 - September 10th, 2013
Added "cooldownTime" to config file. Default is 8, higher values make ducts slower to improve server performance.
v1.0 - August 20th, 2013
v1.0 - August 9th, 2013
-- Permissions --


Modpacks:
You don't need to ask permission to include this mod in a modpack. However, I do prefer that you include a list of mods somewhere on your site/page/thread with a link back to this forum thread, in case someone wants to report a bug. And while it's not necessary, I would appreciate you letting me know that you're putting it in your pack, and maybe a little about your pack if it's themed in some particular way. That way if someone asks for pack suggestions to try any of my mods, I'll know some to tell them!

Redistribution:
If you want to list my mod on other websites then you're free to do so as long as you use my download links, since I very much enjoy being able to see download statistics. I would ask as a courtesy that you use the Adf.ly link by default. Preferably include a link to this forum thread as well, so that people can not only report bugs, but find new versions. If you include donation links, then there's one below. If for some reason you can't use my download links in your situation, then you must obtain permission, which I'll probably grant if you have a reasonable excuse.

You do not have my permission to re-host any of my mods in a way that you collect ad revenue for yourself from the download. I'm specifically putting this here because I know there are some sites which are doing it. Mod makers don't spend hours coding for you to profit off of them for doing nothing.
-- My Other Mods --


I sat a hopper down here in case you accidentally drop any money nearby.