theZorro266
Curse Premium
The Meaning of Life, the Universe, and Everything.
Location:

Aachen

Join Date:

8/12/2012

Posts:

57

Minecraft:

theZorro266

Member Details
Logistics Pipes


Quick navigation:

- Downloads
- Issues / Bugreports / Feature requests
- Getting Started / Wiki
- Contact
- License / Modpack permissions
- Support us via Patreon
- Credits

Logistics Pipes is an extensive overhaul of the Buildcraft pipe system. It allows for better distribution of items via pipes, more organised stockkeeping and easier automated crafting.

This Logistics Pipes is universal. That means you can use it in singleplayer and multiplayer.
You need Minecraft Forge and BuildCraft to run it, but we also added features to collaborate with a few other mods.

The mod is contributed under the MMPL.



The Team
Main contributers
davboecki, AartBluestoke, ArtForz, GUIpsp and theZorro266
Former
MrTJP
,
gejzer
and
mistaqur
RS485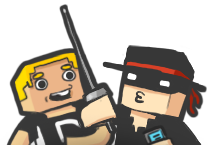 Downloads

Current versions



Always use logisticspipes-x.x.x.x.jar for normal use, not logisticspipes-x.x.x.x-dev.jar !
Note: Those builds are not always stable and may not work. If you are using the newest build, report bugs and try an older one instead. If you are using an older build, try a newer one instead.


Issues / Bugreports / Feature requests
Visit our GitHub Issue page and post an issue there. Please!

Source
only available on GitHub


Getting Started / Wiki
If you want to get started with Logistics Pipes, I recommend watching one of the video series below or hang out with us on GitHub and IRC.

Our (still-not-done) Wiki site is over at https://rs485.network/wiki/. Come check it out and tell us what you think. We are always searching for contributors of course.


Contact
If you have any questions or other things to discuss, we will gladly welcome you in our channel #RS485 on irc.esper.net!
Instead just write generally in the channel and ask random people.

License / Modpack permissions
You are free to use this mod in your modpack.

Patreon
We got a donation link set up, because we want you to be able to give something back to us.
If you want to know more about the project, please ask in IRC.

Click here to get to the Patreon page


Credits
We want to thank all our contributors on GitHub!
Also there are a few people that did and still do contribute something else than code.
And there are nice YouTubers around who help us explaining and showing the mod to you. See some of them above with embedded videos!

Do you want your name in the credits? Do something for it and do not bother to ask!

Credits for the idea and basic code go to Krapht and his original Logistics Pipes. Still, this is one of the biggest thanks!