KurodaAkira
Curse Premium
The Meaning of Life, the Universe, and Everything.
Location:

Behind a computer

Join Date:

5/18/2013

Posts:

272

Location:

Germany, near Hamburg

Minecraft:

KurodaAkira

PSN:

KurodaAkira

Discord:

KurodaAkira#1337

PMC:

KurodaAkira

Member Details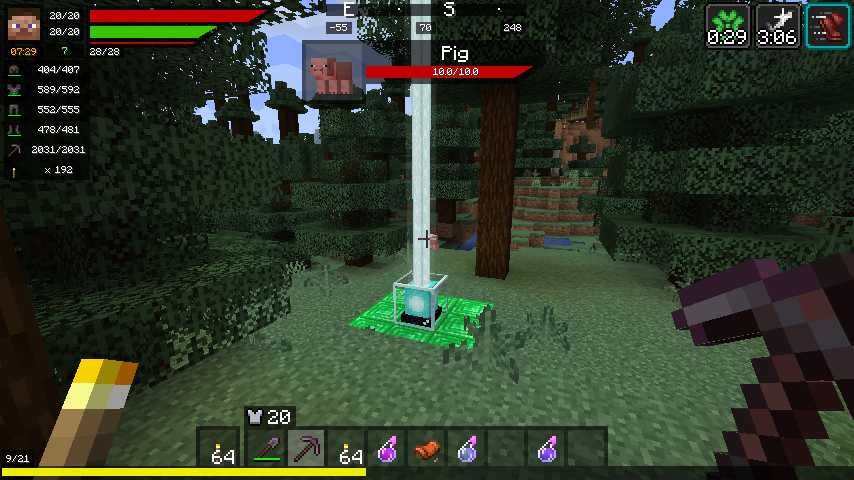 Join me on my
Discord Server
:
This mod will change your HUD (Heads Up Display) and add a few new features to it!
It has come a long way. The idea started to take shape in the early part of 2013.
Since then a lot has happened. The mod almost died two whole times.
It got renamed to Interface+ and now renamed back to RPG-HUD (stick to your roots!).
But it's only thanks to YOU this mod is still there.
Without your tremendous support (and almost weekly - later monthly)
e-mails to port it over to the new Minecraft version, it would most
likely be dead by now.
But instead of just porting it over to 1.10.2 and 1.11 I decided to completely remake it.
This took quite a while but now it is done. And this mod is better than ever before.
ENJOY!
Features
RPG-like HUD
Health bar
Hunger bar
Experience bar
Breath bar
Horse jump bar
Character widget
Numeric values
Clock widget (See the world's time!)
Different time formats (24h,12h)

Immersive (Set it to only display if you carry a clock!

Compass widget (See the direction you are going)

Immersive (Set it to only display if you carry a compass)

Item details

Display the item durability of your armor and equipped items
Display how many of the equipped block you have in your inventory
Display which arrow will be shot and how many of that type you carry

EntityInspect

Display Health and armor of the Creature you are looking at

Status Effects

See your active Status Effects with a timer
Resize the Status Effects to your liking
Render the Status Effects vertically instead
Free repositioning

You can reposition every single element of the mod
Debug settings (If this mod conflicts with another)
Disable anything you want of this mod
Different HUD types (plus possible plugins!) - see Media for screenshots

Vanilla HUD (you only want the other features, not the RPG-styled HUDs)
Default HUD (simple, effective)
Extended HUD (also simple, also effective)
Full Texture HUD (if you want to re-texture the entire thing)
Hotbar HUD (The Widget around the Hotbar - awesome!)
Modern HUD (My favorite - smooth, simple, transparent)
DOWNLOAD


If you want to see something else in this mod, tell me and I might add it!
Now onto another great feature: Settings!
Almost everything is customizable (and there
will be even more customization possibilities in the future) via the
ingame settings menu!
You can find the settings at the top right of your menu screens.
The mod "RPG-HUD" is Copyright © 2016-2020 by KurodaAkira and the intellectual property of the author.
It
may be not be reproduced under any circumstances except for personal,
private use as long as it remains in its unaltered, unedited form.
It may not be placed on any web site or otherwise distributed publicly without advance written permission.
Use of this mod on any other website or as a part of any public display is strictly prohibited and a violation of copyright.
You have my sincere gratitude,
Akira