navybofus
Gold Miner
Location:

COMO

Join Date:

5/21/2011

Posts:

368

Minecraft:

navybofus

Member Details
Welcome Back to the Sweet Tea mod for MC Version 1.7.2!
This is a mod that adds Tea Plants to the world in hilly areas. The Tea Plant is a renewable resource. It can be transplanted and sustained by harvesting the top and leaving the bottom to grow again. Not to worry if you break the bottom block. You can just replant the tea on grass, dirt or tilled soil. This makes for easy Tea farms!
Tea Facts
Tea Plants require grass, dirt or tilled soil to be replanted and grow.
Only Tea Plants can be planted. Not Tea Leaves.
To receive Tea Leaves, place a Tea Plant anywhere in your inventory crafting area or a crafting table.
You receive two Tea Leaves per Tea Plant.
Tea Cups
After gathering some Tea Plants and Tea Leaves you're ready to start the brewing process. But, in order to do this we need cups! Here's the ordered process.
Place three Clay, in the shape of a bucket, on your crafting table to shape it into three Unfired Tea Cups.
Now place the Unfired Tea Cup(s) in a furnace. They will start to harden.
Equip the resulting Empty Tea Cup(s) and right-click any water source (except cauldrons, coming soon!). This will fill the Tea Cup, creating a Cup of Cold Water.
Back to the Furnace! Place the Cup(s) of Cold Water in the furnace until the water is hot.
Now just place some Tea Leaves and a Cup of Hot Water in a crafting grid. Yay! Brewed tea! This item is drinkable and will add a small and short speed boost. Plus a heart of health.
Hmm... But this tea tastes a little bitter, we need to add some sugar! In a crafting grid you can either add sugar to an already crafted Cup of Tea, or add Tea Leaves, a Cup of Hot Water and sugar to get the same result.
Whoo hooo! Sweet Tea! Just like momma used to make. The effects of Sweet Tea! are slightly boosted compared to it's non-sugary counterpart.
The New Recipes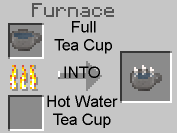 My Standard Donation Blurb
If you can spare some coins for a US military veteran in college trying to provide for his family, I'd appreciate it. If not, then I still hope you enjoy the mod
Download
*FORGE REQUIRED* - Get the "recommended" build
HERE
.
*SweetTea!* - Version
1.0
for Minecraft 1.7.2
HERE
.
Change log
HTTP://NAVYBOFUSMODS.WORDPRESS.COM
Instructions
Download and install the latest version of Minecraft Forge.
Download SweetTea! and drop the jar file into the /mods folder in your ".minecraft" directory.
Profit!
(If you don't know how to install Forge, the information can be found on their forums via the download link.)(If you cannot locate your ".minecraft" directory, type %APPDATA% into your windows search.NOTE: I am unsure for other systems. Sorry. If someone tells me I'll add that info here. But, I am sure that you can find the info somewhere on these forums
Feedback
Please, don't flame just to flame.I do take constructive criticism very well.Please let me know what you think about my mod.Please post error logs in spoilers (Shouldn't be many due to thorough testing.)I'll entertain feature suggestions if they are in the scope of my mod.Basically anything that you want to ask or say, go right ahead, but please try to keep on the topic of this mod.Thanks!
Legal Stuff
This mod is Copyright (2014) and is my intellectual property. Only MinecraftForum.net and CurseForge.com are allowed to host any of my material without my consent. It may not be placed on any web site or otherwise distributed publicly without advanced written permission. Descriptions or other content on the mod (for example, reviews) are allowed as long as the download links provided point to this thread or to NavybofusMods.Wordpress.com. Works derived from this mod in any significant way, for instance by re-using the mod's source code, are forbidden without written permission.