Bren077s
Stone Miner
Join Date:

11/23/2012

Posts:

88

Member Details
***This Mod has been ended and is now replaced by the OPTools mod found here(http://www.minecraft...olsoptools-mod/)***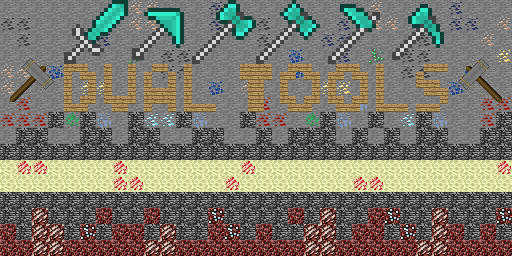 Have you ever wanted a mod that mixes tool? This is mod is what you need. It makes it so the average player can make tool heads and then use those to create tools with the ability of both tool heads. No longer do you need five tools but instead you can mix tools and cut that number down. Tool heads also can be used to make vanilla tools. Dual Tools are all shapeless recipes that require two tool heads an iron rod, and any type of smith's hammer. All the Dual tools are now implemented except there are none made of wood because wood is not moldable by a hammer. Added in a smith's hammer that is used to make all tool heads. Wood tool heads will not be implement(unless people really want them) All IDs are now changeable through config file***Diamond, Gold, Iron, and Stone dual tools implemented***Hey Guys if you have any suggestions on what i should add next please post a comment and i will look into adding it if i like the ideaDual tools mod has been reborn and more has been added plus tons to come!!!

Images of whats added: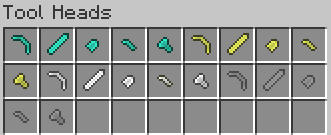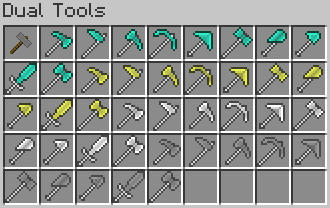 Download + instalation:
Changelog:
v 2.0+remade the mod+added in hammers that now get slowly used up over timev 1.5+bug fixes+started to implement custom oresv 1.4+all dual tools for stone, iron, and gold added+bug fixes like scyth now enchantablev 1.3+bug fix with hammerv 1.2+config file and changeable item ids+smith's hammer+fixed many recipe errors+fixed some bugsv 1.1+tool heads of every type but wood+All duel tool types added for only diamond(Gold, Iron, Stone, possible wood to come)+iron rod for creating duel tools+added tool head creative tab+added duel tool creative tabv 1.0.0+basic textures+pickshovel add+mod created
Images of important recipes: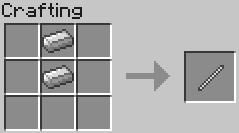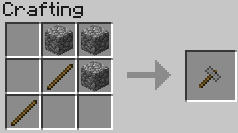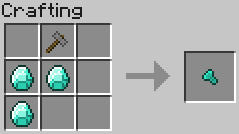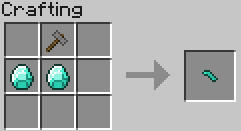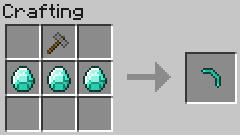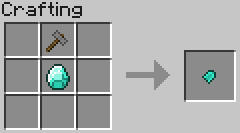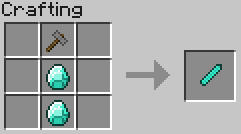 Recipes for Gold, Iron, and Stone all the same
Spotlights/Showcases:
very good spotlight:Old mod reviews:
Special thanks to theguyordie for the video
Authors:
Programed by: BH202548 aka Bren077s aka Brendan HansknechtTexture by: ld205727 aka Luke DeVault
Random Things:
Terms and Conditions:
TERMS AND CONDITIONS0. USED TERMSMOD - modification, plugin, a piece of
software
that interfaces with the Minecraft client to extend, add, change or remove original capabilities.MOJANG - Mojang ABOWNER - , Original author(s) of the MOD. Under the copyright terms accepted when purchasing Minecraft (
http://www.minecraft.net/copyright.jsp
) the OWNER has full rights over their MOD despite use of MOJANG code.USER - End user of the mod, person installing the mod.1. LIABILITYTHIS MOD IS PROVIDED 'AS IS' WITH NO WARRANTIES, IMPLIED OR OTHERWISE. THE OWNER OF THIS MOD TAKES NO RESPONSIBILITY FOR ANY DAMAGES INCURRED FROM THE USE OF THIS MOD. THIS MOD ALTERS FUNDAMENTAL PARTS OF THE MINECRAFT GAME, PARTS OF MINECRAFT MAY NOT WORK WITH THIS MOD INSTALLED. ALL DAMAGES CAUSED FROM THE USE OR MISUSE OF THIS MOD FALL ON THE USER.2. USEUse of this MOD to be installed, manually or automatically, is given to the USER without restriction.3. REDISTRIBUTIONThis MOD may only be distributed where uploaded, mirrored, or otherwise linked to by the OWNER solely. All mirrors of this mod must have advance written permission from the OWNER. ANY attempts to make money off of this MOD (selling, selling modified versions, adfly, sharecash, etc.) are STRICTLY FORBIDDEN, and the OWNER may claim damages or take other action to rectify the situation.4. DERIVATIVE WORKS/MODIFICATIONThis mod is provided freely and may be decompiled and modified for private use, either with a decompiler or a bytecode editor. Public distribution of modified versions of this MOD require advance written permission of the OWNER and may be subject to certain terms.