xlash123
Tree Puncher
Location:

Florida, USA

Join Date:

4/12/2013

Posts:

22

Location:

Florida, USA

Minecraft:

xlash123

Member Details
INFINITYBOUND
UPDATED 10/2/2013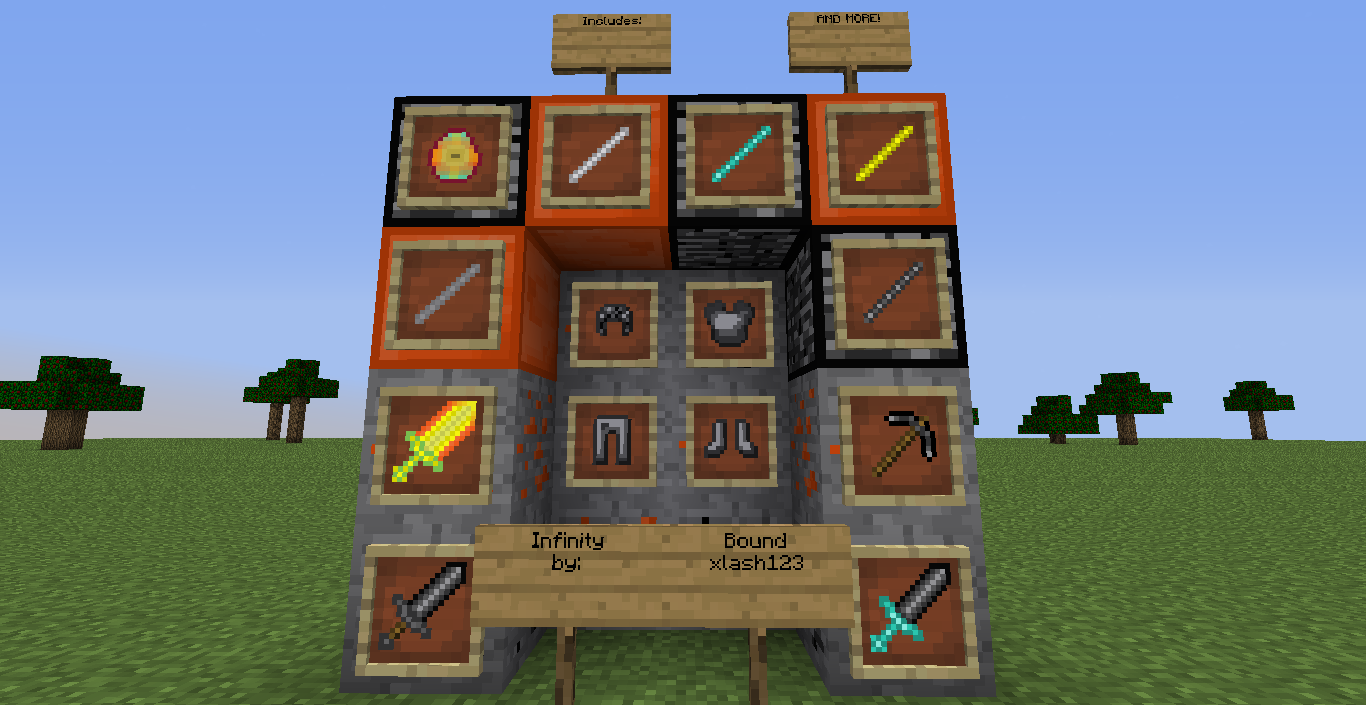 Important Notice: Since it has been a while since the last update and a lot of changes have been made to the Minecraft code, I have decided to stop InfinityBound and never update it again. Period. What will you do with your spare time, you may ask. I will be working on InfinityBound 2. That's right. It will be better both for the player and the creator. I have learned more about Java while making this mod and familiarized myself with the Minecraft code. Let's hope for better things in the future for InfinityBound 2. I will post the link to the InfinityBound 2 forum page once I post a version of it on there.

This is my mod, InfinityBound, where infinity is the limit. This is my first mod. I've learned a lot of Java, so if you have a suggestion that may be difficult, go ahead and tell me. Just not new mobs just yet. It adds bedrock tools and armor, different sticks, and LAMB CHOPS! So please try it out and tell me how it is. I would love to hear suggestions and if you have any better texture ideas, please send them to me and I will see what i can do about it. Keep playing!
THIS MOD USES FORGE!!!
If you don't have forge click
here
(#953) and run the jar file by double clicking on it. Make sure your .minecraft folder is selected and it will automatically install the minecraft.jar and put a new profile in the launcher called forge. Also, make sure you install the mod folder inside the mods folder in the .minecraft folder. DO NOT EXTRACT THE MOD!!! I have tested and this version works.
Current Version: 1.3.2 for Minecraft 1.6.4
Records:
Download for the latest record files for the mod. Not needed for servers. Click install.bat to automatically install the files. install.bat only works for windows. Updated records for 1.3.2.
ATTENTION MAC USERS!!!
For all Mac users that may know the terminal code, please help me, a non-Mac-user, with automatic records installation. Either send me the code used in the terminal that would copy the files into the records folder in the minecraft folder or test the code currently in the record files folder. If it doesn't work, please tell me and I can try to fix it. Thank you.
Any Ideas?
Have a cool idea that you would like to see in my mod, post a comment and I'll see what I can do. If I can get it in the mod, I will attach your username to the idea when I update it. Like: Added marshmallows (Suggested by DaveMallow)So you can tell all your friends that you came up with the idea of putting marshmallows in Minecraft.
Snapshots:
None
Older Versions:
FUTURE INSIGHT!!!
Good news: I have ridded the code of all errors... that Eclipse can detect. Unfortunately, there are still plenty of crashes in the air of my mod. It will take a bit of time to find out why it's doing this and to smash all of those puny little sons of bugs. This is also the point where I tell what improvements I've made. Little, although I did rewrite like 60% of the code and installed a new handler for making new tools of different types of materials and sticks just by adding in a single line of code. Now I just need to fix the errors, bugs, glitches, rewrite some more code, rename texture files, reorganize a bit here and there and get an update out by the time Minecraft 2.0 comes out (I'm just over exaggerating).
Screenshots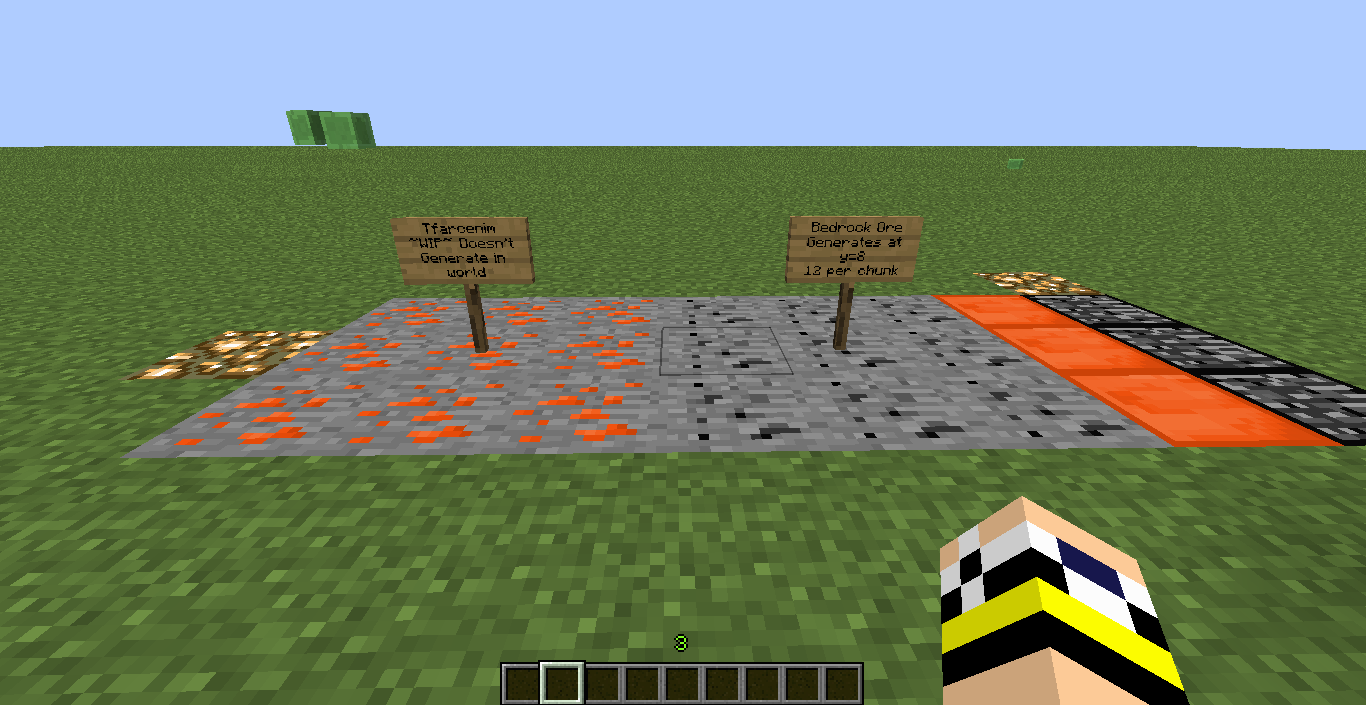 * Tfarcenim does generate now. This photo was taken during beta stage.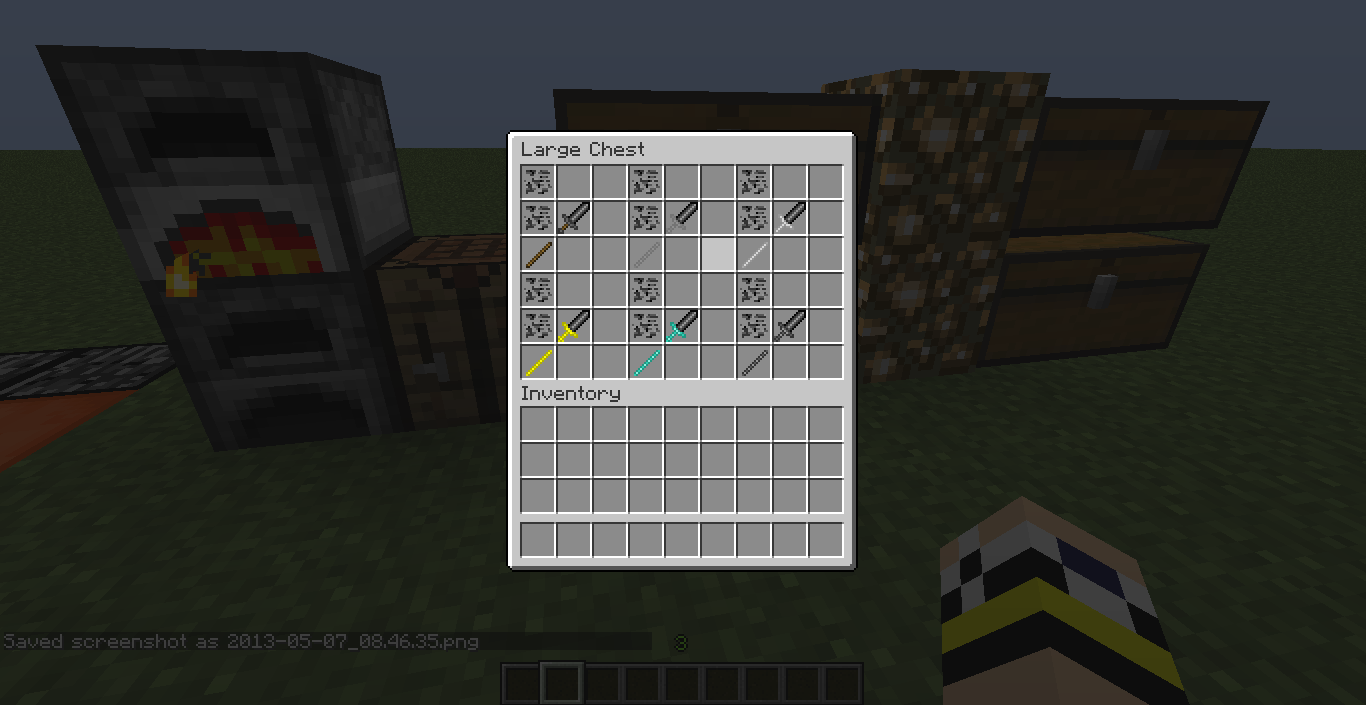 *Crafting recipes are pretty much just like this. If you can't figure it out, use common sense or play minecraft more.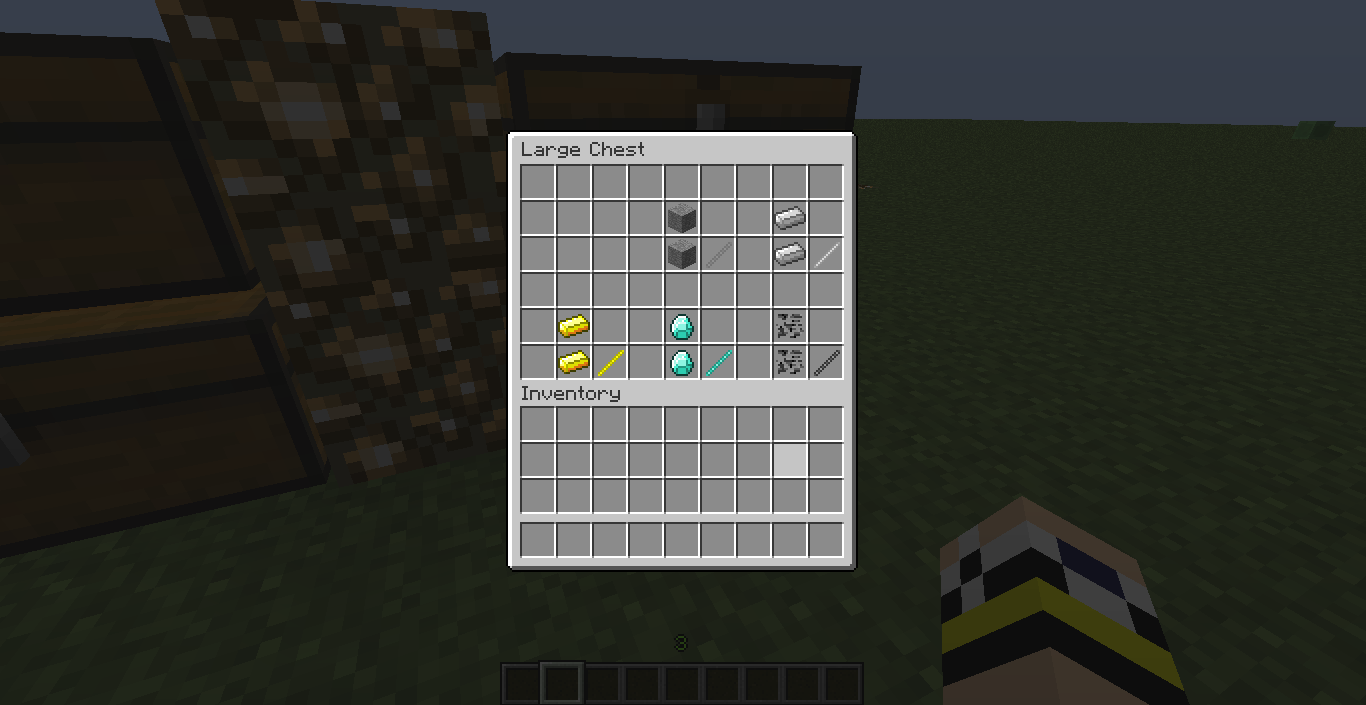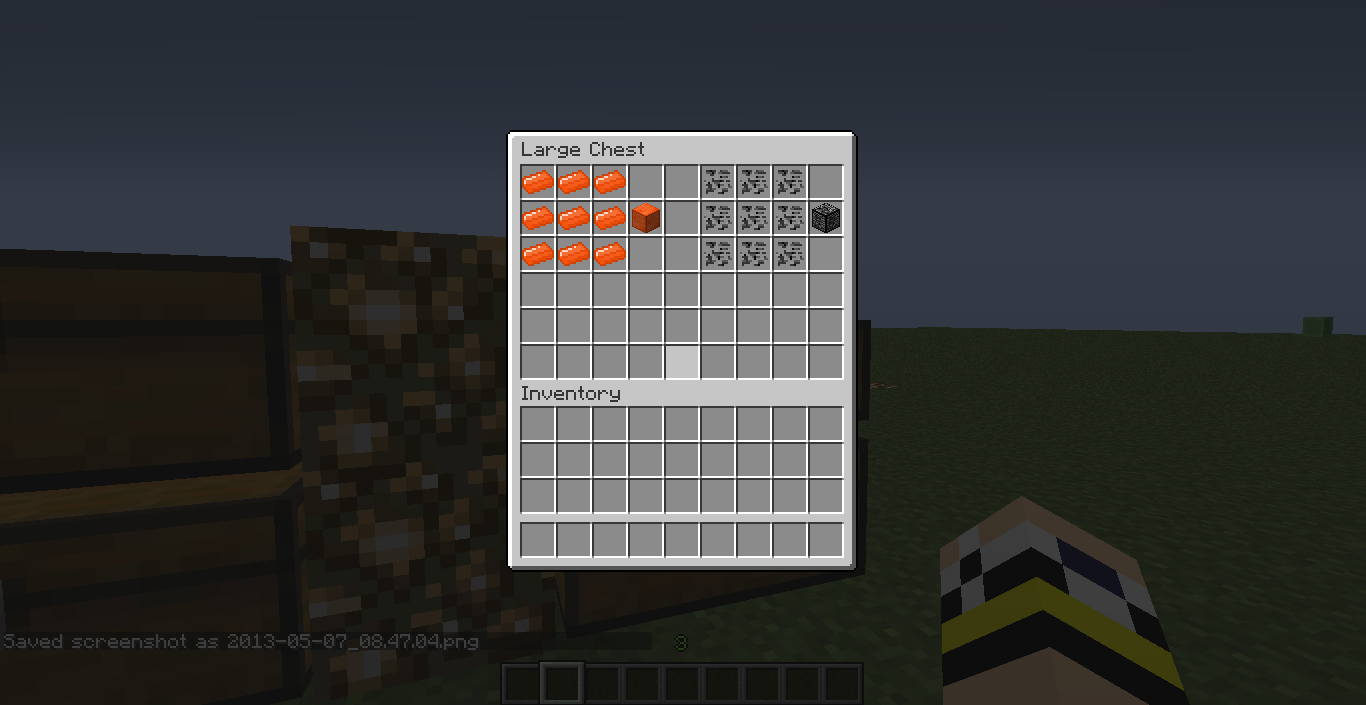 *Crafted Bedrock Blocks can be mined.
Videos:
Crafting Recipes:
(Look in screenshots for the more basic recipes)
Insta-Kill Sword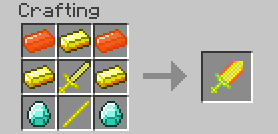 Crystal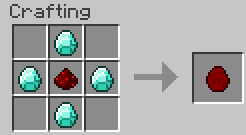 Super Crystal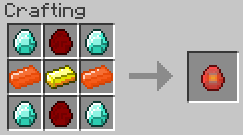 Super Crystal (Made using fused crystals)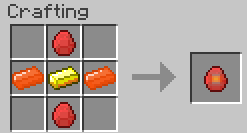 Ultra Crystal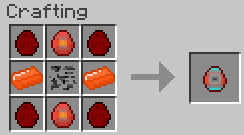 Ultra Crystal (Using fused crystals)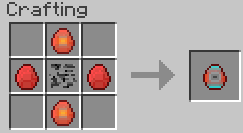 Infinity Crystal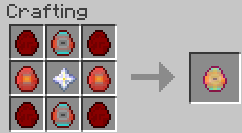 *HINT: This requires a total of 120 diamonds, 24 redstone, 16 tfarcenim, 6 gold, 2 bedrock pieces, and 1 nether star to make. Get mining.
Infinity Crystal (Using fused crystals)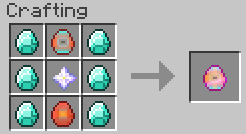 *HINT: Instead of using 120 diamonds, use 38 and make it this way, but you will need the fuser.
Infinity Pickaxe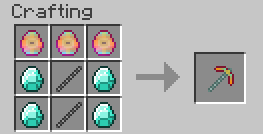 *As of 1.3.0, Infinity Tools now require a fused Infinity Crystal.
Infinity Sword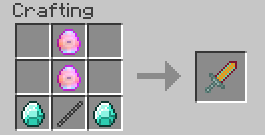 Infinity Axe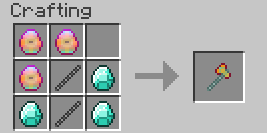 Infinity Shovel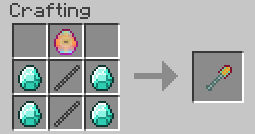 Infinity Hoe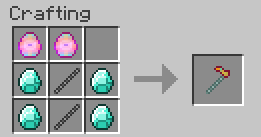 Hammer (needed for fuser)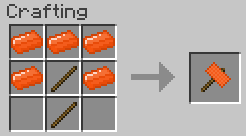 Saddle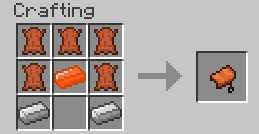 Name Tag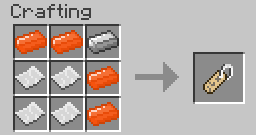 Diamond String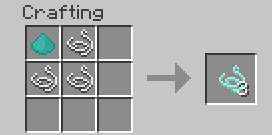 *Shapeless
Insta Bow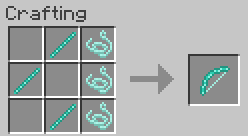 Cutter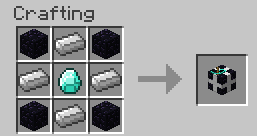 Apple Seeds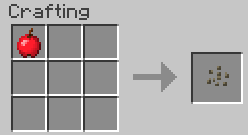 *Shapeless
Intangible Stone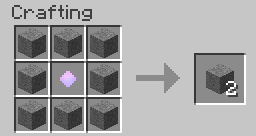 *Or smelt Intangible Cobble
Intangible Cobblestone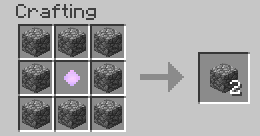 (Unless specified elsewhere, this is the main crafting recipe for all intangible blocks)
Rainbow Dye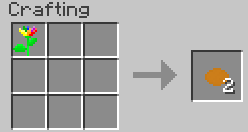 *Rainbow dye is animated
Rainbow Wool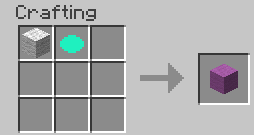 *Rainbow Wool is animated
Nether Chest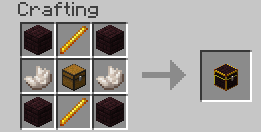 Fuser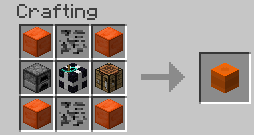 Missed anything? Tell me and I will add it. Sorry for any inconvenience.
Special Items and How to Use Them:
Cutter:
Craft a Cutter (look in the crafting recipes section)
Place it down. Right click on it. You should see this:


Put any pickaxe in the bottom slot. In this example, I will put in an iron pickaxe with stone stick.


Put any ore in the in the top slot. In this example, I use iron ore. Notice it starts the process immediately.


If you get lucky, you will get a rare item in the bottom right slot. There is a 10% chance of it happening. In my example, putting in Iron ore can get you gold. The rare item is fixed for each input. Discover it for yourself because I can't remember off the top of my head.


Fuser:
Craft and place a Fuser then right click on it. You should see this:


Put any burnable item in the bottom slot. I use coal.


Put a hammer in the top slot (crafting recipe in crafting recipe section)


Put in any item that is fusable. As of 1.3.0, the only fusable items are crystals. I will use regular crystals in this example. Notice it starts up as soon as you put it in.


And voila, you get a fused crystal.


Tips:
Kill a creeper in a cactus to get the Sideburns music disc.
If you can, always try to put ores in the cutter. It gives you more.
Gold ore in the cutter may earn you diamonds.
Use the highest level pickaxe you are willing to use in the cutter. It's faster and has more durability, making the the most efficient.
Mobs aren't smart enough to tell the difference between an intangible block and a regular one. Same with some players.
Don't use a higher material stick on a lower level item. Ex: Diamond stick on a iron pickaxe. Same goes for same level stick on the same level material. Ex: Iron stick on iron pickaxe. Some exceptions are stone on stone, bedrock on bedrock, or if you have enough materials where you don't care so much that you lost 2 of that item. It isn't very worth it otherwise.
Durability increase per stick: Stone - 20%, Iron - 50%, Gold - -10%*, Diamond - 100%, Bedrock - 150%. *While you decrease the durability by 10%, you increase the mining speed by 1.5 (in the units that Minecraft uses for mining speed) and attack by 1 (same unit). Bedrock sticks also increase mining speed by 0.5 and attack by 1.
Tfarcenim is Minecraft backwards. This isn't helpful, but is cool.
1 Infinity Crystal requires 38 diamonds to make, but only if you use the Fuser to fuse the other crystals in the process. Otherwise, you waste 120 diamonds. In addition, you need 1 nether star.
Gold stick on a gold tool is the worst idea ever. NEVER do it. Unless you are making the Insta-Kill Sword, then it is acceptable to make a gold sword with gold stick.
Bedrock ore and Intangible ore can only be used in the cutter. If you put it in the furnace, you fail.
CHANGE LOG:
Just letting you know, school has started back up for me (for those who don't know, I am in middle school). It will be harder to find the time to update my mod, so please be patient and enjoy the version of InfinityBound you have installed right now.
Version 1.3.2:
Added a new record: Dramatic Song by Tobuscus. Obtained by killing a creeper with an arrow while it's on fire. Improved Bedrock Armor by making it more immune to fire. Fixed mob drops with obtaining raw lamb chops when you kill a burning sheep. Now gives you cooked meat.
Version 1.3.1:
Updated to 1.6.4. (I have had a problem getting forge to load for version 1.6.4. You have been warned.) Added a feature: If you hold right click on any sword FROM MY MOD for about 3 seconds, you will get a small strength boost. It is like preparing our attack.
Version 1.3.0:
(THIRD MAJOR UPDATE!!!) Added a new block called a Fuser, which fuses crystals to make it easier to craft the Infinity Crystal. It only requires 38 diamonds instead of 120, but you can still make it the other way. Added a second output slot in the Cutter in case of item overflow. Added hammer used in the fuser. Added fused crystals; the output for fusing the other crystals. Fixed a Bug0009, but I wont tell you how to activate it. I can't remember anything else. Have fun with it!
Version 1.2.9:
Added Intangible wood planks (when entering a world, click yes. ID 615 is the ID of that block. it's fine). Added a new record: Sideburns by Tobuscus. Creative mode only. Install the records folder into the assets folder in the .minecraft folder or it will not play. Decreased the rate all mod ores generate. Changed the textures of Bedrock ore and Bedrock blocks. Bedrock ore is no longer mistaken for coal ore.
Version 1.2.8:
Fixed Bug0008 and bonemeal now works with all plants from the mod.
Version 1.2.7:
Added crafting recipes for the intangible blocks added in 1.2.5. Improved the functioning of the cutter, also adding a 10% chance of getting a rare item. Added nether chest, which is the size of a double chest.
Version 1.2.5:
Added more intangible blocks, only creative for now. Improved the cutter; now slowly takes away durability and will halt production when the pickaxe is taken away or broken. Removed fertilizer, now use bonemeal.
Version 1.2.4:
Fixed Bug0006 and Bug 0007.
Version 1.2.3:
PHEWW!!! After a bunch of hard work, I finally finished this update. This is the second major update (WOOP-WOOP!). The changes are:
Added apple seeds that grow into apple tree saplings that you harvest in case you can't find apple trees.
Added a Cutter which theoretically chops off the stone of an ore giving you what's inside. (Fueled by pickaxes)
Added Rainbow Dye and Rainbow Wool.
Added a Rainbow Flower (may get a more unique and better name.)
Added Intangible ore and Intangible essence, obtained by cutting and used to craft Intangible blocks.
Added Intangible Blocks that look like the normal block, but can't be touched. (They can be mined, though. )
Added Tfarcenim Pieces, Iron Pieces, and Gold Pieces that you get when you cut that material or cut the ore.
Added Diamond Dust. Obtained by cutting a diamond and used to make diamond string.
Added a new Creative Tab where all my mod's blocks and items are kept.
Fixed Bug0005.
Increased the durability of all bedrock armor.
Decreased the drop rate of apples from apple trees.
IMPORTANT!!! Updated the version of forge used. Please install the latest version of forge (at least #804) or else the mod might not work. (If you don'

t know what this means, click on the like near the top that says "here" in the "This mod uses forge" Section.

If I missed anything, tell me and I will add it in here. Remember: it was a BIG update.
Version 1.1.8:
Added apple trees, apple tree saplings, apple tree leaves, and fertilizer. Fertilizer is bone meal but works with plant from this mod. It also works for vanilla plants. Apple Trees do generate in the world normally.
Version 1.1.5:
Added Insta Bow, which needs no reloading to shoot arrows far away. Also added diamond string, required to craft the Insta Bow. The Insta Bow may be repaired using an anvil with a diamond. Sheep now drop lamb chops when shot by an arrow.
Version 1.1.3:
Fixed Bug0004. Increased the mining speed and attack of Infinity tools. Also upped durability of Infinity tools (har-de-har-har!).
Version 1.1.1:
If a sheep dies from a fire, it drops Cooked Mutton. Crafting recipes for a saddle and a name tag are available since they are hard to get for horses.
Version 1.1.0:
(FIRST BIG UPDATE!!!) Added Infinity Tools, Crystals, and fixed Bug 0003. A side affect to the fix of Bug 0003 is all wood tools besides pickaxes, lamb chops, and the Insta-Kill Sword all have ID changes. Make a note of any of those items that you have before updating. Also, the texture, durability, and crafting recipe of the Insta-Kill Sword have been changed to make it less OP.
Version 1.0.5:
Updated to 1.6.2.
Version 1.0.4:
Fixed Bug 0002 and updated to 1.6.1.
Version 1.0.1:
Fixed texture bug where the textures of Gold Pickaxes weren't showing. Errors/bug will be given an identification on the form.
Initial Release 1.0:
Added all the rest of the textures. My mod will only be archived by the latest mod version of that Minecraft version. Mod is officially out of Beta.
KNOWN GLITCHES/BUGS:
Bug 0001: Gold Pickaxes have no texture even though the file exists. (fixed in 1.0.1)
Bug 0002: Mod ores can be mined with all mod tools. (fixed in 1.0.4)
Bug 0003: Wood Pickaxe with bedrock stick doesn't exist. (fixed in 1.1.1)
Bug0004: Bedrock Armor texture load blank leather texture instead of the correct texture. (fixed in 1.1.3)
Bug0005: Insta Bow cannot be repaired in anvil (fixed in 1.2.3)
Bug0006: Weird crafting recipe for axes in the mod. (fixed in 1.2.4)
Bug0007: Serious error where when right-clicking on a cutter in a server causes the server to crash. (fixed in 1.2.4)
Bug0008: Putting a pickaxe enchanted with unbreaking in the cutter causes the game to crash. (fixed in 1.2.8)
Bug0009: Infinite XP glitch. (fixed in 1.3.0)
If you know of any glitches/bugs, post it in the comments or contact me some other way and tell me. I'll look into it.
Source Code:
My mod is open-source. You can use it for whatever modpack you want or even build off the code, but please credit me for the mod if you use it. Get the source
here
. Now on GitHub!
CONTRIBUTORS:
Special thanks to those who have helped me with this mod. Those people are:
Ravemasta (my sister) (Designs the art textures I can't design/ ideas)

alrayjr (ideas/advertisement)

cpw (forge)

Mojang (you need a game to mod it)

jadered (ideas)

Chasecwik (ideas)

sora0726 (ideas)
Special thanks to those who did a review of my mod. Those people are (youtube username):
Person60

jader dressel

CutnKillLP
It wouldn't be great without you guys. Thanks for your help! You're the best!