DeStilleGast
Coal Miner
Join Date:

12/30/2011

Posts:

100

Minecraft:

DeStilleGast

Member Details
Hello all, I'm DeStilleGast
And I show my mod The Wither Bow
(ignore mine bad englishe !!!)
FIRST OF ALL, WitherBow 2.0.0 is for mc 1.6.4 and can by buggy
If you have crafted the bow with some arrows, then you are ready to shot mobs.The bow shots wither skulls, the hitted mob or player will get the potion effect wither.and there is also a explosion that can mine some blocks.Blue skulls have a bigger explosions and add some potion effects also it freeze the hitted entity, it cant move anymove.You can find the bow, arrows and some enchantments:in dungeons,bonuschest,villages,piramides and inmineshaftThe Wither have a small change to drop a Wither bow or a blue skull itemdifficulty easy: only explostion, wither effect, only enchanted potions for 15 seconds.difficulty normal: explosion + wither effect to hitted entity for 5 seconds.difficulty hard: explosion + wither effect to the hitted entity for 20 seconds.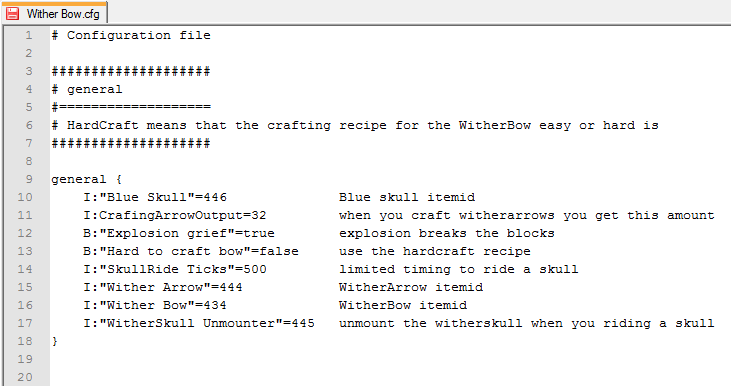 [b]Mine showcase[/b]
another mod review/spotlight/showcase[/b]]mod spotlight by ThnxCya:mod spotlight by KJIXZ:
mod spotlight by Traniffymod spotlight by mymycool9mod spotlight by chronosDrake
Crafting:Wither Bow: (hard craft, if it is enabled in config !!!)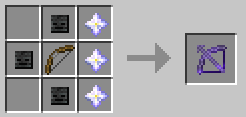 Wither Bow: (Easy craft)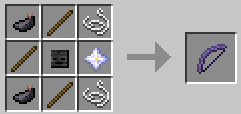 Wither Arrows: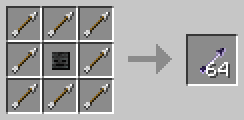 crafting bow that shots blue skulls: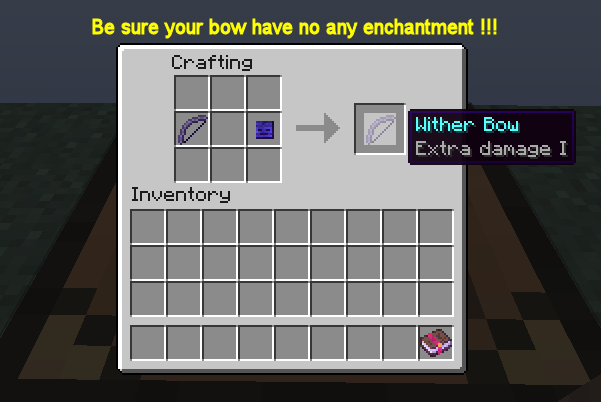 [b]
Important picture
[/b]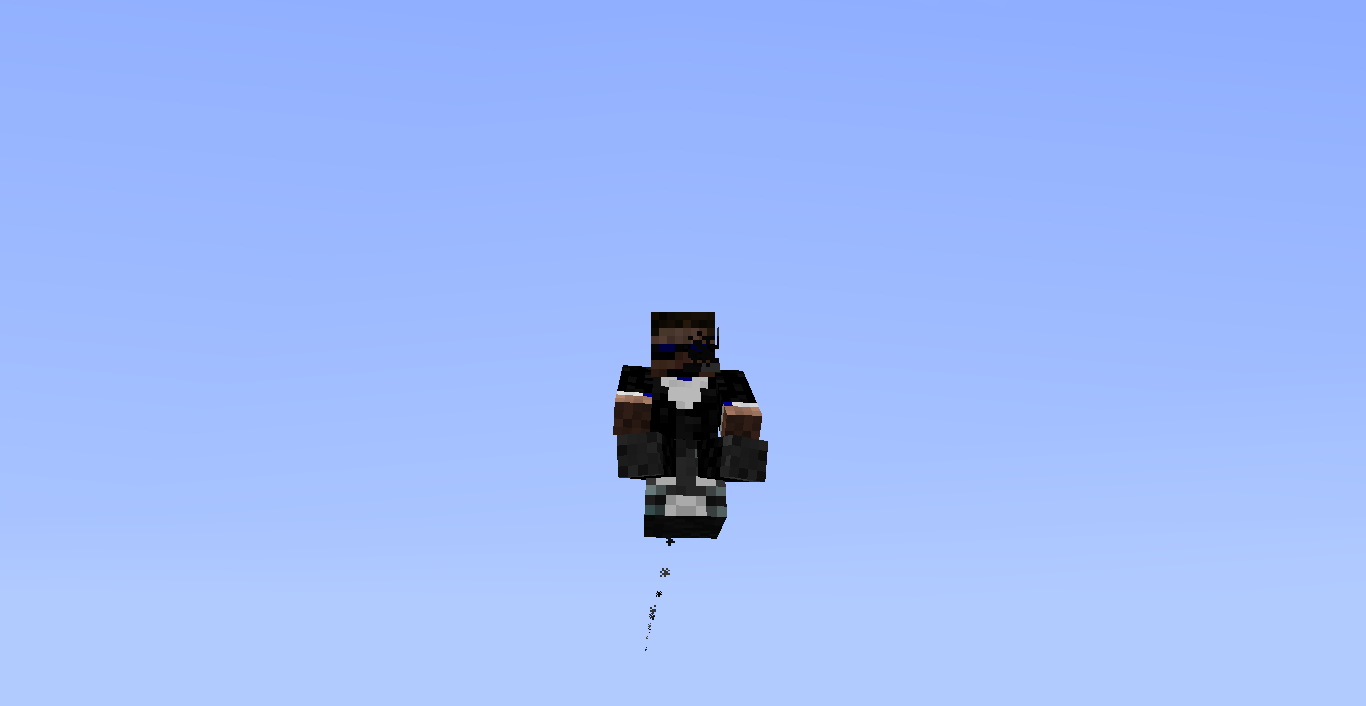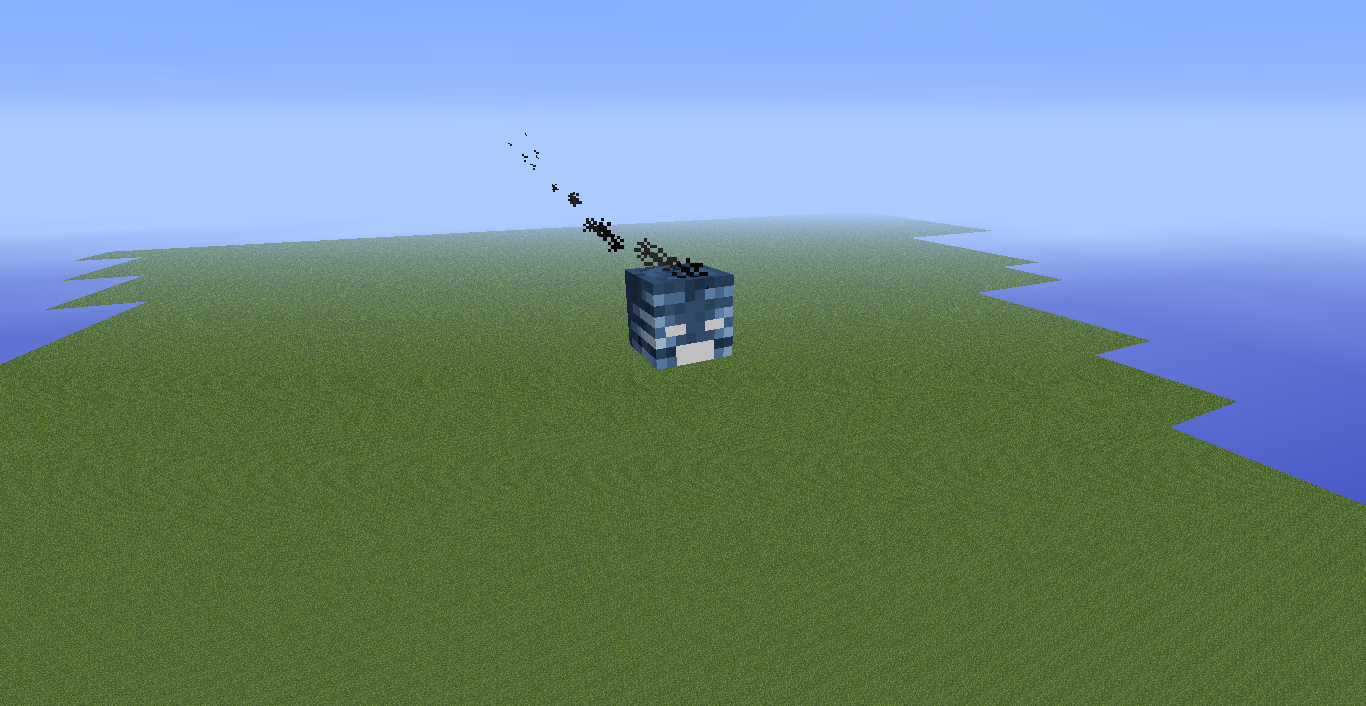 Lots of changes are maded !!!
Dont forgot there are maybe some bugs, and the new futures are not finished yet
for mc 1.5.2 (reported as broken by server)
Download here (1.8) for mc 1.5.2 (now with update manager)
Download
here
(1.7) for mc 1.5.2 im verry sorry about the broken update
Download here (1.6) for mc 1.5.2 DONT DOWNLOAD IT, IT IS BROKEN !!!
Download here (1.5) for mc 1.5.1

really recomment to clearup the config file !!!
Download here (1.4) for mc 1.5.1
How to install client:download forge if you dont have it else go to the next step.download the mod and place the zip file in your mods folder.How to install server:download forge if you dont have it else go to the next step.download the mod and place the zip file in your mods folder.Planned to do:
work with enchantments Done (v1.1)config file to config the item ID Done (v1.1)configable explosion. Done (v1.1)configable WitherArrow output. Done (v1.1)Bow animation. Done (v1.2)More screenshots. Done (v1.3)Custom potion effects: Done (v1.3)Transfer health from entity to player(what the wither does): Done (v1.9)Another shot sound: Done (v1.2)Multiplayer (forge server) support: Done (v1.2)
Wither Armor. not started yet.
Any idea to add ¿¿¿
post it and maby i will add it.
Any showcase and review and spotlight are welcome, PM me if u have maded a video
Know bugs
custom potion(enchanted books) will sometimes added by normal bows and dont add the potion Fixed v2.1
effect.custom potions are not working (detected by forge server) Fixed v1.3
crashed when try to add blindness in anvil Fixed v1.3
noClip trough blocks while driving skull, Fixed v1.4 BUGGY !!!
Changelog:06-03-2013: first release (v1.0)08-03-2013: second release (v1.1)
08-03-2013: all Bow enchantments are added by the WitherBow08-03-2013 Config file added: Item ID configable, grief explosion configable, arrow crafting output configable.08-03-2013: Changed the defaul arrow output to 32.
09-03-2013: 3e release (v1.2)
09-03-2013: Bow charge will add the potion duration.09-03-2013: Custom potions can added with enchanted books09-03-2013: SMP support for LAN and forge servers09-03-2013: Added bow animation09-03-2013: Changed the shot sound.
13-03-2013: 4e release (v1.3)
Added new config option "Hardcraft". you can also called HardcoreAdded new enchantment called "Driving", works only on witherbowAdded new Item to unmount you from a wither skullWither bow charge will add potion durationYou can now ride a Wither skull if the bow enchanted with "Driving"Fixed: blindness crash in anvilFixed: custom potions are now working.Added SkullRideTicks, or you fly forever, if you want to do that set it to 0WitherBow and WitherArrow can be founded in villages, dungeon and bonuschest
10-4-2013: 5e release (v1.4)
10-4-2013: maded new topic, 1.4.7 is
here
.Updated to mc 1.5.1added: if you use the bow it gives a nice effect.bug ¿¿¿ >> texture crash, cant be fixed if you load a new texture.new download link
20-04-2013: 6e release (v1.5)
added new Echantment (Extra damage)added new item (blue skull)Wither will drop the blue skull or witherbow as rare
19-5-2013: 7e release (v1.6)
Updated to mc 1.5.2 (sorry for late update, was busy with school)
renamed Enchantment "Extra damage" to "Super charged"
22-5-2013 8e release (v1.7)
fixed icon update error, sorry all this is mine fault.
27-5-2013 9e release (v1.8)
Added a UpdateManager, keep always up-to-date
29-5-2013 10e release (1.9)
Tweaked update manager
new enchantment "Hyperspeed" makes the skull super quick
coding mistake by the potion effects
added sort of health transfer effect when u hit a mob (like what the wither does), this is still buggy !!!
25-6-2013 11e release (1.9.5)
*fix server crash when try to check for updates
bug: when someone using the bow you dont see the pratical effects !!!
I am sorry, FreezeCam is dead. why you ask, the player is not been renderd anymore (there are exceptions, but can use those methodes, yet)
How broken can a forum be.