WaffleSyrup
Stone Miner
Join Date:

12/23/2012

Posts:

92

Member Details
DOES NOT REQUIRE MODLOADER... YET!
WaffleSyrup's World Generator (WSWG) is a mod that alters the World Generation in Minecraft. Many features will be added when a new version comes out. This mod currently DOES NOT require ModLoader, but it will require ModLoader once v0.3 or v0.4 comes out. Some features of this mod are:
Forest biome is greener and has more hills
Extreme Hills biome looks better
Deserts are more mountainous
Got rid of the X-Hills biomes (ForestHills, DesertHills, TaigaHills, JungleHills)
Ocean Floor looks better
Old Clay Generator makes a return (Clay Gen from Beta 1.7)
Swamps look better
Shores/Beaches look a little better
Rivers are greener
​
The Difference/Screenshots
Before:
After:
Before:
After: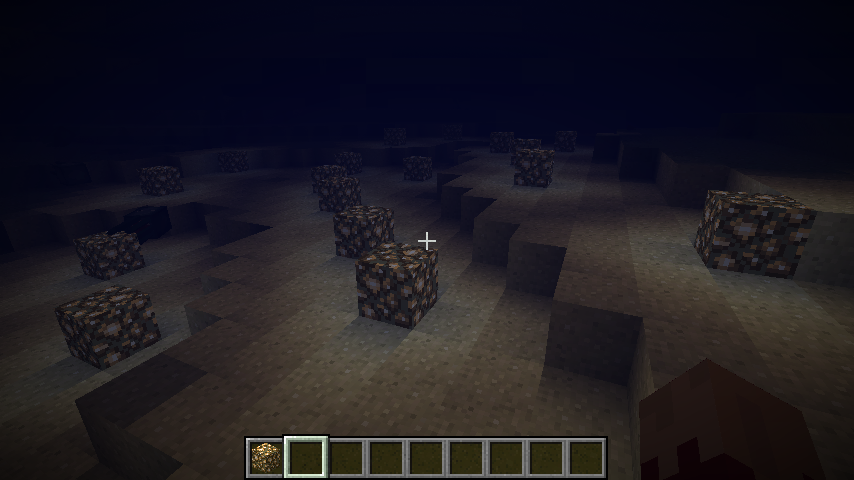 Before:
After:
Mod Spotlights
Thank you,
DeftDarkness
, for the Mod Spotlight!
Creator Videos
Videos uploaded by me about the mod. Also, check out my channel. Update videos and previews of my mods will be uploaded there.
WaffleSyrup's World Generator v0.2 Tour
User Screenshots
This section is for screenshots that users of this mod took. Currently, there aren't any. I would also appreciate if you would take a screenshot.
Cool Seeds
This section is for seeds using this mod. There are currently no seeds. If you want a cool seed you found added to the list just comment the seed below and I'll add it. Along with the seed name, please add a screenshot of your seed.
Downloads
WaffleSyrup's World Generator -
v0.1
- Minecraft 1.4.7 [
Download
] (Released: January 26, 2013)
WaffleSyrup's World Generator -
v0.2
- Minecraft 1.4.7 [
Download
] (Released: February 3, 2013)
Changelog
WSWG v0.1
WSWG v0.2
Every biome is now more mountainous
Changed the color of the Swamp biome
More pigs spawn on the islands in the Ocean biome (Just a test. Will be removed in v0.3)
Terms and Conditions (IMPORTANT)
TERMS AND CONDITIONS
0. USED TERMS
MOD - modification, plugin, a piece of software that interfaces with the Minecraft client to extend, add, change or remove original capabilities.
MOJANG - Mojang AB
OWNER - , Original author(s) of the MOD. Under the copyright terms accepted when purchasing Minecraft (
http://www.minecraft.net/copyright.jsp
) the OWNER has full rights over their MOD despite use of MOJANG code.
USER - End user of the mod, person installing the mod.
1. LIABILITY
THIS MOD IS PROVIDED 'AS IS' WITH NO WARRANTIES, IMPLIED OR OTHERWISE. THE OWNER OF THIS MOD TAKES NO RESPONSIBILITY FOR ANY DAMAGES INCURRED FROM THE USE OF THIS MOD. THIS MOD ALTERS FUNDAMENTAL PARTS OF THE MINECRAFT GAME, PARTS OF MINECRAFT MAY NOT WORK WITH THIS MOD INSTALLED. ALL DAMAGES CAUSED FROM THE USE OR MISUSE OF THIS MOD FALL ON THE USER.
2. USE
Use of this MOD to be installed, manually or automatically, is given to the USER without restriction.
3. REDISTRIBUTION
This MOD may only be distributed where uploaded, mirrored, or otherwise linked to by the OWNER solely. All mirrors of this mod must have advance written permission from the OWNER. ANY attempts to make money off of this MOD (selling, selling modified versions, adfly, sharecash, etc.) are STRICTLY FORBIDDEN, and the OWNER may claim damages or take other action to rectify the situation.
4. DERIVATIVE WORKS/MODIFICATION
This mod is provided freely and may be decompiled and modified for private use, either with a decompiler or a bytecode editor. Public distribution of modified versions of this MOD require advance written permission of the OWNER and may be subject to certain terms.