The_Holy_Frog
Tree Puncher
Join Date:

4/28/2012

Posts:

16

Member Details
This is the wasteland mod,
When you create a world using the "Wasteland" world type,
There is no grass,
No lakes,
Leafless trees,
Ruins...
And no hope...
~~~~~~~~~~~~~~~~~~~~~~~~~~~~~~~~~~~~~~~~~~~~~~~~~~~~~~~~~~~~~~~~~~
~~~~~~~~~~~~~~~~~~~~~~~~~~~~~~~~~~~~~~~~~~~~~~~~~~~~~~~~~~~~~~~~~~
LATEST
Download
[1.4.7] [FORGE] V3 FORGE:
Hopefully the forge version fixes this....
~~~~~~~~~~~~~~~~~~~~~~~~~~~~~~~~~~~~~~~~~~~~~~~~~~~~~~~~~~~~~~~~~~
Index
VIDEOS [SEND THEM INTO ME]
~~~~~~~~~~~~~~~~~~~~~~~~~~~~~~~~~~~~~~~~~~~~~~~~~~~~~~~~~~~~~~~~~~
News
FORGE VERSION RELEASED!!
It SHOULD work smp now.
Alright people, the mods back!!!
I can't write much now, but I'll tell you it was A HELL OF A BUMPY RIDE.
CHECK THE CHANGELOG!
Now, before I can start celebrating, I'm going to be uploading a newer version with dead trees,
oasis ACTUALLY spawning and hopefully a lowered tree rate( I don't find they're rare enough).
This page is still under construction, so expect to find missing content (the mod is fine though!).
THANK YOU!!
(I nearly forgot this)
To ALL the loyal fans of the Wasteland Mod.
You've all kept by it, through thick and thin,
Some more people I'd like to thank include:
KDStudios
Siim6893434343 (I keep forgetting the numbers, but you'll recognise him!)
Owa99
and of course,
Silver_Weasel, for creating this magnificent mod!
~~~~~~~~~~~~~~~~~~~~~~~~~~~~~~~~~~~~~~~~~~~~~~~~~~~~~~~~~~~~~~~~~~
Introduction
Basically this mod is
an edit t
o the original terrain generation. It generates a fallout/wasteland/apocalypse themed map. This includes:
-No more grass.
All of the grass blocks in the world are replaced with dirt, all the tall grass has turned into dead shrubs. Shrubs now also grow on dirt. Yes, this means no more passive mobs spawn. I'm looking into ways for you to get the passive mob loot. Maybe through dungeons?
-Changes to trees.
Trees have a much lower spawn rate. If a tree does spawn it is more likely to be a big tree then a little tree, and it will have no leaves at all(Unless its at an Oasis, see below). See how long your wood supplies last when you can't grow trees.
-No pumpkins, reeds, or flowers.
Pretty self-explanatory. They don't spawn anymore.
-No oceans.
No more giant oceans of water for unlimited water supplies. You can however get water from little springs (moving water).
-Changed sky color.
The sky is now a darker red-ish color.
-Randomised Oasis! <--- Probably doesn't spawn!
They say that you must bear the worst of the storm to find the eye. These Oasis are located in deserts, and are small 4x4 squares of grass with a tree, water, and some randomised tall grass and flowers. Use these to help you survive!
Adding it in!
-New ruined houses
Now there is a random chance of a ruined house spawning in the world. Think of it as a dungeon with less loot and no spawner. These are completely random and contain things to help you survive.
PHOTOS:
and here are 2 photo's from the original thread: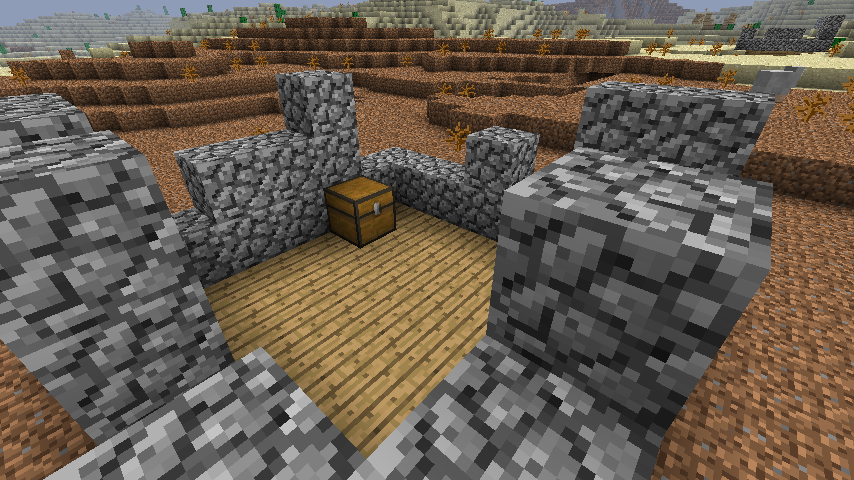 ~~~~~~~~~~~~~~~~~~~~~~~~~~~~~~~~~~~~~~~~~~~~~~~~~~~~~~~~~~~~~~~~~~
Downloads
OLDER:
~~~~~~~~~~~~~~~~~~~~~~~~~~~~~~~~~~~~~~~~~~~~~~~~~~~~~~~~~~~~~~~~~~
Instructions

Survival Singleplayer
1. Install Modloader!
2. Drag Wasteland zip file into mods folder in your .minecraft folder.
( .minecraft folder is usually here c:\users\<myusername>\AppData\Roaming\.minecraft)
3. ENJOY!!
The Old Way:
(If you install it, with a clean jar, and it doesn't work, switch steps 4 and 5):
1. Navigate to your .minecraft folder. For me its at: c:\users\<myusername>\AppData\Roaming\.minecraft.
2. Open up your bin folder.
3. Open up the minecraft.jar using a program like winrar.
4. Drag the .class files inside of the Wasteland folder into your minecraft.jar
5. Install Mod-loader.
6. Delete the META-INF folder inside the minecraft.jar
7. Launch Minecraft and start a new world(or use an old one if you want all new chunks that are generated to be wasteland).
Installing with MCPATCHER(IF it doesn't work the first time):
1. FRESH JAR!!!
2. Patch it with MCPatcher.
3. Go into the minecraft.jar, NOT the minecraft-1.2.5.jar ("minecraft-1.2.5.jar" or whatever is created by MCPatcher).
4. When you have gotten to the original minecraft.jar install modloader AND then WASTELAND MOD.
5. IT WORKS!!!
6. If it doesn't work.... YOUR DOING IT WRONG AGAIN!!!
~~~~~~~~~~~~~~~~~~~~~~~~~~~~~~~~~~~~~~~~~~~~~~~~~~~~~~~~~~~~~~~~~~
FAQ about my disappearance and
re-appearance
:
"HEY! You're not The_Holy_Frenchman! You're a FROG!"
Well, I had to make (more like remake) my account because I forgot the password, and then it wouldn't let me retrieve my password because APPARENTLY my email wasn't registered to my account?!
"How could you forget your own password?!"
My account was automatically signed in from the very beginning, so I never had to login. EVER! but the second I logged out (stupid decision) and then tried logging back in: POOF! Account gone. Just like that, my account has no email, and my password was wrong and all this technical crap which meant one thing... I couldn't log back in.
Now don't get me wrong, I tried to retrieve my password, I really did! But, as stated above, my email was not attached to my account (yet it still managed to receive emails concerning The_Holy_Frenchman) so I couldn't get it back.
I then made this account(not really but doesn't matter), and posted on one of those administrator only thingy's that I couldn't get my account back and all that stuff. No-one replied, or believed, or maybe even both.
"But you're DEAD! You can't be the real one!"
The truth of the matter is that I NEVER MANAGED TO MAKE A WORKING BUKKIT VERSION. I'm totally inept with block generation and that sort of thing with bukkit. After that failure, it sort of bummed me down. I then lost enthusiasm, and sort of forgot about the mod. Then When I wanted to get back into it, "BOOM! Account lost" and "Email not attached" got in the way so I sort-of gave up.
"Why didn't you update the mod as soon as you came back?"
Because when I came back it was 1.4.5, and, I don't know what they did to the code, but no matter what I did, water kept spawning in lakes, completely destroying the atmosphere.
Recently I looked at my old thread again, and thought I'd give it one last shot.
If you have any compatibility issues, Don't expect them to be solved (sorry!). the reason being the mod doesn't edit any base-classes, so it
SHOULD
be compatible with most mods.
Obviously it isn't...

HAVE FUN!!
~~~~~~~~~~~~~~~~~~~~~~~~~~~~~~~~~~~~~~~~~~~~~~~~~~~~~~~~~~~~~~~~~~
Videos
(Once you click on the spoiler, iy will be plain, and then the video will load)
Kyle Crafty's video (doing a lets play)
Durazics review
Bazillau's review
zinc136's review
Revolver0125's review
SEND THEM INTO ME(Player Message)!!
~~~~~~~~~~~~~~~~~~~~~~~~~~~~~~~~~~~~~~~~~~~~~~~~~~~~~~~~~~~~~~~~~~
CHANGE LOG
Wasteland 1.4.7 V2:
- Lowered tree spawn rates
-Various structure spawn rates changed (mostly higher)
# Dead bushes not spawning, will be fixed in newer version
#Oasis not spawning, will be fixed in newer version
#Deserts not spawning (and haven't since the mod went base-class-edited free), will be ATTEMPTED to be fixed in newer version.
Wasteland 1.4.7:
The mod finally got updated.....
~~~~~~~~~~~~~~~~~~~~~~~~~~~~~~~~~~~~~~~~~~~~~~~~~~~~~~~~~~~~~~~~~~
License
Read the exception:
The_Holy_Frenchman, on 19 May 2012 - 07:44 PM, said:

TERMS AND CONDITIONS
0. USED TERMS
MOD - modification, plugin, a piece of software that interfaces with the Minecraft client to extend, add, change or remove original capabilities.
MOJANG - Mojang AB
OWNER - , Original author(s) of the MOD. Under the copyright terms accepted when purchasing Minecraft (http://www.minecraft.net/copyright.jsp) the OWNER has full rights over their MOD despite use of MOJANG code.
USER - End user of the mod, person installing the mod.

1. LIABILITY
THIS MOD IS PROVIDED 'AS IS' WITH NO WARRANTIES, IMPLIED OR OTHERWISE. THE OWNER OF THIS MOD TAKES NO RESPONSIBILITY FOR ANY DAMAGES INCURRED FROM THE USE OF THIS MOD. THIS MOD ALTERS FUNDAMENTAL PARTS OF THE MINECRAFT GAME, PARTS OF MINECRAFT MAY NOT WORK WITH THIS MOD INSTALLED. ALL DAMAGES CAUSED FROM THE USE OR MISUSE OF THIS MOD FALL ON THE USER.

2. USE
Use of this MOD to be installed, manually or automatically, is given to the USER without restriction.

3. REDISTRIBUTION
This MOD may only be distributed where uploaded, mirrored, or otherwise linked to by the OWNER solely. All mirrors of this mod must have advance written permission from the OWNER. ANY attempts to make money off of this MOD (selling, selling modified versions, adfly, sharecash, etc.) are STRICTLY FORBIDDEN, and the OWNER may claim damages or take other action to rectify the situation.

4. DERIVATIVE WORKS/MODIFICATION
This mod is provided freely and may be decompiled and modified for private use, either with a decompiler or a bytecode editor. Public distribution of modified versions of this MOD require advance written permission of the OWNER and may be subject to certain terms.
Silver_Weasel has many rights, and all he has to do is ask me. He legally owns the ruins, the general idea of this mod, BUT the code which is not mentioned before (the generation and etcetera) was coded by scratch from me.
5. EXCEPTIONS
If I(or whoever takes care of the mod) has not updated it in a while (3+ minecraft updates) FEEL FREE to update the mod for everyone, although ONLY do this it has been A WHILE!
~~~~~~~~~~~~~~~~~~~~~~~~~~~~~~~~~~~~~~~~~~~~~~~~~~~~~~~~~~~~~~~~~~