Jade_Knightblazer
Void Walker
Join Date:

8/23/2011

Posts:

1,835

Member Details
Update: 12/29/12
1.4.6 Chainz v1.0.1 Released. Added Slingshots to the mod.
What is new?
Well its time to reach down down and uncover the Dennis the Menace side of you. Introducing Slingshots.
Slingshots are much weaker then their range counterpart, The bow. However what they lack in strength they make up in passive abilities and different ammo.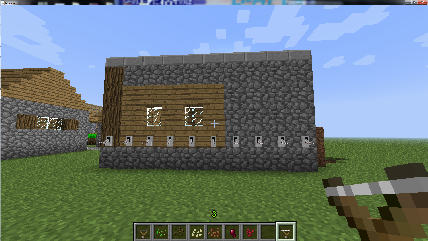 Each successful hit to a target inflicts Confusion (Players) or Slow movement speed (NPC) for 5 secs.
[Slingshot] A very light range weapon that uses various types of ammo.
Durability: 50
Base Damage: 1 Heart + ammo damage.
[Fiber-wired Slingshot] An improved version of the slingshot with fiber-wire. Enhanced durability and damage.
Durability: 100
Base Damage: 1 1/2 Heart + ammo damage.
What kind of ammo can the Slingshot use?
The list below is the current ammo pool for Slingshots. Note ammo is automatically selected in the players inventory based on best quaility.
-In order from weakest to strongest-
Seeds: Ammo damage: 1 heart.
Melon Seeds: Ammo damage: 1 1/2 heart.
Pumpkin Seeds: Ammo damage: 1 1/2 heart.
Cocoa Beans: Ammo damage: 1 1/2 heart
Spider Eye: Ammo damage: 1 heart. Special perk: Inflicts poison on living targets, and wither on undead targets for 5 sec.
Netherwart: Ammo damage: 1 heart. Special perk: ignites targets on fire for 5 seconds.
The damage seems quite low.... why?
I have balanced out the Slingshots in many ways. Check to see how slingshots become very powerful tools!
1. Just like bows they can crit if fully charged.
2. They are fully enchantable with bow enchants
3. The passive on hit confusion/slow is very annoying if target is under consent bombardment (test it out
)
4. Slingshots are cheap to make, and are great for starting new worlds
5. A special Harken Scythe Augment may very well find its way to Chainz.
Last note, I am fully aware the Slingshots and Asgard Shields encounter an odd switch thingy. Asgard Shield will be updated with a fix later on.