Karuberu
Stone Miner
Join Date:

10/23/2012

Posts:

83

Member Details
Welcome! Dynamic Earth is a mod that attempts to make one of Minecraft's most common blocks more interesting and, more importantly, more useful.
Features
Mud
Dirt (but not grass or mycelium) slowly turns into mud when exposed to water (either through a nearby block or through rain). Mud is a stable building block until it comes into contact with running water or stays in contact with any type of water for too long (including rain) and becomes "saturated". This boggy, water-filled mud is hard to walk through and may cause...
Mudslides!
Saturated mud will fall like sand/gravel and will cause any connected mud blocks - even stable ones! - to fall as well! A chain reaction!
Reed Planting
Mud is ideal for planting reeds - it's moist, soft soil can sustain a reed plant without the need of an adjacent water block! ...Except for the one needed to keep mud from turning back into dirt, that is.
Mudbricks and Adobe
Mud will drop four "mud blobs" when it's harvested, which can be cooked in a furnace to make mud bricks, which can then be crafted into mud brick blocks. Mud brick is softer than regular brick, but is also much easier to come by(and easier on the eyes, in my opinion).
Moist Adobe is made by crafting together mud blobs, clay, and wheat or reeds. Moist Adobe is a soft building material that is easy to pick back up, but will dry and harden into a tough, stone-like material after being placed (it can also be cooked in a furnace for the same effect). However, once it has hardened, adobe will only produce a small amount of "adobe dust" when broken (unless Silk Touch is used).
This dust can be rehydrated into Moist Adobe through a crafting recipe or into Moist Adobe Blobs by simply right-clicking on a source block of water with the dust in hand.
Earthenware
Adobe blobs can be used to craft vases, which are similar to buckets (see below), and earthenware bowls. However, these must be cooked in a furnace before they can be used. Earthenware bowls can then be used to hold soup or can be combined with gunpowder and string to make small hand-held bombs (more on that below).
Vases
Vases are both a cheap alternative to buckets and something entirely unique. You can use them just like buckets - pick up water, milk cows, try to pick up lava, etc. - but you can also use them to hold any liquid added by other mods, as well as mushroom stew from soup bowls. Additionally, you can transfer liquids to and from the vase by using the crafting grid (for example, placing a soup bowl with the vase will fill it with 250 mB, or 1/4 a bucket, of mushroom stew, allowing the vase to hold 4 bowls of soup at a time).
Hand-bombs
Placing a piece of string, two earthenware bowls, and a piece of gunpowder in the crafting grid will produce an earthenware hand-bomb. When right-clicked, it will light the fuse; right-clicking again will throw it. It will blow up when either the fuse runs out or the bomb makes contact with something.
This, however, is only the most basic bomb. Bombs can also be made with up to 4 gunpowder (by default) for more explosiveness, more string for a longer fuse, a fire charge to add fire to the explosion, a fireworks charge to add fireworks to the explosion, and/or a potion to add a splash potion effect.
Adobe Golem
Adobe can also be used to make a cost-effective golem to protect your home or village. But it's no iron golem - it only has the attack power of a stone sword and won't take too many hits.
Permafrost
Not really interested in mud? Well, there's also permafrost! When dirt sits in the cold for too long, it becomes solid as a rock and gain some ice-like properties. Make sure you bring your pickaxe or diamond shovel if you want to dig through it!
Dirt Slabs
Dirt, Grass, and Mycelium can be crafted into fully functional dirt, grass, or mycelium slabs! These slabs act just like their full-block counterparts: they grow, spread, can be eaten by sheep, and have all the normal visual effects.
Peat
Peat moss, found naturally in swamplands, will (very) slowly transform dirt into a natural fuel - peat. While peat forms very slowly, it can sometimes be found in large bogs. However, peat must be dried before it can be used as fuel, either in a furnace or by drying naturally in the sun. The moss itself can be replanted by placing it in tilled soil or can be used to craft mossy cobblestone or mossy stone brick.
Rich Soil
Peat clumps can also be used with bonemeal and dirt to make a rich, fertile soil that is ideal for growing plants. When tilled and used as farmland, it will grow crops 2-3x as fast as regular dirt. If grass is allowed to grow over it, it will randomly produce tall grass, flowers, and/or mushrooms, depending on the biome. Likewise, if mycelium is allowed to grow over it, it will grow mushrooms and, eventually, giant mushrooms. However, rapidly growing large mushrooms is taxing on the soil and will revert it to regular dirt.
Sandy Soil
Is mud wrecking your builds? Try making sandy soil out of sand and dirt - it looks nearly identical to regular dirt, but due to its high sand content, it's unable to retain water and will never become mud.
1.7.3d:
* Updated the Thaumcraft and Thermal Expansion APIs.
* Vases full of Redstone, Ender, and Glowstone can no longer place the "block" form of the liquids. This is to circumvent a bug in which they would place less than a full block and waste the liquid.
1.7.3c
* Bugfix: Fatal crash if IC2 API was not present.
* Bugfix: Client-side crash when viewing some recipes with NEI.
1.7.3
* Vases will now display the localized name of the liquid, if available.
* Vases will now show more information when advanced tooltips are on (toggled with F3+H).
* Fluids are now printed in the log when they are added to the vase or, if they're skipped, the reason for exclusion is stated.
* Fluids are now checked for temperature before adding them to the vase. Fluids that are too hot or too cold will be skipped.
* Added an option to kill grass whenever a bottom-oriented half-slab is on top of it.
* Updated IC2 integration to use IC2 experimental's API.
* Re-enabled the moistener recipes (Forestry) for mycelium slabs, dry mycelium, and fertile mycelium (use their dirt form in place of seeds in the moistener).
* Moist adobe can now be crafted with Biomes O' Plenty's mud balls.
* Bugfix: Gases would appear as liquids in the vase. (This may still be the case with some gases, but that is because they are not properly implemented as such.)
* Bugfix: Adding a mod with liquids would change the contents of existing vases. (fluid ID issue)
* Bugfix: Errors would occur whenever NEI attempted to display some blocks from Dynamic Earth (such as double grass slabs).
* Bugfix: Mycelium could not be tilled, even if the config option was set to true.
* Bugfix: Earth blocks could be tilled even if a solid or liquid was directly on top of the block. (This used to be the case in vanilla, but the bug was fixed, so I'm fixing it here as well.)
* Bugfix: Forestry's ethanol was incorrectly assigned as "ethanol" instead of "bioethanol" in the vase fluid color config.
* Bugfix: Earth slabs could be placed even if an entity was still inside the area.
1.7.2c
* Bugfix: Fatal error if another mod added milk or soup as a fluid and loaded before Dynamic Earth.
1.7.2b
* Bugfix: Fatal error when an API was present, but had changed. (NoSuchMethodError)
1.7.2
* Updated to Minecraft 1.6.2/1.6.4.
* Added a whitelist and blacklist config options for the vase's liquids. The whitelist overrides the automatic culling of potentially invalid liquids.
* Added liquid color mapping to the config file.
* Added a config option for more destructive mudslides (brings down a random amount of dirt around the mud, particularly when raining). This was a bug that's been fixed, but I'm keeping it as an option that's disabled by default.
* Enforced stricter rules on what liquids can go into a vase by default.
* Cauldrons can now be topped-off, emptied, and filled more accurately with vases.
* Several more liquids can now be placed by the vase (Railcraft's steam; Thermal Expansion's redstone, glowstone, and ender; Buildcraft's oil and fuel).
* Added a custom creative tab for Dynamic Earth.
* Reduced peat's burn time to only smelt 6 items instead of 8.
* Added a recipe for fertile mud using mud blobs instead of dirt clods.
* More types of plants can now be planted on mud.
* Various bug fixes.
1.7.1
* Now uses correct mod-id and mcmod.info file. I must have uploaded the wrong version of the file somehow.
* KaruberuCore (v1.1.1) now works with MCPC+.
1.7.0
* Updated to Minecraft 1.5.2
* Name change! Now known as Dynamic Earth. The mod-id has also been changed.
* Added a variety of mod APIs (Forestry, Thaumcraft, Enriched Gravel, Thermal Expansion, Railcraft, and IC2) and corresponding recipes.
* Potion effects can now be added to bombs.
* Added more functionality to the vase; it can now hold any liquid and transfer liquids to other containers via crafting.
* Added two new soils: rich, which is good for farms, and sandy, which never becomes muddy.
* Added dirt clods, used for crafting rich soil.
* Added flexibility to the "wet blocks" recipes. They now accept any type of water from any mod and multiple types of items can be combined if they all produce the same result.
* Grass, flowers, and mushrooms will now randomly crop up in peat moss.
* Permafrost can now be mined quickly with a diamond shovel (in addition to picks).
* Clay golems have been renamed to "Adobe Golems" and will now avoid water properly.
* Mycelium now burns into dirt when scorched with lava or fire.
* Dirt/grass/mycelium slabs now support plants (only top slabs).
* Wet mud is now less horrible to walk through.
* Mud and peat can now be tilled and have plants grown on them.
* The restoreDirtOnChunkLoad now removes peat and all types of soil (including slabs) and replaces them with an appropriate vanilla block.
* Trimmed some excess item and block IDs: dried peat, water vase, and milk vase.
* Bugfix: Grass and mycelium slabs now give the proper number of dirt slabs when crafted.
* Bugfix: Fixed recipe for extending bomb fuses. No longer eats crafting materials.
* Bugfix: Double dirt slabs could not be placed properly.
* Bugfix: Mud now dries in humid biomes again.
* Bugfix: Mud that falls on slabs or other non-full blocks will now break into blobs instead of blocks.
* Bugfix: Peat moss will no longer spread past its normal range during rain.
1.6.0
* Updated to Minecraft 1.5.1
* No longer a jar mod!!

(Now requires KaruberuCore, a coremod)
* Added config options for peat burn time.
* Wet mud will now dry out more readily, but will also stay wet after falling.
* Wet peat will now slow movement speed. (config option to disable)
* Lava flowing next to mud will now dry it instantly. (Previously only happened if the lava was on top of the mud.)
* Grass blocks/slabs will now revert to being dirt blocks/slabs when they catch fire. (config option to disable)
* Bombs now have an advanced crafting recipe: adding more string or gunpowder increases the explosion size and fuse length, while adding fireworks charges or a fire charge will add effects to the explosion. (Config options for maximum explosiveness and fuse length.)
* Peat moss no longer spreads upwards.
* Fixed neighbor block update issues. Removed work-arounds.
* Bugfix: Falling mud entities caused NullPointerException when the world was saved and reloaded.
* Bugfix: Blocks that were covered by a non-opaque block, such as glass, would still become wet when it rained.
* Bugfix: Grass and mycelium slabs now drop dirt slabs with the proper damage value.
* Bugfix: Vases now work correctly in the dispenser.
1.5.2
* Fixed peat moss not spreading correctly.
* Fixed peat moss not generating peat correctly.
* Fixed peat not burning properly. (1.5.1 bug)
* Added dried peat back to the creative menu. (1.5.1 bug)
* Fixed blocks becoming wet when snowing.
* Fixed mud not becoming wet immediately when coming into contact with water. (1.5.1 bug)
* Fixed grass/mycelium/dirt slabs not converting correctly. (1.5.1 bug)
* Some additional behind-the-scenes changes.
1.5.1
* Updated to Minecraft 1.5.0
* Added dried peat as a soil for peat moss.
1.5.0
* Updated to Minecraft 1.4.7
* Added grass and mycelium slabs.
* Added earthenware bombs.
* Added peat and peat moss.
* Many new config options are now available.
* Improved drying/hydrating mechanic.
* Falling mud blocks now have their own entity - may improve compatibility.
* Added a config option to instantly restore mud and permafrost to dirt (performed on chunk load). This should help with worlds that are accidentally loaded.
* Other minor changes.
1.4.1
* Updated to Minecraft 1.4.6
* Fixed a minor bug that prevented servers from using the mod.
* Half slabs now have the correct opacity and lighting.
* Other minor bug fixes and optimizations.
1.4.0
* Updated to Minecraft 1.4.5
* Mud now spreads outwards/downwards from a water source instead of forming randomly in a radius. It can be blocked from spreading with a barrier of non-dirt blocks.
* Lava now dries blocks like fire, but with a larger radius.
* Fixed dispenser behavior with mud blobs and vases.
* Added permafrost, a hard dirt block that forms in cold biomes.
* Added world generation for mud and permafrost. (options to disable this are in the config)
* Added dirt half slabs. (They make dirt when doubled up; this is not a bug)
* Improved biome-specific drying/hydrating. Should work with non-vanilla biomes now.
* No longer modifies the reed class! (Forge fixed their plant API)
1.3.1
* Fixed a server-crashing bug.
1.3.0
* Dirt, mud, and moist adobe now have biome-specific drying/hydrating times.
* Fire will now keep blocks next to it dry and will slowly dry out blocks that are already hydrated.
* Added basic Forge config file for resolving ID conflicts.
* Many changes to the underlying code. Please report any bugs!
1.2.0
* Updated to Minecraft 1.4.4
* Added clay golems.
* Added mud brick walls.
* Mud will no longer fall as long as it is being used as soil for a plant (roots).
* Fixed vases/bowls having limited capabilities (cauldrons, mooshrooms).
* Falling mud now renders properly without editing a base class.
1.1.0
* Updated to Minecraft 1.4.2
* Mud blobs are now throwable.
* Added adobe/mud brick half slabs and stairs.
* Various bug fixes.
1.0.0
* Public release. (Minecraft 1.3.2)
Installation Instructions / Download
Requires:
Minecraft Forge
9.10.1
(for 1.6.2) or
9.11.0
(for 1.6.4)
Installation Instructions:
1)
Download and install Forge.
2) Run Minecraft with Forge and make sure it works.
3) Place DynamicEarth-1.7.3-1.6.jar and either KaruberuCore-1.2.0-1.6.2.jar (for Minecraft 1.6.2) or KaruberuCore-1.2.0-1.6.4.jar (for Minecraft 1.6.4) in the "mods" folder that was created by Forge in your Minecraft directory.
WARNING:
Because this mod changes dirt blocks, it is highly destructive when uninstalled. Be careful which worlds you play on!
(If you accidentally load a world with this mod, there is hope: open the config file and set "restoreDirtOnChunkLoad" to "true", then visit any chunks you loaded while the mod was active. This will instantly change any mud or permafrost blocks in those chunks into dirt, which should aid in safe uninstallation.)
Download:
Dynamic Earth 1.7.3d-1.6
(
*
)
KaruberuCore 1.2.0-1.6.2
(
*
)
KaruberuCore 1.2.0-1.6.4
(
*
)
Developmental Versions
These versions are still under development, may not be completely stable, and will contain bugs. Use at your own risk.
KaruberuCore 1.2.1-1.6.4-beta1
(
*
)
DynamicEarth 1.8.0-1.6-beta1
(
*
)
Notable Changes:
* Endermen now grab some of Dynamic Earth's blocks. Endermen now drop the block they are carrying when they are killed.
* Added a NEI plugin.
* Mud now "slides" during a mudslide as well as falling straight down.
* Mudslides have a chance to take specified non-mud blocks (stone, cobblestone, dirt, etc.) with them if the slide is large enough.
* Rain now causes blocks to become wet if any side is exposed, not just the top.
* Glowsoil has been added.
* Burning Soil / Nether Grass has been added. (it does not worldgen in the Nether and I have no plans to make it happen - it's up to the player to make it)
* Peat bogs should be more common.
* Worldgen for rich soil (plains biomes) and sandy soil (next to sand).
* Added help text for Dynamic Earth blocks and items when in creative mode.
* Added mud layers, similar to snow layers, that can be placed with mud blobs.
* Many new config options. Check the config file!
Old Versions
Videos

Thanks to brando4475 (BrandosMC on YouTube) for the mod review!
(Mod version 1.1 - very nice general overview)
Thanks to Arran (ArranLP on YouTube) for another mod review!
(Mod version 1.2 - includes clay golems!)
Screenshots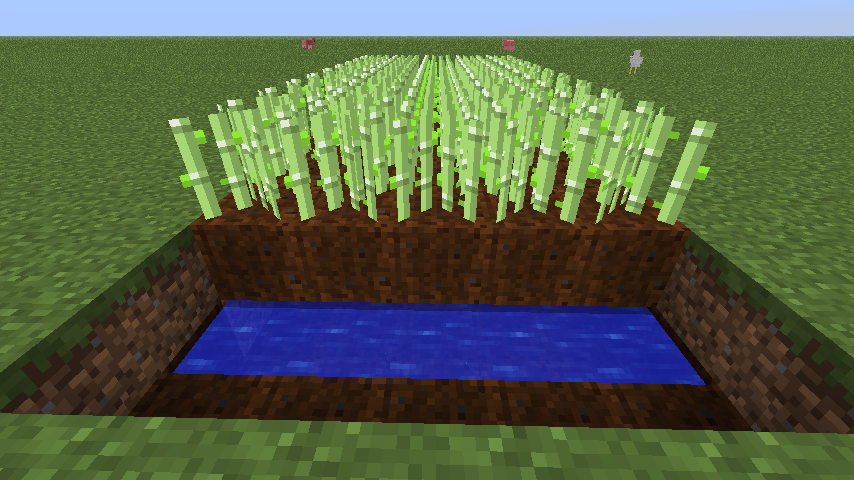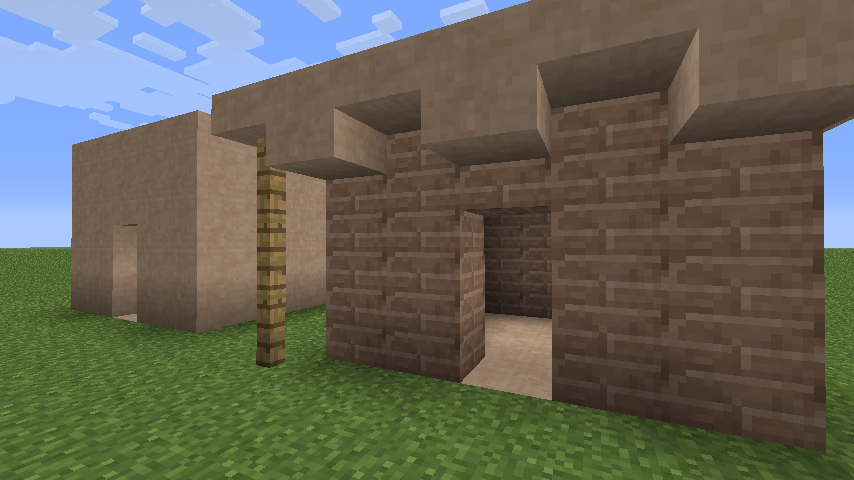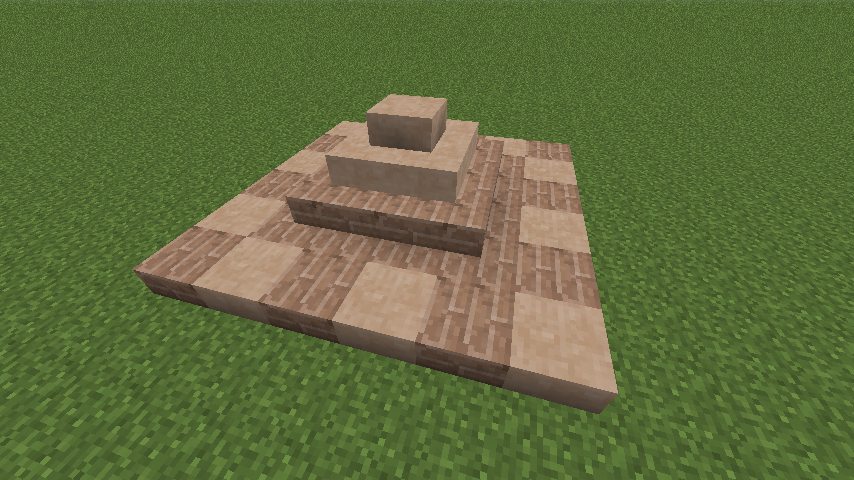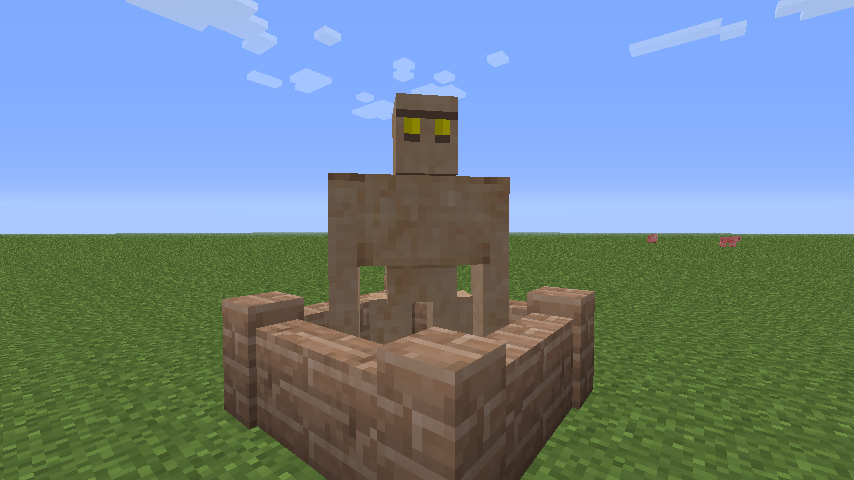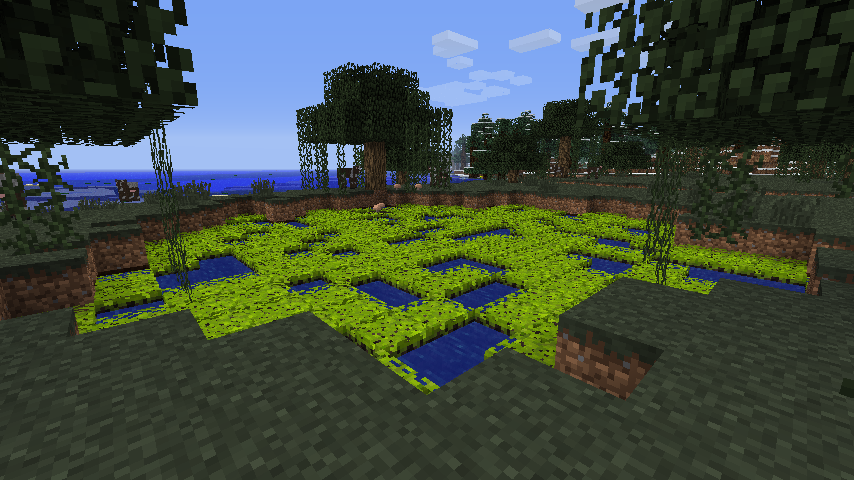 Crafting Recipes
Mud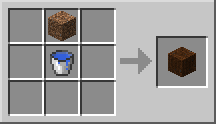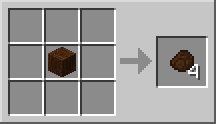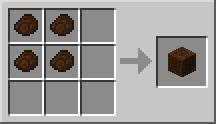 Mud Brick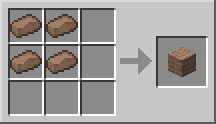 Moist Adobe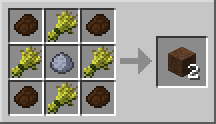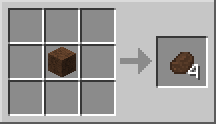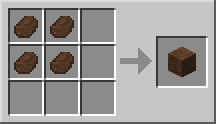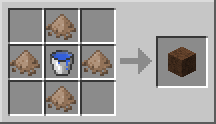 Vase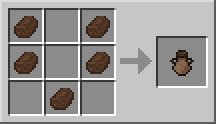 * This is the unfired vase; it must be smelted before it can be used.
Earthenware Bowl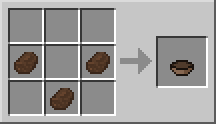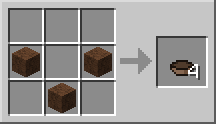 * This is the unfired bowl; it must be smelted before it can be used.
Earthenware Hand-bomb
*This is the basic recipe. More string and gunpowder can be added, as well as fire charges, fireworks charges, and potion bottles.
Mossy Stone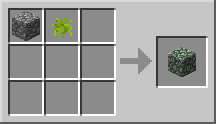 Peat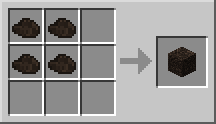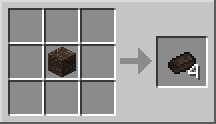 Soil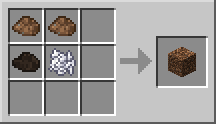 Other Recipes
The following recipes are simply crafted the same way as their vanilla counterparts:
* Mud Brick Stairs (using Mud Brick blocks)
* Mud Brick Slabs
* Mud Brick Walls
* Adobe Stairs (using Adobe, not Moist Adobe)
* Adobe Slabs
* Dirt Slabs
* Grass Slabs (makes 3, leaves 3 dirt slabs in your inventory)
* Mycelium Slabs (same as grass slabs)
* Cake (using Milk Vases)
* Mushroom Soup (using an Earthenware Bowl)
Legal
TERMS AND CONDITIONS
0. USED TERMS
MOD - modification, plugin, a piece of software that interfaces with the Minecraft client to extend, add, change or remove original capabilities.
MOJANG - Mojang AB
OWNER - , Original author(s) of the MOD. Under the copyright terms accepted when purchasing Minecraft (
http://www.minecraft.net/copyright.jsp
) the OWNER has full rights over their MOD despite use of MOJANG code.
USER - End user of the mod, person installing the mod.
1. LIABILITY
THIS MOD IS PROVIDED 'AS IS' WITH NO WARRANTIES, IMPLIED OR OTHERWISE. THE OWNER OF THIS MOD TAKES NO RESPONSIBILITY FOR ANY DAMAGES INCURRED FROM THE USE OF THIS MOD. THIS MOD ALTERS FUNDAMENTAL PARTS OF THE MINECRAFT GAME, PARTS OF MINECRAFT MAY NOT WORK WITH THIS MOD INSTALLED. ALL DAMAGES CAUSED FROM THE USE OR MISUSE OF THIS MOD FALL ON THE USER.
2. USE
Use of this MOD to be installed, manually or automatically, is given to the USER without restriction.
3. REDISTRIBUTION
This MOD may only be distributed where uploaded, mirrored, or otherwise linked to by the OWNER solely. All mirrors of this mod must have advance written permission from the OWNER. ANY attempts to make money off of this MOD (selling, selling modified versions, adfly, sharecash, etc.) are STRICTLY FORBIDDEN, and the OWNER may claim damages or take other action to rectify the situation.
4. DERIVATIVE WORKS/MODIFICATION
This mod is provided freely and may be decompiled and modified for private use, either with a decompiler or a bytecode editor. Public distribution of modified versions of this MOD require advance written permission of the OWNER and may be subject to certain terms.
Approved for redistribution of Mod/Resources
:
*HatsyaSouji - use of the texture files in an adventure map.
*IndustrialParadise - redistribution of the mod for the server's modpack.
*Octo_Docto - redistribution of the mod for a server modpack.
*Scotrone - redistribution of the mod in the "Minecraft Realism" modpack.
*Khaose - redistribution of the mod in the "Khaose" modpack.
Other mods to check out
Below are some mods that go well with this one and may be fun to have in the same world.
*
FiniteLiquid by djoslin
- With this mod, water is no longer infinite and must be pumped or bucketed to where you want it to go. Liquids also flow more naturally. (1.5.2 only)
*
KBI Enriched Gravel by Qwertygiy
- what I've done with dirt, this mod does with gravel, making it more useful by allowing you to sift through it with special tools in order to get small bits of metals, rocks, and gems, which can be extremely useful in both vanilla and modded Minecraft. (1.5.2 only)
Like this mod?
If you enjoy this mod and want to give me some incentive to work faster, consider
becoming a patron
through
Patreon
. Thanks!


Dynamic Earth! Mud, adobe, permafrost, peat, faster crops, and more!